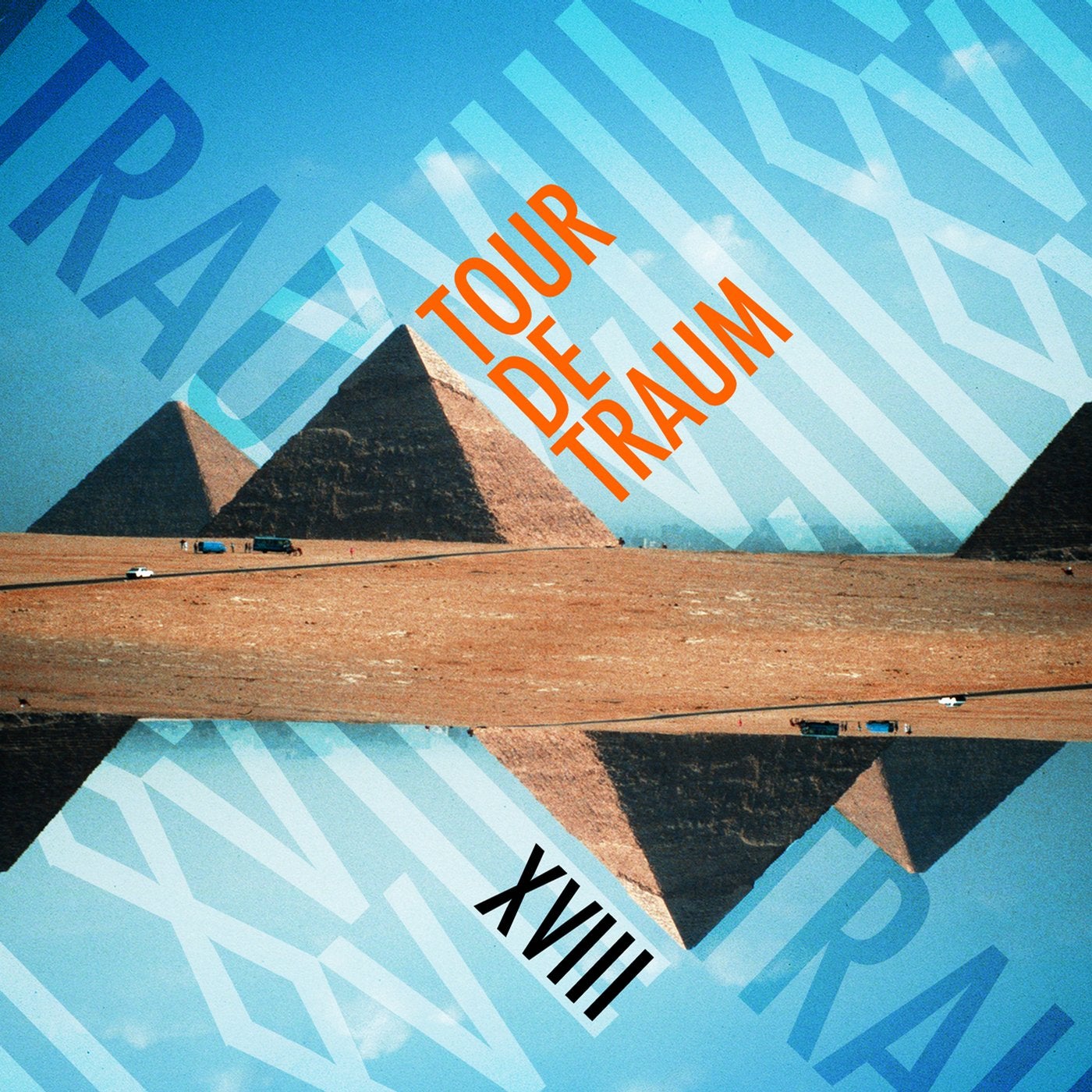 Release Date

2019-12-06

Label

Traum

Catalog

TRAUMCDDIGITAL45
The new Tour De Traum XVIII caries artists who have released on several Tour De Traum compilations in the past as well as new talents, ranging from artists with fantastic creative bedroom recordings to artists with huge studio productions.
The line up is as always very international and carries music from virtually all European countries plus artsist from the United States, Canada, Australia and India.

The Canadian artist Zoi contributes with "Outsiders" a great deep slow groover. Surprising us with the twists he takes and the dips he makes. This is melodic music loosely attached to the past with a lot of offerings of what can be done now musically. This is great music to put your soul into.

With "Gateway To The South" Simon Mós has written a cool analog track with a feel maybe not unsimilar to music a person like Mathew Johnson does... if we go some years back. Wonderful twists of sequences that put you in a good spirit.

A fantastic deep vocal track in form of "History" comes by Al3ne. The artist has shaped a unique melodic comfort zone with a flawless arrangement, that will bring joy to a lot of moments.

Blame Your Genes starts out on a low volume level with his track "Limbo" but the track works its way into the hearts of the listeners and dancers by pulling tones, sequences and vocals out a hat for a great performance that is unique in its composition making it possible for very different elements to unite and form one big melody. Make sure to lend your ear to this artist and we can announce you will hear more off him on Traum soon.

Polbee with his track "Chloe's Remedy" is an absolute highlight switching between ambient and beat and leaving such a striking and deep impression on us that we might call it a pure spirit catcher! Listen and enjoy.

Aurelius Zons "Into The Depth Of Your Soul" is music which comes from deep inside. The track is based on meditative droning which is the matrix on which everything happens. The composition is done with great dedication and a tremendous feel for the moment.

We included Floyd Hoogendijk on Tour De Traum several times since we love his music. So here comes "Nightclub Saw" a bassy and massive mix that has not been the trademark of his music so far and which transports his melodies in a different way. Interesting to hear especially for all of your who like his tunes.

The Two Doctors start with some serious feedback on "Hope Is Just A Heartbeat Away" and ad a 303 acid sequence and if you then think you know which way this track will turn to you are probably mistaken. The composition is a great journey of different parts coming together in a strong way that is really exciting and lets you celebrate to be part of this!

Following his contribution to the last episode Andy Moon returns to Tour De Traum with "Journey Of Rosetta". The track brings mermaid vocals together with a mechanical techno funkiness that is fed by multiple unpredictable small changes that are the result of his analogue working space which serves as a sound laboratory.Amazing twists and a very thought out arrangement create a kind of bubble where time stands still but the hot pot is boiling and everything is in a state of permanent motion. This is trance done with style!

Marlon Jarek has just released his debut EP with Traum in November. Here we feature the new track "Almost Zero" by him which blends progressive rock with electronica which is an exciting modern idea you dont want to miss out listening to. Marlon creates a fantastic multi-level of sound that involves various instruments including piano, field recording and analog instruments.

"Feierabend" is a lightweight paraglider of feelings that tickles your soul in a very refined and pure way. Very colorful and full of compositional elements it expresses they joy ROWA has when he thinks about the city he loves. Apart from this the production is superb.

Vanity In Mind return to Tour De Traum with another astonishing piece of hypnotic trance: "Fall Of Saturn". There is quite a bit of drama in this track. The composition offers a lot of brilliant changes in the course of the track and those who stick to it will be rewarded. Great cinema.

stine m. has worked together with other artists as a vocalist in the past but has decided to go her own way with her solo career. Witness here what we think is an outstanding piece of electronica. It starts very minimalistic with a pulse of short sounds but when the strings with her voice hit in it feels like a powerful sun beam was cutting through the blinds. Make sure to listen to this track!

We would like to present this new artist from Berlin to you who releases under the name of ELCH. His music has a strong and convincing beat that carries all the melodies safely from his side of the world to your feet and brain. This is music to dance to with a lot of acceleration but also music that has a psychedelic edge to it. ELCH manages to put you into a state of mind that is tempting and to say the least is quite deranged and cool.

Losless are probably one of the biggest talents hiding under the radar. "Caesium" is a hell of an artistic track that grows step by step into something unknown. The mystic of the track sees no limits!

A great track comes from Marco Mollo aka TVA. Great passion for electronic music is revealed here in which the piano is a centre piece which connects to sound in different shapes. Wonderful how sound like an alarm clock and electroacoustic sounds mingle and create a matriculates of background soundsthat is really exceptional and done in a very skillful way.

Ben Haviour has release several tracks with us in the past and contributes with "Triadance" a track that builds up friction in a fantastic way through a very delicate and thought out stereo sound architecture that is thrilling and does amazing things to your senses you wont want to miss.

Emde returns to Traum and teams up this time with well known artists Rosenhaft for an uptempo and energetic piece of melodic techno.

Michael Walken from the UK has written the track "Placebo Paradox (feat. Kara Square)" which ends up being a soulful twisted and rocking techno track. It has an epic breakdown which makes the track even more intense.

Max Kuffel presents "No Looking Back" which can be described as an airy and leftfield house tune. An expanding mighty baseline tugs the track info fluffy clouds and makes this journey a smooth sounding experience.

PatriceVanDenBerg contributes with "Sun Passage" a chilled out and dubby house track that strokes your mind and soul with delays and reverbs. A perfect treat for moments of relaxation. A 100%% pressure free track.

Peter Shik has contributed successfully on several Tour De Traum compilations with style. With his track "Under The Skin (feat. Dan Rich)" he once again has managed to record a unique hedonistic vocal house track with a note of Chicago house.

Kravisters "Stop Over" evokes the world of early multi cultural Manchester sound. Colorful music, light and glowing, floating on a cloud of happiness. We see similarities to the music of 808 state and early Leftfield and in generell a lot of what was released on one of our all-time favorites labels Outer Rhythm "sister label" of WARP.

Jay Sander says hello with "Snow Time". This is a tune that lives in a mysterious bubble which is made out of droning sound, small digits of tones and crying out synths. So the track works on many levels which do unite and leave an impression of deepness and joy. Let them work also on your senses.

HAXO has written the tune "Berlin Blues" and the title says it all, melancholic memories of the city painted in melodies that embrace you and dont want to let go.

There is a nice and friendly simplicity in this tune where you sometimes get silence and can hear a needle dropping when in other passages the track heads forward and celebrates speed and energy. "Berlin Blues" is the soundtrack for a big party in a small space.

MR.MNT pushes the deep agenda with a cool piano chord loop set into the deep house cosmos. Simply that is enough to give you a chill... but it alternates with a composed melody section making the track even more complex and outstanding.

Mentat returns to Tour De Traum with his brand new track "June". The track is a nice journey of airy sounds and nagging sequences that provide the track with a rough and unpolished edge keeping a nice balance here.

The Dutch duo Huminal have managed to transform the original of Ron Flatters "Madame" into something very different. Their trademark writing rich, progressing cinematic sounds with an elegant signature can also be found here with their remix.

The artist Something Else from St Petersburg is very much undercover and produces with "Feel" a very passionate track that is touching and very well proceeded.

Some of you especially those who live in Germany might remember some of the ambient trax by Cockpitcrew in the past. So we are proud to awake the ghost in the bottle for a new unreleased track with the name of "Aurea Sonora". Listen to a wonderful track that takes in the spirit of the 90ies to blend it with the clearness and mightiness of the productions of today.

Elis M. Feeling starts in low volume and constantly builds up. His track "Weared (feat. Alex F.)" sounds like a singer songwriter folk song on an electronic matrix featuring vocals that could be sung by Iggy Pop. If that sounds weird take a listen and judge for yourself . Bizarre and private music can sometimes be the best to listen to. Remember 80is icon Daniel Johnston.

We welcome back Mo Mirxa artist from Omaha who has delivered wonderful downbeat music for us with several Tour De Traum releases and he does not fail do too so again. His new track "Between The Noise" provides again a wonderful woven cushion of melodies and hypnotic drumming. Perfect music to float to and to loose yourself in.

Aichenbach returns with his new track "Grinding Rhythm", which could not express better what happens here. Slow and heavy sequences doing their waltz in a repetitive style while they team up with light and heavenly melodies, like birds that chirp their tunes.

Jonas Fritz released an EP with us on Traum this year and he also worked together with our artist ROWA. So we asked him for a tune and got this great charming tune that moves around in circles.

Gutenberg presents his new track "Beat Of Nature" that marches in the beginning like a new version of the video game Space Invaders and then blends in a vintage melody which reminds us of a melody only GTO were able to write. Nice and old school.

Peter F. Spiess has been of the Cologne techno scene since 1998 when he set up his own label Alpha and then continued with Playhouse sub label Klang Elektronik. He also released an album on Luie/noir Recording in 2019. His track "Swimmer Of Ineptitude" is a track that works in a bubble so to speak in its own world... totally independent of any trends or hypes. Peter F. Spiess rides the delays and reverbs with the perfection of a surf champion riding the waves. Hypnotic music between early Sheffield Techno (Warp: Ozone) and a good deal of German minimalism.

CtlZ returns to Tour De Traum with a funky monster named "Entrecur". The track has all the qualities of a DAFT PUNK composition but plays things low and keeps the rough edge. This is a fantastic composition and a piece of art and should be heard by all who have a deep interest in electronic music.

The American songwriter Infinite Smarticulls shows us his track "Blast Off With Me". This is a wonderful bedroom recording with all the charm of what DIY can offer. All seems to be played live... sometimes the window opens and the noise from the outside enters then his music can suddenly break down to become energetic and forceful and then at another passage it gets very silent. "Blast Off With Me" is a cobble stone walk full of emotion.

RAUB is a project by Kas Arts, Ringo Arts and Buurmann. Their new track "ICE-O-LATOR" combines weird deranged vocals with ambient music. Something special for special people!

Le Vancho spills melancholic & wailing notes on his downbeat electronica track "Karibche" in an artistic and very nice acoustic fashion. There is a lot of skill to have these moments come across as deep as they do here. One can say he revamps the spiritual side of the 70ies in his very own personal way that still keeps the original smell.

Sunspot writes with "Bugged" an electro styled track with a noir feel. At stages a more sweet melody with all its antagonism sneaks in creating a kind of different kind of tension. This is bizarre.

We welcome back Dan Baber with his new tune "Soliloquy" that is a blast of an undercurrent of melodies. Reluctant and mighty this track has all the qualities to stroke your heart in a big way. When the Spanish guitar hits the tune the track gets also a bit of a pop appeal.

Colognes home brew Harada writes minimal music the old way sticking to essentials rather then building up a big complexity. For all of you who like it reduced, unpolished and minimal listen to "Flamingo Ride" and enjoy a raw bite. This can be a way to make you happy.

Davidovitch returns to Tour De Traum this time with a very different track than his last one. We see a track here that switches from one stage to the next one and can be quite extreme and uncompromising which we love. This track is certainly not for the weak. This track carries enough mayhem for the whole new generation and reminds us how music used to be in the 90ies. Not afraid of nothing and nobody this is a great collage work and clashing of different sounds we strongly recommend for anybody who likes to dance pogo on his bed. Great.

Marcovits is no stranger for Tour De Traum fans. His new track "Metric" has some progressive alignments in his music which he keeps edgy to fit them right into the Traum cosmos.

When Arkan opens up with "No Regrets" we directly think of early Krautrock music transported into the neon lights of the year 2019. "No Regrets" is a brave pice of work with two sequences (there might be many more micro ones!) that tremble in delight, that coil like a snake in a very sensual way.The track is beautiful music and also a statement.

The perfect dream track comes by Pavel Kosmonaut with his track "Pollux". Some of you might know him from the house track we have released with him or by his live appearances in Germany. His new track shows another side of his a talent to write amazing simplistic melodic ambient music without compromise.

Uneri gets funky with "Orange" and convinces with hard cuts and mighty shifts of perspective. Great entertainment in the world of modern deep music. You dont want to miss that. Great music.

To put the record straight we include with Paul Adams track "All Night Long" a techno rocker with a classic arpeggiator kind of sequence getting more dreamy towards the end. For the ones of you who need a bit of an adrenaline track that is a perfect one to go with.

Celsey Mc Fadden has chosen the track name wisely. "I´ll Never Be Found" is a tune that can only be written in a private place. It speaks the language of privacy the inner privileged space and that is very important for music to keep. Privacy is important, there has to be an interior zone within each person that other people dont see. There has to be a zone where half-formed thoughts and delicate emotions can grow and evolve, without being exposed to the harsh glare of public judgment. There has to be a place where you can be free to develop ideas and convictions away from the pressure to conform. There has to be a spot where you are only yourself and can define yourself. So by saying this we think you should lend your ear to this raw pearl.

"Improvisation 10961" was recored in Berlin at the time of the last Superbooth in Liquid Sky Berlin. It was recorded live including the musicians: Mijk van Dijk, Ümit Han, Bärtaub, Moogulator and Monokompatibel. Dreamy landscapes are hovering over brutal drumming that melt together in a perfect way.

Ümit Han returns with "Out Of Control" a big monumental sound-cloud moving into the picture. As soon as it rains down on you it lets hundreds of small sound digits free that keep sailing to earth. Something for people who appreciate a bit of noise in sound and slow evolving music, still intense in the drama.

"Winter Strawberry" stands for a turmoil of different moods all rallying for some kind of gain... yet they all need each other to exist. A poetic novel by Oskar Szafraniec with a touch of Aphex Twin.

GeoGeniK returns to Traum with an epic slow mover offering lots of nice delays and spacious reverbs that accumulate in a futuristic piece of music. Expect nothing less than an explosive track well done for the DJ community.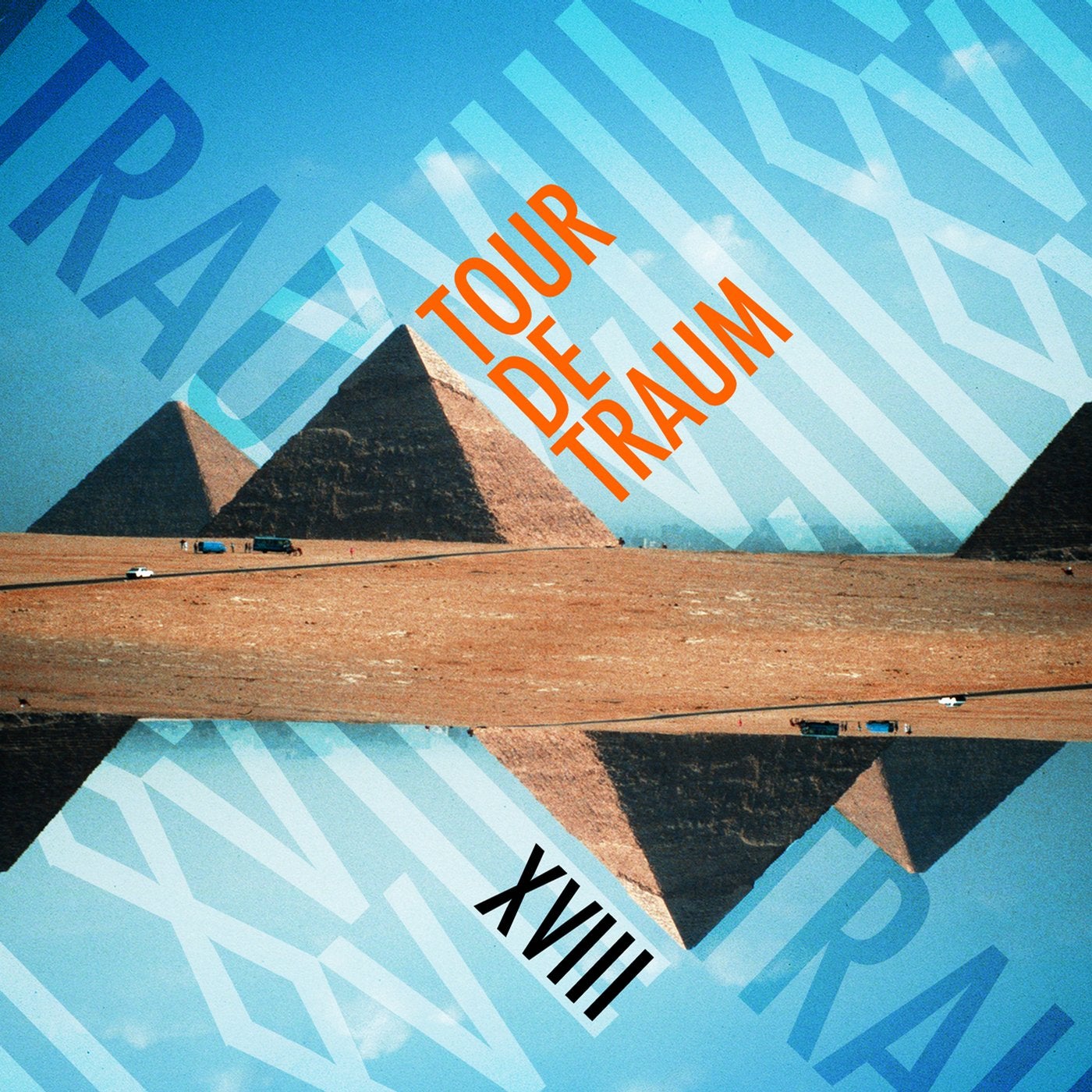 Release
Tour De Traum XVIII
Various Artists

Release Date

2019-12-06

Label

Traum

Catalog

TRAUMCDDIGITAL45