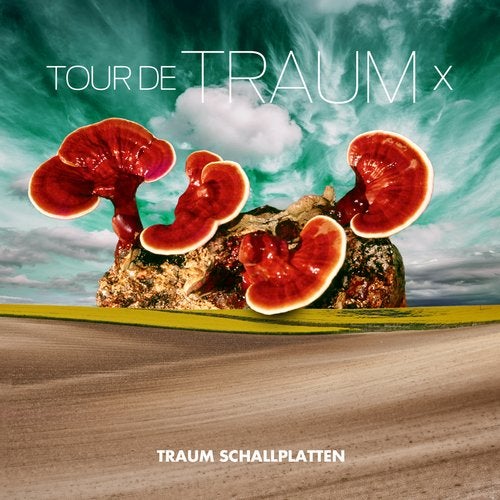 Release Date

2015-07-20

Label

Traum

Catalog

TRAUMCDDIGITAL35
With the Tour De Traum X we have refined our direction in releasing only music we think is exciting, contemporary electronic music. Music we selected over the last 6 months.
This time we feature top melodic techno music, minimalistic music and abstract electronica, but we have also included some trax which will polarize in a big way.
So be warned you cannot prepare yourself for what you will hear....

Filter Bear - Mosaic
Filter Bears track Mosaic is mesmerizing songwriting that weaves psychedelic aspects of music with exceptional vocals and a metamorphosis.

Cleave Martinez - Somni
Cleave Martinez triggers off a fabulous tribal and ethnic feeling, smooth and hypnotic in nature, creating great sensitiveness penetrating your skin. A classic rare feeling that you sometimes find in early hypnotic Chicago techno house and electronica.

Ben Teufel - Storm Chaser
Ben Teufel has composed with Storm Chaser a shimmering and sparkling track that has a slow-motion feeling deep inside generating a sensual kind of rotation.

Draso - Fomalhaut
Draso has created with his track Fomalhaut a genuine and enchanting composition, highlighting elements different in nature that manifest in loosely connected fragments of sounds (all very much rhythmically arranged) and by magic create an entity.

Dario Römgens - Before I
Dario Römgens dives with Before I head over heels into a superb melodic avalanche that he cultivates with a skillful blend of eruptive melodies that come in mighty waves and pull you under water.

CLiVe & Mata Jones - And
CLiVe & Mata Jones have written with And an excellent baseline driven dark & moody piece of techno... evoking a spirit you can get with giant Cruise liners emerging and cutting through thick layered fog banks.

Massimo Cassini & Argo & 2Dave - Self Made
Massimo Cassini & Argo & 2Dave introduce themselves with Selfmade, a heavy rhythmic techno rocker which takes no stunts but surprises by relying solemnly on the ingredients of repetition & continuation and making it an exciting endeavor. Step by step the rhythm is flooded with gentle background string sounds which disappear before they escalate in a fade out modus.

Felix Harreus - Caldera
Felix Harreus has written with Caldera a wonderful gloomy and abstract track with reminiscences to music from artists such as Bochum Welt, Aphex Twin, Jedi Knights and others.

Florian Gallet - Escape
Florian Gallet enjoyed the feedback from our community for his track on the Tour De Traum IX. And Now with his new song Escape he manages to baffle us again. The young French artist creates aperpetuum mobile of sounds that dig deep under your skin. It's seemingly self generating music which by fact it is not, but it is composed in a way that sounds flow into each other and change direction without any signs of notice. Maybe Florian Gallet is an upcoming Klaus Schulze with the handwriting of today.

DJ Hightech & IZT - Vyhoda
DJ Hightech & IZT Vyhoda is a great example of transcendental techno music at its best. Their melodic pad sound and synths ascend in a "rainbow-shaped" path under the influence of gravity into the far away sky and we can be part of it.

Alessandro Diga - Minerva
Alessandro Diga has written with Minerva a powerful melodic techno tune with epic intervals and nice break downs to collect spirits.

Fabio Sestili - Soft Dream
Fabio Sestili offers with his track Soft Dream a nice sound stream of evolving sounds that wrap around his driving ongoing lead theme in harmony and sophistication. All resulting in a skillfully composed techno continuum.

Astrea - Alcantara
Astreas track Alcantara starts with a sound that could be generated from a transmission from a space capsule but then turns into a balearic masterpiece with strong single elements resulting in a strong and arresting composition.

Dominik Eulberg - Hühnergott
We also wanted to have a track from our friend and Traum artist Dominik Eulberg on the Tour De Traum X. We chose Hühnergott from his recent Spülsaum EP.It was not difficult to choose this track as it is such a brilliant and personal one. It is a hilarious musical fairytale, full of colors, with a strong longing for a vast expansive landscape but also for the microscopic animosities of the flora and fauna.

Ariose - Sojourn
Ariose from Scotland have released on Tour De Traum before and Sojourn marks a symbiosis of a stream of consciousness that is laced with compositional finesse to create a gentle but powerful emotional canoeing. Absorbing!

Axom - Drift Away
Axoms Drift Away is a moody composition that in the course of the track evolves towards a radiant melodramatic emotion that is highlighted by great melodies written. Well-done.

Qosvo - Fahrenheit
Qosvos Fahrenheit draws on diverse elements and styles successfully as there are references to jack house, electronica, electro and techno. The composition is daring and shows a free minded spirit as we saw it in earlier techno productions. If you love clonks and bleeps you will see in this track a connection to that genre.

Fabrik Way - La Caduta
Fabrik Way has composed with La Caduta 90ies break beat rhythms that go together with intense sound shaping that reminds us of the British post punk bands Cocteau Twins or This Mortal Coil. Something is happening here which is very new and exciting.

DRAG & DROP - All About Us
DRAG & DROP kickoff with their track All About Us a powerful jazzy warped soulful piece of washed out2 left field house music. Sensual singing and sax playing contribute to a spiritual experience par excellence.

Ivanov - Silk
Ivanov must have written Silk in a moment of total relaxation. This piece of music is so slick and soft as soft can be. This is all silk and leather and champagne no biological stuff... all that simmers and that shimmers, glitters and when the funky bass guitar kicks in we can only rejoice! Great electronic post post everything.

The Wise Thinker - Dreams
The Wise Thinkers track Dreams is a piece of electronica with challenging sounds that collide from time to time but that also skillfully create moments of harmony.

Moosfiebr - One More Day
Moosfiebr have supplied us with One More Day, a dramatic piece of moody left field house music with ascending and descending organ sounds that create something holy and conspirative. Music that digs its way slowly into your skin and turns blood into wine. Remarkable.

Freska - Maya
Freska released his Comanche EP with us in 2010 and now joins us again with his newest track Maya. It is a spiritual voyage into the 80ies, with dark Siouxsie and the Banshees like soundscapes, catchy melodic riffs and techno elements. We don`t know how you can come up with a wild mixture as such, but he has done great by bringing it all together so well... It is exceptional and unusual.

Formel - Punta Patino
Formel has released music before but gives his debut on Traum with Punta Patino. The track convinces through the interaction of repeated simple melodies with others exercised with a human touch making the track very lively and energetic. The composition beyond all of this is done very skillfully.

Mâhfoud Sea
Mâhfouds Sea starts out as a minimalistic track from the 70ies, some Manuel Göttsching, Terry Riley and Steve Reich influences here we can detect. Music like this has always influenced us and so we are happy to include this composition of revolving-morphing sequences on Tour De Traum X.

NHKFF - Nightwalk
NHKFF digs deep with his track Nightwalk. The rhythm is as heavy and determined as driving a stake though someones heart. The sound architecture is psychedelic and electronic sounding, always keeping an experimental dark artful band like profile and it is very unique and cool.

Marsbeing - Stay Up
Marsbeing gives his debut on Traum with what sounds like a played track with real acoustic instruments somehow jazzy but then in the course of the track it takes a turn into what could sound Arabian. The track though short,works like a tale where one is chasing the next one. We think of it as vital, absorbing and exhilarating.

Indieveed - Cloudland
Indieveed released his track Bliss on the Tour de Traum VI in 2013 and might have reacted to our cloud postings on our Facebook site when he came up with his new title Cloudland. His track is separated in happy"Aphex Twin clouds (yes they exist!) and mean dark clouds which in the course of the track join them. All done in perfection, we swear. Great work by Indieveed!

Kay Aka Khalil Touihri - Words Of Wisdom
Kay Aka Khalil Touihris Words Of Wisdom gives back some true techno spirit to Tour De Traum with a drumming that reminds us of Robotmans Do Da Doo on Definitive in 2008.Great beats and motion here.

Aaron Hedges & CJ Hartmann - Hypnochondria
Aaron Hedges & CJ Hartmann Hypnochondria is build on a spaced out drumming which we cannot get enough of. The sounds remind us great R&S releases others sound more dark and more like early B12 or Black Dog. This is wild and bizarre we love it.

Ron Flatter - Desert (Microtrauma Remix)
Ron Flatter has released 2 EPs on Traum in the past and his track Desert (Microtrauma Remix) taken from his Desert EP received a lot of very good feedback.The remix has a nice tripped out techno feel emphasizing those moments in between with refines and skill.

Loui Cleghorn - Auburn
Loui Cleghorn released with us on the Tour De Traum IX and sent us Auburn as a follow up. A young artist who is working on his style continuously and we love this passionate tune he has sent us.

Humantronic & Leonard de Leonard - Halona
Humantronic & Leonard de Leonard contribute with Halona another of these great trax that fell from the sky to be played out by people in front of people. This is a track full of joy and happiness and something we need in our compilation.

Mirko Flower & Davide Vario - Synthat
Mirko Flower & Davide Vario work on Synthat with nice blend of filtered down sequences and glamorous gilden synths that create a nice antagonism and flow which they manage to expend throughout the track. This piece of music is at easy and demands the same form the listener.

Joel Forsberg - Tre Minuter Till Midnatt
Joel Forsberg Tre Minuter Till Midnatt maybe fits into a category we don`t know about but one thing is for sure, happiness and joy are generated in gallons here with this tune. And as we say here: it leaves no eye dry... This could be a huge open air tune.

Futur-E - The Olympians
Future Es Olympians sounds like a palm flute running havoc and cutting through a sea of melodies that carry a grande heroic note. The monumental side of the track is what you remember as it could be a soundtrack to a fantasy or a gladiator movie. Impressive by its source of passionate melodies.

Loui Fernandez - The Doors
Loui Fernandez brings us The Doors and he also brings us lots of bass and mighty drums that create a comfort zone we like. You wont expect the track to take the course it takes when it turns all gentle and melodic.

Hiboux - Komera
Hibouxs Komera is the wildest and weirdest track on our release. You will either love it or hate it. We love it and think it is just great to blend comical with the serious and with the heroic. There was once a word called Muzak which fell from grace or was only accepted by a handful of people like us which wanted to describe the music here, but maybe we are terribly wrong saying that.

Franz Alice Stern - Adagio In Dmin
Franz Alice Stern has released on our label Trapez ltd and also sent us a track that he said was a Traum track. We agreed and release here Adagio In Dmin, a track that skillfully uses an old school sound aesthetic and dynamics to create something in a vein with Detroit's Red Planet releases and melodic UR cuts. Nothing since that has influenced us more over the years and we can relate to Adagio In Dmin very much.

Mario Hammer - Metaphysical Orchestra
We have worked with Mario Hammer on Trapez, MBF LTD and on Traum. Mario is a collector and connoisseur of rare analogue synths and his tracks are always for the ones that know Metaphysical Orchestra is maybe the mots experimental and creates a bridge from early Tangerine Dream to now. Listen on headphones with full stereo impact it is a great experience.

Zapéd - Eyes Collide feat. Groszek
Zapéd Eyes Collide feat. Groszek is a unique trax on the Tour De Traum X since it represents a side of French music we have always liked in the past. Zapéds voice is amazing and melts like snow in summer. We can only hope to hear that on the radio.

Naak & TVA - Discern
Naak & TVA contribute with Discern an experimental track that sounds in the beginning like the Finnish industrial band Pansonic but then has more mild sounds join and creates a slight Radiohead feeling if you don`t mind us throwing around with names and artists we value. Very nice sound aesthetic and rhythm!

We Need Cracks - Con Moto
"Con Moto" has previously been released on We Need Cracks Traum EP Paper Mill. It digs deep, plunges from the start into melodies and tosses about lasciviously. "Con Moto" which means: "motion through some kind of acceleration", is much more than that, it is a sensual trip, very French, very cool, very stylish... and in the end also very imaginative.

Vamos Art - Pollen
We welcome back Vamos Art who released Wunderbar on the Tour De Traum VIII. With their new track Pollen Vamos Art again show impressive skill on the production level in the way they transport a modern aesthetic of club music into the field of melodic techno. Pollen works with recurring themes that are connected by very skillfully worked out transitions that breathe life and joy so well into that genre.

Weird Sounding Dude - Balnazzar
Weird Sounding Dude is a heavyweight rocker and a deep affair when it comes to the track: Balnazzar. The key to this extremely well written deep grinding techno track is its single choice of tasteful components and the arrangement of the track which works totally without any FX noise concussions or stunts, by relies on its inner momentums which are great to listen to and to dance to.

Simao - The Peacock
Simaos track The Peacock reminds us of early Traum releases by artist such as Philippe Cam but includes strong abstract beats instead and shows references in sound to early Detroit techno here: Transmat.

Trashlagoon - Secrets Of Asura
The German duo Trashlagoon released on previous Tour De Traums before. And their track Secrets Of Asura was part of their EP they released with us this year.Secrets Of Asura kicks off with a sequence that sounds like an updated version of Berlin's techno hymn Klang Der Familie but then throws puffballs at us instead. Slowly the track is transfixed into an exotic dream where we can enjoy the pleasures of an Arabian night, a world full of imagination.

Van Bonn - Reise Im Fjord
Telrae artist Van Bonn released his first Traum EP in January. The track Reise Im Fjord is taken from there and fits wonderfully to the Tour De Traum X.The track travels with the speed of light through a vast landscape with few borders. And although everything is flying by, time seems to stands still. It is these two poles that are responsible for that particular form of friction that the track develops. "Reise Im Fjord" is more then anything else a magical pieces of music, enchanting and melodic.

UNFUG Troskab
UNFUG is a German act which shares Troskab with us, a trax that gains through it 60's organ sound a strong Manchurian touch, being very calm on the one side, but on the other side totally in a turmoil.The track is because of its simple structure very much to the point and very emotional.

Nikkk & Yaro - Masked Ball
With Masked Ball Nikkk and Yaro have composed a stunning, grand sounding symphony of a techno or house or electronic track whatever you prefer to call it. They're longing and desire for harmony is the theme of their track and is extremely well executed and puts a spell on us. But listen and judge yourself.

POLYDRUM - Syren
POLYDRUM Syren is one of the tracks on the Tour De Traum X that have a dreamlike and epic aura and work within that genre very creative. The manifold compositional details are really great to listen to and show that the genre is very developed and has all the right to be featured here.

Niles Cooper - Tears In Rain
Niles Cooper has written the only piano composition on this Tour De Traum and what a great composition he has come up with. Listen to his track Tears In Rain on headphones and you will hear the full spectrum of the track. You can hear also electronic sounds he has added in a sublime way to create the intensity of his music.

Hugo Marti - Starshine
Hugo Marti presents with Starshine a transcendental hefty rocker that works with classic sounds of the genre but transports them so well into the year 2015 using fragments that break up the streamline movements and by that has constructed such a majestic tune. Remarkably luxurious.

Snad - One Past Four
One Past Four by Snad is a tricky and entertaining affair referring to his advanced programmed beats and sounds that have experimental qualities combined with a techno house flavor which is extraordinary and we had to have on Tour De Traum.

W.A.D - Die Neue Reise
W.A.D evoke ghost town spirits with this track Die neue Reise. The track is a demanding one and is produced more on the listening side with daring and very artistic transitional passages. Sounds here drop in like wind chimes do and that gives the track its spooky air. The track makes a strong turn at halftime so you have to be attached to the track to get all of it.

Riamiwo - Cathouse
Riamiwo has been releasing under different names in the past, his new track Cathouse is his most recent endeavor into the field of melodic techno. Riamiwo shows great knowledge by adapting the mechanism of techno club music and fusing it with ideas of melodic techno.

Nici Frida - Reincarnation
Nici Fridas Reincarnation reminds us with their playfulness and clonk and bleep sound of early UK bands: Greater Than One (GTO) and Sweet Exorcist we like very much.So we easily got infected and you can hear the result here.

Niels Poensgen & Brigade - Wolke 7
Niels Poensgen & Brigades Wolke 7 is a floating and fluffy melodic techno track with a sophisticated beat programming and strong production which features an extremely well written break that will leave you open mouthed. Impressive and artistic.

The Dark Wood - Black Hole
The Dark Wood have committed with Black Hole an electronic track expressing vastness and loneliness though lingering pads, longing vocals, all together resulting in a gripping composition.We hope to hear from them again.

Nick Dow - Leap
Nick Dow is a Traum core artist so we have added his track "Leap" from his Traum V180 release here. It is the most electronic downbeat track of his so far and a nice grinding melancholic tune, with wailing and crawling synth sounds and heavy baselines. This one is for all of you who like the early Aphex Twin sound! Wonderful!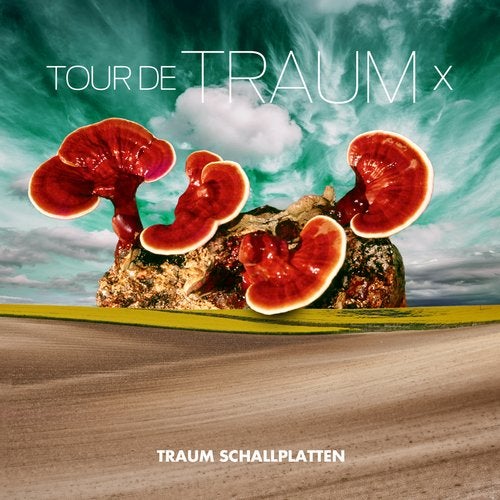 Release
Tour De Traum X
Various Artists

Release Date

2015-07-20

Label

Traum

Catalog

TRAUMCDDIGITAL35