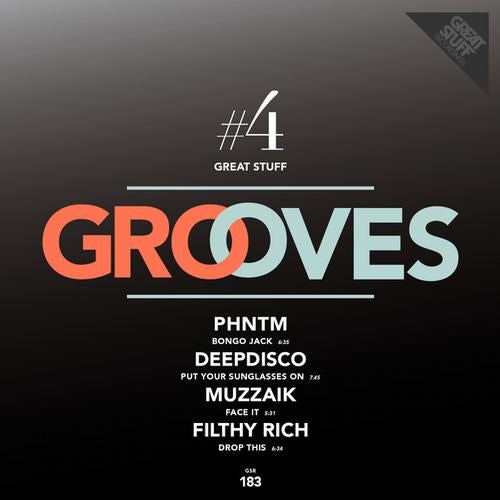 Great Stuff Grooves Vol. 4
Various Artists
Great Stuff Recordings

You can't hold a good thing down, and that's exactly why the acclaimed Great Stuff Grooves series is back with another four hot slices of house and tech this month. Drawing on producers from across the world, it's another feisty package.

English talent Filthy Rich continues his fine run of form (see a recent contribution to Hot Creations' Hot Waves compilation) with the infectious Drop This. Drawing heavily on house heritage once again, he welds woozy organs to head-nodding skippy beats and a plump, acid house-tinged bassline. Those held string notes in the breakdown hark back to the mid-'90s, and highlight this track's succinct blend of old and new.

Hungary's Muzzaik were once known for their tribal and progressive grooves, but Face It is pumping straight-up house music through and through. Again, there's a nod to a bygone era with diva vocal snippets, filtered disco loops and big cymbal hits, but it's all brought bang up to date with their immense production prowess. The low end undulates wildly, with occasional Daft Punk-esque descending bassline fills, and the breaks build things up to giddy heights with huge snare builds and hypnotic synth motifs. A very large track indeed, and one for those who like their filtered funk with a little techy urgency.

Don't be fooled by Deepdisco's name - Put Your Sunglasses On is a pure twisted techno romp. A stomping, heavily-swung groove is what this track's all about, with just a dash of tribalism thrown in. A delicate piano scale provides contrast in the breaks, while subtly growling synths and dissonant sounds do battle in the main sections. An absolute beast of a track, it combines heads-down funk with just the right amount of deft little flourishes.

Bongo Jack rounds off the package with PHNTM - the percussion he gets his name from lacing a sidewinder of a bassline and afro guitar licks. A huge disco loop is filtered into submission before finally revealing itself in glorious fashion, the urgent percussion driving things along potently. A rasping synth motif and more bongo rhythms complete the high-energy feel, with some huge builds taking the track to fever pitch.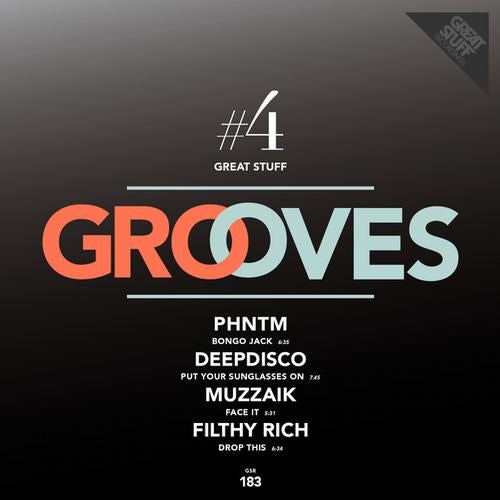 Release
Great Stuff Grooves Vol. 4