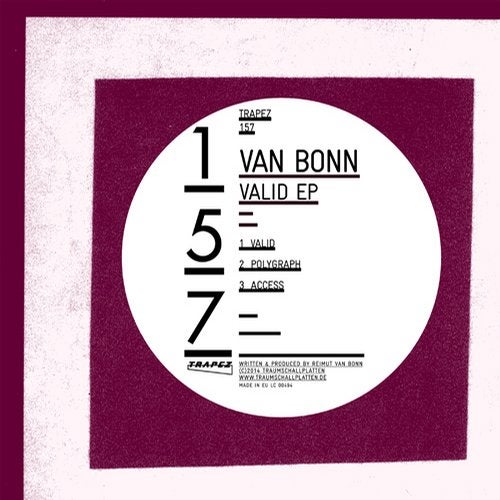 Release Date

2014-08-25

Label

Trapez

Catalog

TRAPEZ157
Van Bonn has been a very successful member of an electronic band in the past and has since then taken up the challenge to create all music by himself.
He has released most of his music on the label Telrae which is associated with electronic abstract dub music and has kept a low profile working just with the people he really respects. His music has been remixed by Berlin artists Freund Der Familie and Marko Füstenberg, Milton Bradly, Stefan Gubatz and others.
Van Bonn has released two EPs on his own label Van Bonn records which have been vinyl only, so with Trapez he seeks to be connected to a wider audience. In fact Van Bonn has had contact with Trapez before contributing remixes and an EP produced together with Taster Peter, but it was not until recent that he had compiled 3 tracks for a solo on Trapez.

The the oping track "Valid" is a piece of captivating soulful dub techno music as well as a spine-tingling experience.
This track brings together Sähkös approach of subdued and introspective music with Kraftwerk's becalmed and quiet "Ralf und Florian" their least discussed album taking place on chilled out territory. Whoever has heard Van Bonns "Baumgartner" knows Van Bonn is capable of composing great music and this track is another example of outstanding music writing.

"Polygraph" is in a way the father of "Valid" or the primeval soup of "Valid". The track seemingly is stripped down to its essentials and works with a minimum of a set up when in truth it is as complex and polyrhythmic as a track can be. Van Bonn modulates and swings the sequences in perfection leaving little place to penetrate that tight knit funky plot of his."Polygraph" is great hymn for all people that seek the thrill in trax that are painted with mute and blurred themes sensitizing step by step minute by minute.

"Access" is the third track of the EP, it keeps a more prominent dub techno sound but in its course has a lot to offer that puts it aside from the classic sounding dub techno.Van Bonn brings in sounds here from a distance, quietness and the best moments of the track are when all collapses and only a tiny speechless sound survives spinning, crying.

Bristols dubspeeka aka Darren Beale has remixed "Access" in a exquisite way showing acoustic details and mighty baseline movement making it an delight for ear and feet.Darren sneaks into music like no other... there is no beginning and no end... just music.