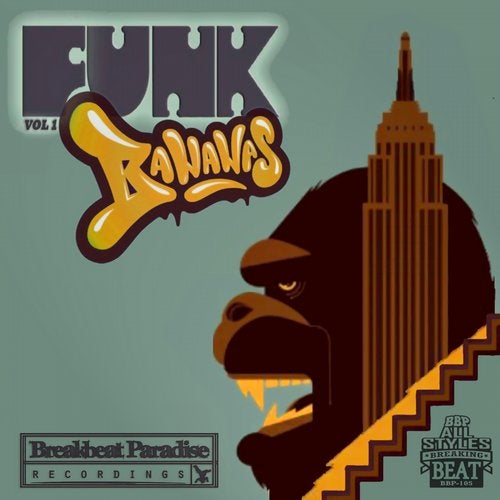 Release Date

2015-06-05

Catalog

BBP105
Funk Bananas Vol.1 is a 15 track digital album release of fuzzy, fresh and funky breakbeat, big beat, ghetto swing and breaks, produced by some of Breakbeat Paradise's finest talent.

A group of heavyweight artists and award winning breaks producers decided to go bananas, splicing originals and rarities together for this unique collaborative release. The full length album is packed full of fat breaks and sample chopped funky madness, and is guaranteed to get the dance floor moving and to pimp your speakers as well.

Funk Bananas Vol.1 surprises at every turn, with funk fuelled upbeat bangers and downbeat breaks a plenty. It is, quite literally, Breakbeat Paradise. Steppin' up with a juicy, pumping funk experience, super soaked with nu breaks vs oldskool breakbeat - as the saying goes, 'these are the breaks'!

Main artists (in no particular order):
DiscObeta: Friends since childhood, Scotty Marz & Erin Paul have evolved into DJs and beat wizards. Their state of the art productions have been released through labels including Funk Fusion, Hadshot Hahaizar, Barely Legal Records and Funk Blasters. They've also released on Breakbeat Paradise, supporting Morlack with a new remix available on the Refunkafized Album. They bring their trademark jacking beats and breaks, with some sparkling innovative ghetto glitch new bass.

Rory Hoy: Rory Hoy has been successful both inside and outside the funk scene, and has had tunes picked up by Disney and featured on British and American TV, in stores like Macy's and on international airlines. Rory has had 5 albums released on Freddy Freshs Howlin Records label and has received support from Fatboy Slim and Mr. Scruff. Has also been DJ-ing his funky sounds and big beat sets all over Europe, including doing an opening act at the Official Tour De France Fan Park in Harrogate. Rory's music is fun and vibrates with broad appeal, and he has become a regular Breakbeat Paradise artist.

Mr Bristow: Mr Bristow has had several previous releases on Breakbeat Paradise, including the My Life EP and the Get Lively EP, featuring his fellow Super Soul Soldiers band mate Benny Silver on vocal duties. His unique mash-ups and re-edits are regularly reviewed on monkeyboxing.com and his collaborative productions with Mako have received support from Craig Charles on BBC6 Music. Never far from a set of turntables, Mr Bristow has performed at Space, Ibiza for the last three years running and can regularly be found cutting and splicing his way through the funkier styles of music in venues across the UK.

Crashgroove: Collecting vinyl since the age of 12 and DJ-ing from the age of 16, Crashgroove (aka Dan Morgan) is no stranger to the breakbeat scene. He's promoted his own club nights, hosting some heavy weight players including Lee Coombs and Drumattic Twins. He's produced exclusive mixes for NSB Radio, Ghetto Jam, KCC Live and Blue Raccoon and is also releasing tunes on BulaBeats. In 2012 Crashgroove developed The Radical Mixtape Group, home of the Relative Dimension label, which has been growing from strength to strength with releases from DJ B-Side, JFB, Fuzzbox and many others. He has worked on tunes with PulpFusion, and produced a collaborative mashup with the infamous Dr Hooka, featured on Spinforths Scour Soundcloud and on the Ghettofunk.co.uk website.

ElectroGorilla:
ElectroGorilla is a real funky beast, with a truly old skool spirit. Bringing joy to the scene with some original funky bangers that will pick you up and take you on a wild funk safari. He's been cooking up his own old skool funky breakbeat sound for a while now, dropping tunes on popular compilations on Funk Fusion alongside big artists including Shaka Loves You and Mr Bristow. Having that old skool sound as a trademark also got him signed to Breakbeat Paradise, on whichhe's also releasing his new funk-driven, All Get Down EP. There you will find the original cut of If You Really Like, remixed by Rory Hoy as the title track on Funk Bananas Vol.1.

Wiccatron: Danish co-founder of Breakbeat Paradise, Wiccatron started out mixing tunes with label owner BadboE. His adventures in music making began even before his teens, supplying music to graphics being produced on Commodore Amiga back in the nineties. He mixes up a great fusion of new bass, breaks, and funk with a colourful palette of groovy releases, including the Strongbeats (The Remixes) EP and the more recent Love & Happiness Remixed EP, with big supporting remixes from artists like Jiggy Joe, Mustbeat Crew, Ewan Hoozami, Morlack and Fuzzbox Inc. He has also developed the critically acclaimed darkroom funk breaks, found on his 9Fingers debut album.

Pulp Fusion: Straight out of Switzerland,
Pulp Fusion has been producing funky jams and breaks since the early days of nu funk. Pulp Fusion has countless albums and EPs under his belt and has done remixes for Ed Royal and Mr Bird & Tal M Klein as well as running the successful label Big Balls Records. He has a unique strong sound with roots in electric psychedelic funk and rock, mixed with beats and breaks. He has recently released the succesful Funk Never Sleeps EP, available both on 12" vinyl and digital release through Breakbeat Paradise.

Morlack: Morlack has had an impressive amount of releases on just about all labels dealing with funky music: Baffin Island, Beat Brigade, Funk Blaster, Royal Soul, Tru-Funk, Katakana Edits, Punchout, Big M, and Funkosol. He has currently released Refunkafized (Remixes) along with 4 digital EPs and a vinyl release on Breakbeat Paradise. His new album is a hand-picked collection from his own back catalog on the label. Remixed by supporting acts like The Breakbeat Junkie, BadboE, Sammy Senior and Breakspoll 2015 awardwinning Father Funk.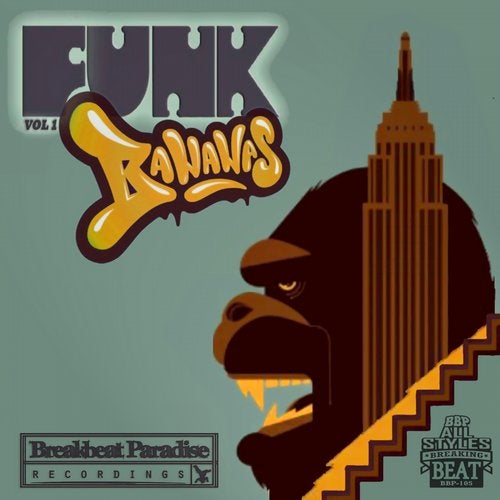 Release
Funk Bananas Vol. 1
Release Date

2015-06-05

Catalog

BBP105