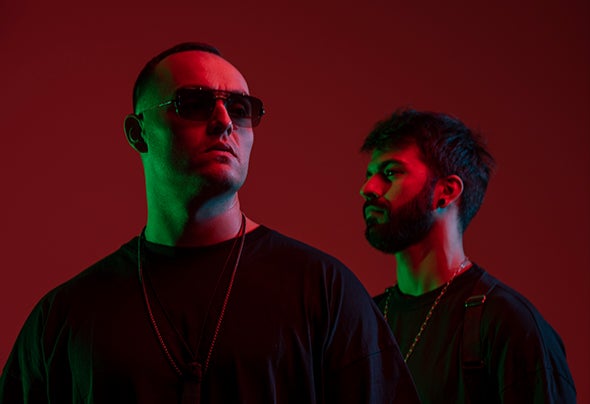 OIBAF&WALLEN project means more than 5 years of creating, exploring and developing a vision. After knowing each other in 2017, they became inseparable and decided to continue together in every step and task they would experiment. 
 The turning point of this partnership, is the synergy and complementation both of them contribute. A long friendship through out personal life and a perfect symbiosis into different music and arts tastes yields a perfect poise to the duo. All these points give the OIBAF&WALLEN's DJ sets an eclectic, twist, exciting and sensational air. Offering a very prepared, careful and measured trip until the last beat. 
2017 saw the light, an idea from a long time ago: the launch of its own record label and a perfect showcase for the works of OIBAF&WALLEN to the world. Called ONISM, releasing on the label its own music, as well as productions by other emerging or established artists on the scene, with lines of different styles, but with a common link, within the taste and identity of OW. In addition to releasing their music through ONISM, OIBAF&WALLEN signed with leading labels SONY MUSIC (B1) and Oddity, among others. The
first, SONY MUSIC ENTERTAINMENT's underground electronic music label, B1, where only artists such as David Guetta, Tiësto, Paul Kalkbrenner, Claptone or Mathame and OW have released music. The second, has been during this 2022, one of the Eps most supported by the biggest artists on the world scene. Being played by Tale of Us, Adriatique, Fideles, Maceo Plex, Fur Coat, Kevin De Vries, Sasha, Mind Against, Innellea, BOg, Undercatt, Echonomist, Black Coffee... OIBAF&WALLEN's debut LP is their most personal expression to date, nine songs, stories and feelings, that shine on ONISM's catalogue. The title, 'The Paradigm', the concept of the title is commonly used as a synonym for "example" and that is what they convey on the album. The duo demonstrates with ease and elegance both in producing and DJing beautiful and melodic songs as well as driving club beats. ACADEMIC TRAINING
Fabio Fernández - Camilo José Cela University, Music Production Degree, Madrid
Samuel Wallen - CES and SAE Institute, Audiovisual & Audio Engineering Degree,
Madrid.