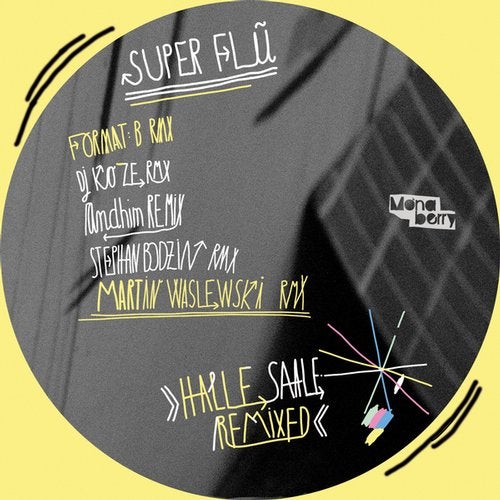 Release Date

2014-04-24

Label

Monaberry

Catalog

807297563016
Techno's inimitable duo Super Flu unleash a massive remix package from last year's critically acclaimed album Halle Saale. Featuring a wealth of like-minded creative souls, each reversion adds a whole new narrative to Felix Thielemann and Mathias Schwarz's distinctive tales.

Formatik founders Format:B take the lead with a genuine anthem-in-the-making. Taking the chugging smoky soul of "Me Roar" and injecting it with a blistering synth sound that pays homage to the mid noughties, their riff-heavy remix surges with emphatic electric command.

Next up are two wonderfully contrasting remixes of "Jo Gurt" from DJ Koze and Stephan Bodzin. The former applies an off-beat wasp-like bassline that revs like a super-charged motorbike and hums with harmonic vocal prowess. The latter, meanwhile, strips the vibe back to a starker, star-gazing experience that gradually rebuilds in an epic way that only Bodzin can nail.

Martin Waslewski follows with a stately take on "Fibi Maybe". Having emerged last year on Gold with the massive "Sunburn/Mooburn", here we find the new talent



eschewing the original's slapping rhythm for a straight up stomp while retaining every dreamy, emotional and organic nuance.

Finally Andhim bring us to a sensual sonic climax. While the original drove forth with a slow and steady hypnotic kick, here we find the Cologne creatives adding a subtle breakbeat swing. Peppering us with psychedelic flourishes and oceanic textures, it conjures the same sensations Andrew Weatherall captured on his Primal Scream productions. Comparisons don't get much higher than that really.

Five beautiful reworks from one incredible album, Super Flu's attention to detail isn't just found in their music, but in their label output and remixer choice, too. This really is a very special release.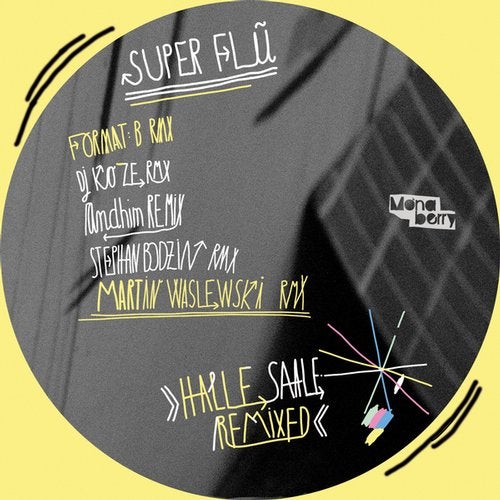 Release
Halle Saale Remixed
Release Date

2014-04-24

Label

Monaberry

Catalog

807297563016