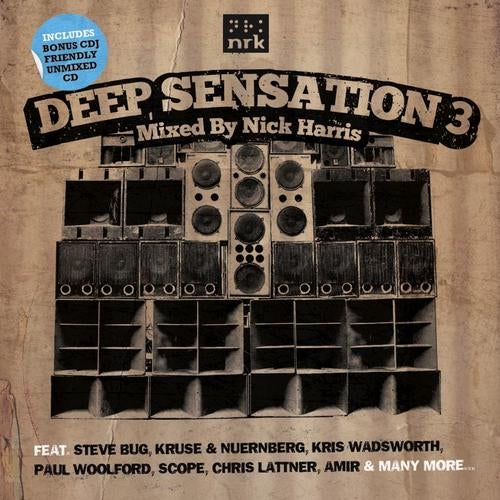 Release Date

2010-10-25

Label

NRK

Catalog

NRKCD045BP
NRK Music has become one of the most dependable house labels on the planet, with over 14 years in the game, its the label that never stops giving! And not one to rest upon their laurels, the music policy and quality control is always at the cutting edge of the dancefloor, welcoming new artists and established producers alike to their enviable roster.

Deep Sensation 3 is the third instalment in this label retrospective series, and as ever, this package comes with a continuous mix from label boss and producer in his own right, Nick Harris, as well as an unmixed selection. Deep Sensation 3 represents great value, and also showcases the labels broad taste in deep and tech house flavours. Deep Sensation 3 concentrates on the labels single releases from 2009/2010.

The demise of the minimal house sound, and the swing back to deep house sounds, has been prevalent in the scene over the last couple of years, with institutions like Space, DC10 and Fabric putting more emphasis on the deep once more. And Deep Sensation 3 is chock full of tracks and artists that are top of the pile when it comes to this sound. Leading artists such as Steve Bug, Paul Woolford and Spencer Parker are present here, and theres plenty of new school artists representing such as Ed Davenport, Belfasts Scope, Germanys Kruse & Nuernberg, David Durango, Detroits Kris Wadsworth and Chris Lattner. The compiler and label boss, Nick Harris, also weighs in with a track from his recent EP. And some old hands are present as well, proving that the music can most definitely mature with age! Justin Drake (Peace Division) opens the mix with his remix of Amirs Narrativity (featured on Carl Craigs recent RA podcast), Scotlands legendary DJ Q returned to action with his Superclique single featured here, and David Alvarado (Ovum/Peacefrog) returned to the scene with a hot remix of Kris Wadsworths Direct.

So sit back and enjoy the trip, as Deep Sensation 3 takes you through bass heavy tribal house, delicious deep-tech compositions, late night moody club cuts and intricate minimal sounds.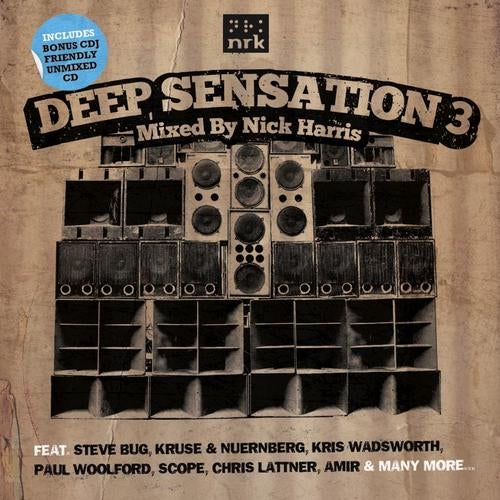 Release
Various Artists - Deep Sensation 3
Various Artists

Release Date

2010-10-25

Label

NRK

Catalog

NRKCD045BP