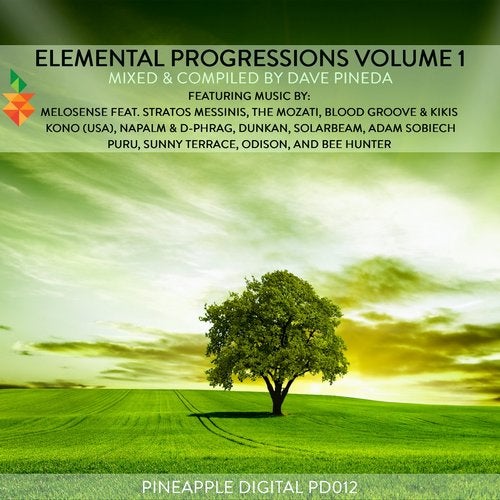 Elemental Progressions Volume 1 Compiled and Mixed by
Dave Pineda [PD012]


12 original tracks, 12 artists, 12 ways to lend your ear
to the flowing sounds of Summer with Pineapple Digital's
first complation 'Elemental Progressions Volume 1. As a
bonus, this compilation features an intricate, emotional
DJ mix featuring these tracks by our big kahuna
Dave Pineda. Our master of turntablism from Toronto,
Canada has selected some of the finest tunes from
producers all over the world, especially for our Pineapple
Digital Familia,so lay back kick off the stresses of the
day and enjoy very blissful warm treat from all of us
at P.D.!

Kicking our premier compilation off is upcoming Greek
progressive house duo of Melonsense featuring
Stratos Messinis - Beautiful Days. Erupting with an
eloquent effervesence this simplistic beauty flows with
a tranquil feel and opens the gates to our next track.

Next in line is Russian native, Eric Zagidullin aka The
Mozati, with his beautiful creation,'Young Mind', with a
spring on that piano and a pounding bassline this sparkles
the imagination and is ensured to keep the heart and mind
in an eternal childlike state of perfection.

Number 3 is brought to you from none other than the
dynamic Latvian duo of Blood Groove and Kikis with their
track 'Lift'. We are sure you are all no strangers to these
2 legends,and Lift is yet another massively stunning piece
of harmonic architecture.

Kono (USA) - Deep Blue, who recently debuted here at P.D.
with his widely acclaimed EP, Wakea, returns to take us on a
journey to the subliminal depths of melodic paradise.
Sailing off to lands far away this musical treasure is a gem
waiting to be discovered.

Electronic music producer duo comprising of Hungarian Nanai Pal
aka Napalm, and Bulgarian Ivan Filipov aka d-Phrag are back again
with their latest masterpiece,'Lovehigh' this track brings a
sense of rapture and enchantment to the mix. A skip in the beat
along with a skip to the soul, this track is full of character
and will leave you awe struck.

For our half way track #6, we present to all of you Dunkan with,
'Welcome to My Summer', fancy a trip to blue waters, warm sun on
your skin and the promise of brighter days then this is where you
want to be, listen and see!

Solarbeam shines with 'Polynesian Breeze', the Polynesians were
known to navigate using the stars at night and you can hear the
distant yet shimmering brilliance gust past.

Mr. Adam Sobiech brings us the 8th track with Together.Calming
beats and cool basslines make this track a unity of all thats
good in life when the music hits your ears.

Japanese producer, Puru debuts at Pineapple Digital with 'Koyuki'.
This is astoundingly delicate and has such charm and magnificence
at the same time. Puru is sure to dazzle you with his brilliance in
Koyuki.

10th in the mix is from South Korean progressive house artist
Sunny Terrace with Sunny Tides. The sun is most definitely out all
the way through this one and brings a light to even the darkest of
days with its refreshing melodies.

Odison - Epic, what can we say but listen, learn and be blown away
by its intrinsic beats and ecclectic grooves. Epic is what this is
by name and by nature.

Bee Hunter aka Tomasz Krajewski from Poland wraps it up with May
The 4th. We end with this little piece of inventiveness, with its
definitive sounds and melodic wonderment its a perfect finale to
our 1st compilation.

We hope you have enjoyed the journey with us as much as we
enjoyed creating it for all of you and wish you all a wonderful Summer!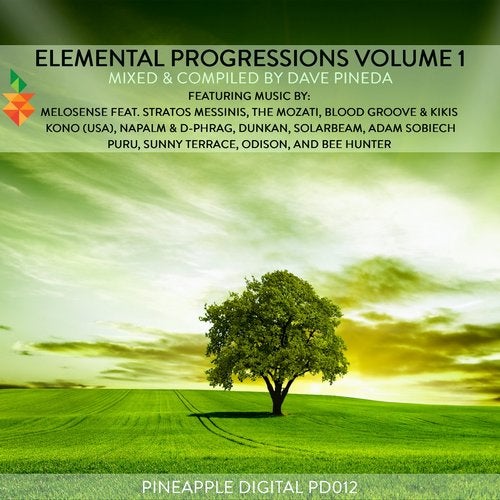 Release
Elemental Progressions Volume 1