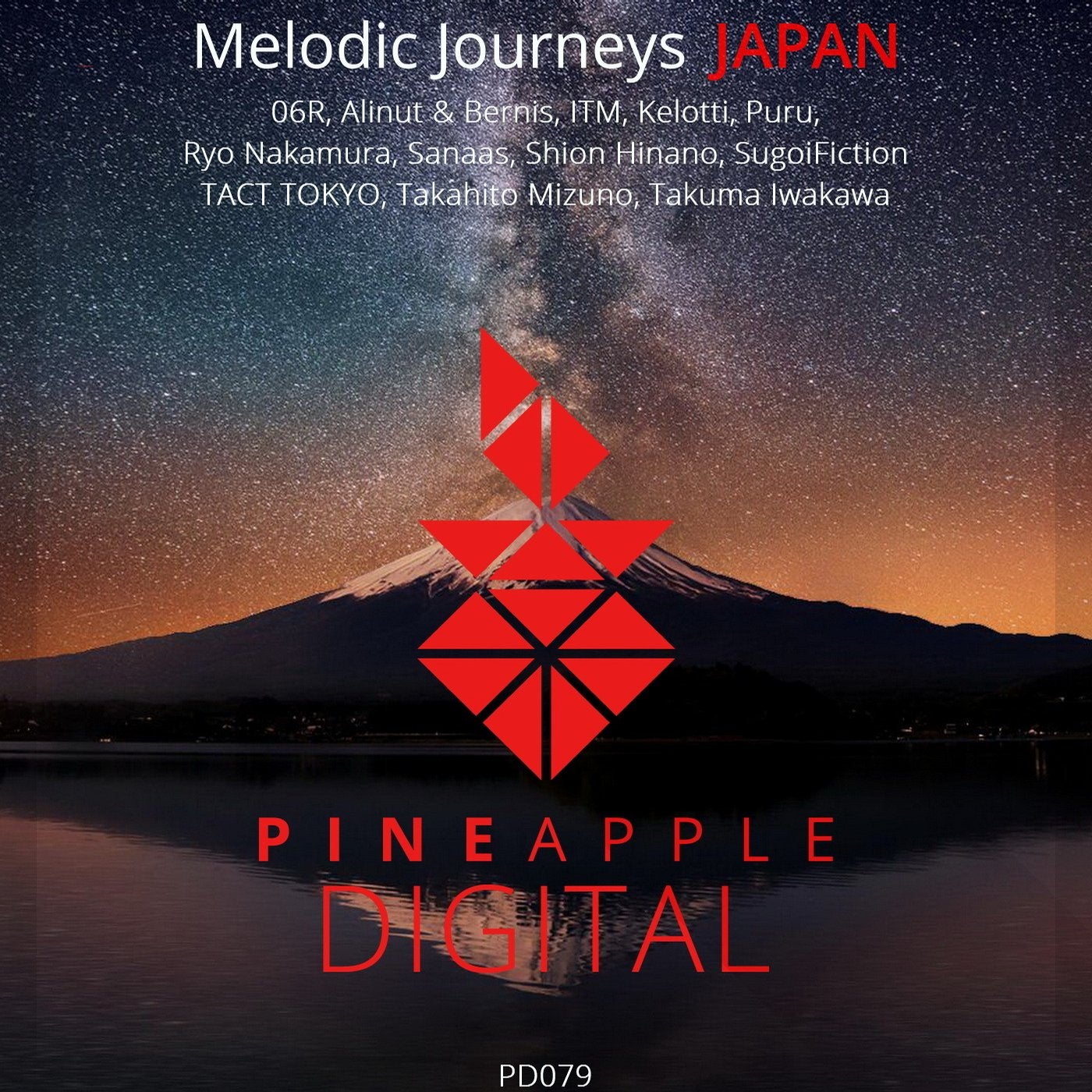 For the second installment of our 'Melodic Journeys' compilation series, we showcase an eclectic range of music by electronic
music producers from the mystical land of the rising sun, Japan.

06R - Akikaze:

First up in our Melodic Journeys Japan compilation is from our Japan AandR manager/producer/dj,
Ogura Hisataka aka 06R. The aptly produced track, "Akikaze". One that sets a beautiful foundation
for the compilation as a whole. A remarkable melodic song.

Alinut and Bernis - Ray:

"Ray" is an impressive tune that will leave the listener in a state of blissful content. A steady
blast of euphoria, as a plucked guitar warms up with the ripping fat basslines.

ITM - Fringe:

Taking a step into the realm of chilled beats and comforting ambiance, ITM's "Fringe" is filled with
refreshing bursts of cool sounds and an arrangement that is both mysterious and familiar, an almost
nostalgic journey.

Kelotti - Kirishima:

Cool and hype, is what we would call this beauty named "Kirishima". Kelotti puts a lot of tiny details
into the structure of their compositions. A wondrous build up that will motivate you to take a flight
amongst the clouds.

Kelotti - Laura:

Second on this Melodic Journeys EP, is "Laura", a special little beat, whose thumping bass and saw wave
ripples spark in the air to create a fantastic dance floor slapper. Once the main verse blows up and
transitions to the middle 8's of the song, you'll be in divine solace with the melodic piano that plays
over the strings.

Puru - Aoba:

There are many delights to be found in Puru's "Aoba", it is nothing short of superb. Cool, fresh
piano notes hit the heart with a dash of heat and ice, as the slowed breakbeat-like drum and bass
track stutters upon each step.

Ryo Nakamura - Luminescent:

The fluttering arpeggios and chord progressions in Ryo Nakamura's "Luminescent", are so upbeat and
happy, you honestly will be overcome with the urge to start dancing and moving to the beat.

Sanaas - Prairie:

Layers of hard kicking drum and bass kick the speed up on "Prairie" by Sanaas, with its motivating
piano leads taking your spirit and lifting you up, as if the chords' strike were helping to propel
you onward.

Shion Hinano - Honoka:

Shion Hinano really kicks up the euphoric arena by layering amazing chords on a bed of warm synths.
"Honoka" is an incredibly hard hitting progressive track in its sound, only adding up to make this
compilation an undeniably amazing treat.

Shion Hinano - Starlight:

No stranger to the progressive house room, "Starlight" is another gleefully dance filled track by Shion.
Playful, yet aggressive, and yet still so calming. The amount of detail that exists within is something
to be explored for sure.

SugoiFiction - Marvel:

"Marvel" takes us on a high speed ride, blasting straight into Earth's exosphere. SugoiFiction isn't
playing around in this intensely hardcore uplifting melodic trance banger. Be careful you don't blow
other driver's doors off as you pass them listening to this.

TACT TOKYO - Daydream:

If ever there was blissful solace in melodic drum and bass, this liquid and soulful tune will have you
bobbin' your head the whole way through. TACT TOKYO's "Daydream" is also a wonderful night theme. Tune
in and chill out to this warm one.

Takahito Mizuno - Blue Hole Bottom:

Takahito Mizuno adds more firepower to the ranks of the faster tracks in the compilation, with "Blue Hole Bottom".
A wild ride that's fun and funky. Savage bass lines that seem to gallop and trot their way through time with the
main pads plucking their noise into the overwhelming verses that ensues.

Takahito Mizuno - Mistletoe:

Second track for Takahito Mizuno, this time with "Mistletoe". Cool squared chords play light in the background
to compliment the more high pitched signs and angelic chorus that makes this one a great addictive addition to
the compilation.


Takahito Mizuno - Nostalgia for Ruins:

As we come towards the end of our Melodic Journeys Japan we are again gifted with a track by Takahito's genius
with a cool track titled "Nostalgia for Ruins". A track sure to get your body moving with its delectable sound.

Takuma Iwakawa - Beautiful Mind:

"Beautiful Mind" couldn't be more beautiful to us as a pleasant end to a journey. A mixture of tribal and
progressive sounds made an experience given to us by Takuma Iwakawa, and is one we had to have a place for in
our Melodic Journeys Japan.

We hope you enjoy this journey!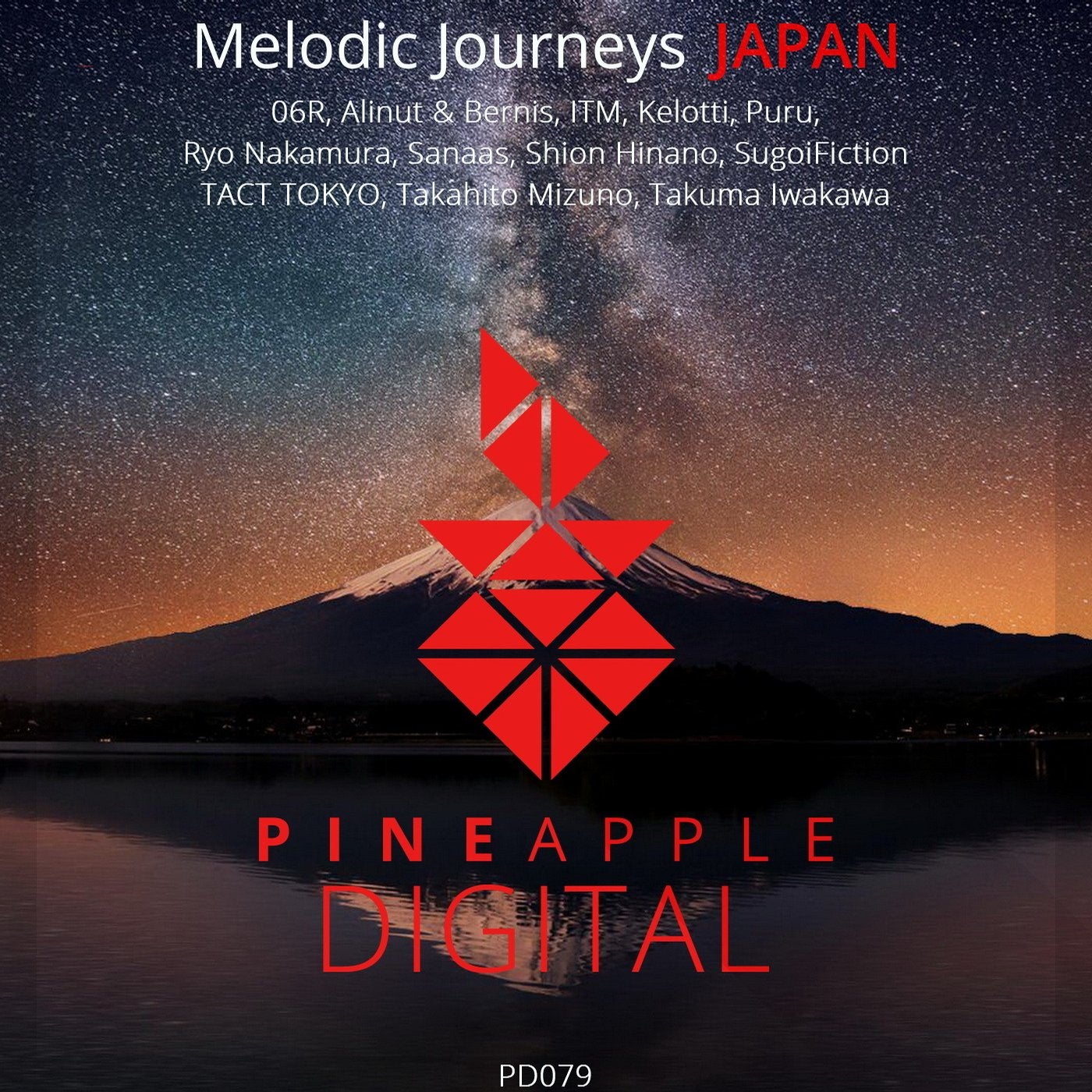 Release
Melodic Journeys - Japan