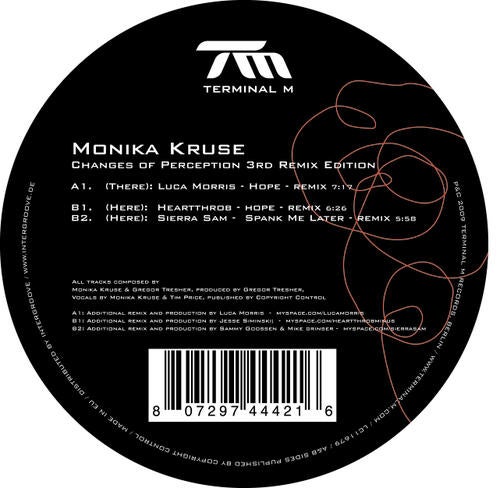 Release Date

2009-10-02

Label

Terminal M

Catalog

TERM066
All good things come in threes! Here comes the third and final Remix edition from the Monika Kruse album Changes of Perceptions. Once Again the Remixers names read like the techno scenes, who's is who: Heartthrob, Sierra Sam and Luca Morris & Paul C remixed the tracks 'Hope ' and 'Spank Me Later'.

Heartthrob's Remix of 'Hope' is a true delicacy for all techno Gourmets. Minus wonder child created a distinguished Track that is coined through its dark mood and the typical heartthrob Bassline. A lot of tension is
created through the sophisticated tweaking of sounds. Hope - Heartthrob remix is a track that is ambitious and club friendly alike.

Luca Morris aka microdynamic is the new shooting star from Italy. Like Heartthrob he and Paul C interpreted 'Hope' as well and created a track with a funky and housy bassline. In addition with Monika Kruse's vocal samples this track makes everybody shake their hips. The melody with its deep toms, which not even a jens Zimmermann could have created in a better way, qualifies this track as a definite dancefloor bomb.

Sierra Sam's remix of 'Spank MeLater' is housy and jazzy alike. The atmospheric vocals and the piano make the track a true summer tune which one can either enjoy at the beach or at a club as well. It is definitely outstanding since it does not follow the usual scheme of build up, break and heavy baseline but takes the listener on an unforgettable Melodic journey.

Cosmopolitan Heartthrob who was living in Paris, and is now living in Berlin was originally born in Michigan, studied in New York and had his breakthrough on Richie Hawtin's Label minus. Jesse siminski has releases and remixes on Minus, Underline, Contexterrior, Alphahouse, UnFoundsound, Mos Ferry, Get Physical, Wagon Repair, Tora Tora Tora, Phonocult, Esperanza and Stock amongst others. He has been hosted to play at venues such as, Mutek New York City, Fabric (London) Popkomm at Watergate (Berlin), Volt (Amsterdam) and Batofar (Paris) and is working full-time on music production and his live performance.

Italian Based LUCA MORRIS, over the past 15 years has been one of the most talented DJ's to grace the consoles of many of the best clubs in Northern Italy: Love Afterhours, Il Gatto e la Volpe (Ferrara, IT), Station c/o 909 (Padova, IT), Marab (Reggio Emilia, IT), Picchio Rosso (Modena, IT), and Fabula (Bologna, IT). In 1988 Luca Morris became the resident DJ at the most famous club in Padova, La Scala. This club profoundly marked the historical beginning of nightlife in Northern Italy. In 2002, still actively DJ'ing, Luca decided to concentrate on producing music. He soon released "Tek Studio" and launched his own label called "POLAR NOISE".

Sierra Sam is originally from Belgium, but has recently relocated to Berlin where he is also the manager for Contexterriour media. He runs, Future Dub, Tuning Spork and junion as well and as an outstanding producer who has releases on Tresor, Space factory disques, bipolar, nomor obsolete & many others, and his own label, Toys For Boys. He has gigged all over Europe & States already and played clubs like Matrix, Tresor, silo, Fabric, Harry Klein and many other famous clubs.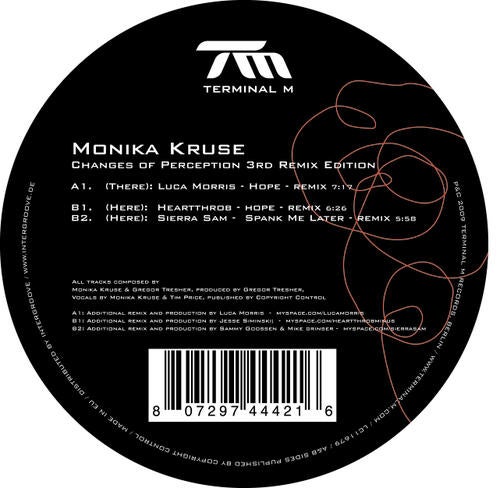 Release
Changes of Perception 3rd Remix Edition
Release Date

2009-10-02

Label

Terminal M

Catalog

TERM066