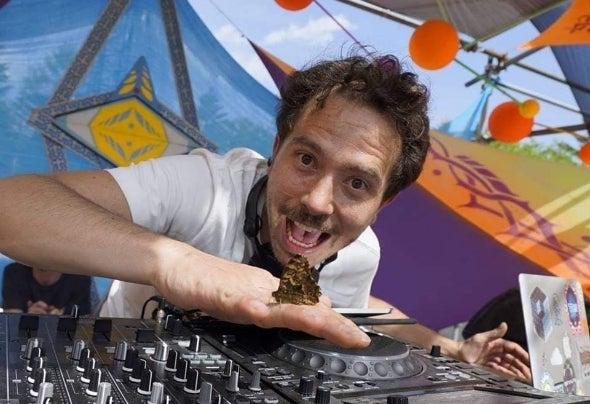 Mexican born Patricio Tron started his career in 2000, bringing with him a unique fusion of morning progressive and sensual psychedelic sound. Dedication and hard work pays off and by 2004 TRON started touring Europe regularly, followed shortly after by South America, displaying his incredible talent on some of the world's most recognised festival stages including Glastonbury (UK), Boom Festival (PT), Ozora Festival (HU), Glade Fest (UK), Sunshine Festival (JP), Rezonance Festival (SA), Konemetsa Fest (FIN), Universo Paralello (BR), Sonica Fest (ITA) to name but a few. 
Tron has collaborated with industry greats including Earthling, Dickster, Zen Mechanics, Spectra Sonics, Flip Flop, 000D, Darshan, Dimitri Nakov amongst others. 
2006 saw the release his rst album "Existence", through Liquid Records, placing him firmly on the international map. The originality and exceptional skill on this album resulted in not a single critique.
His 2nd album "Bio-logic" was released in 2009 under the same label (Liquid Records) and portrayed a noticeably more mature style, securing TRONS climb up the ladder. 
Most recently 2017 brought about the release of his 3rd album, "Boundless". This trilogy was released via ZERO1 Music where he is currently still represented. 
Side projects include: "Blind Roller" (with Mood Deluxe), "Floating Point" (with Pollyfonika), "The Art Conspiracy" (with Psymmetrix), "Double Helix" (with Spectra Sonics), "Data Error" (with Glitch), "The Knights of Nii" (with Dickster), "The Rave Commission" (multiple collaborators), with further under construction. 
This proficient producer furthers his capabilities through HOMEGROWN AUDIO MASTERING, where he provides CD Mastering, Audio Mastering, Mixing and Consultancy services, while building analog gear for fun. 
TRON is a credit to any line-up and is recognised as one of Mexico's nest producers in the electronic genre.