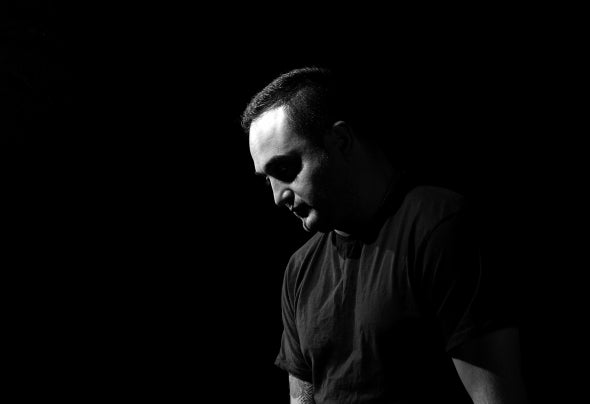 If we will have to dene Eddy Romero's world in one word that will be MENTAL, the Spanish artist that started working on electronic music in early 90's is also involved in other musical projects like Saturnz Other Soul, I Am Here or O Rem among others.
His musical experience comes from London's electronic music movement of that period so he was involved in the beginning of the electronic music scene listening to many styles of that moment. That he loves Minimalistic sounds is something that we all know that he likes darkness also but that inside all this there is a profound sensibility is something that you can feel if you listen to his tracks and sets. 
With all his projects over 10 years old, we are talking about Soundvision (management brand) and his labels Expmental Records and Anity Lab, the experience acquired and the good work of the Spanish artist is shown as all projects still alive, in good health and working well being supported by Beatport and others constantly. Over 15 vinyl in the market more than 100 digital tracks in labels like Little Helpers, Lucidow, Act Natural or Deeperfect plus his own and remixed by many artists like Oxia, Bruno Pronsato, Rhadow, Nicolas Masseyeff or Someone Else to name few, being in the tops and featured of Beatport with most of his releases shows that he is doing a nice work in the underground scene, also past 2018 with the 10 years of Expmental he released his rst album that had nice success being selected by the Spanish Mag Mondo Sonoro as one of the 10 best national electronica albums and also selected by DJ Mag Spain in the same category. As DJ he has play all around the world in very important clubs like Fabrik ( Madrid ) , ElRow (Barcelona) Studio Martin ( Bucharest ) , Liv ( Mumbai , India ) , The Nest ( Delhi , India) Lilliput Café (Goa), Family Club ( Toledo ) , Beautiful People ( Ibiza ) , Goa Beach Club ( Barcelona ) , Macarena ( Barcelona ) Arena Club ( Berlin ) ,Suicide Circus (Berlin),...