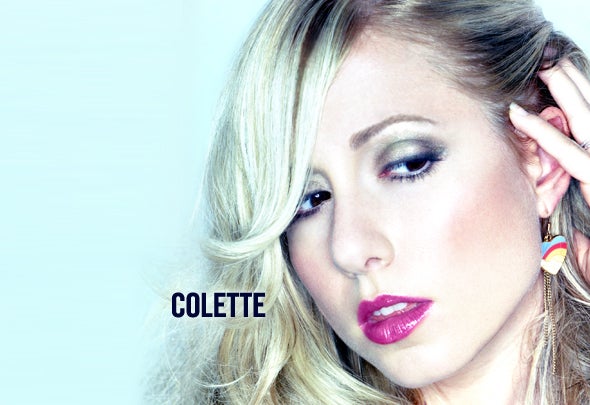 With her disarming doe eyes and a heartwarming demeanor, Colette possesses the unmistakable voice of post-millennial house music. Her sweet-but-sultry voice has been called "angelic" so many times, it's a miracle she hasn't grown wings: Imagine a less breathy Kylie Minogue merged with a more controlled Roisin Murphy (Moloko) and you have a good grasp on her classy voice that highlights any beat that flows behind it. Whereas in the late 80s, the diva reigned supreme and made the music cower, Colette has kept it deliciously simple and always melodic, making the former choirgirl-cum-Chicago-house-siren a mainstay of modern dance music. And it's been that way for a minute -- as raves were starting to wind down throughout the nation in the late 90s, Colette was busting through the "novelty act" stereotype that kept many women DJs corralled like VIP ropes guarding a Hollywood hotspot. But ever since she started her SuperJane troupe with fellow Chicagoan DJs Dayhota, Lady D. and Heather (celebrating their 10th anniversary this year), Colette's paved the way for other women seeking equal time behind the decks as their male counterparts. Things came full circle in 2006, when the Los Angeles transplant reunited with Heather for a stateside tour promoting the "House Of Om" mix they did together. It was a busy year -- Colette also played an intense set at Coachella, kept up her long running residency at "World's Best Club" Smartbar and toured with fellow Om house soldier Kaskade. And 2007 shows no signs of slowing with her new artist album, Push. "I'm really excited about this record," Colette exclaims. "I collaborated with such amazing producers and songwriters on this project, and I'm going to be doing a few shows with a live band for the first time." However, the road to making Push, wasn't always an easy one as Colette explains. "I spent four years working on my debut album Hypnotized. I learned so much from that experience and had a clearer vision of what I wanted my second record to sound like. We worked about 11 months writing and recording Push, with one month off for my wedding. I was really lucky to have found such a great partner as he did more of the planning than I did. Usually the bride is running around getting everything ready, but I was balancing the wedding and recording the new album. 

When I got back from my honeymoon I found out that my album was due two months earlier than I had thought! I pretty much said "see you later" to my new husband and went into the studio full force. It was a challenging schedule as I was touring every weekend while finishing up Push. I'd spend four days in the studio and then three days on the road. 

The last few weeks working on the record were spent in New York. We'd start around 2pm and finish at 8am the next day. Something would always come up, as it usually does when you're about to finish a project, and we'd have another all nighter. I remember realizing the vocal performances on one of the songs had completely missed its mark. Unfortunately I realized this at 2 am ... six hours before we were turning in the song to get mixed. I ended up being super pissed for about 15 minutes and then went back into the booth to redo the vocals. That song "Call it out" ended up being one of my favorite tracks. If Push plays out anything like her first artist album, Hypnotized, Colette's endless nights will have been more than worth the effort. Hypnotized became the most downloaded dance album on iTunes (US), and featured dance floor burners like "What Will She Do for Love" (Billboard's No. 1 Dance Club Play Single) and the title track, which was licensed to The Devil Wears Prada soundtrack. In just a few years time, Colette was featured as a "Newcomer to Watch" in JANE Magazine, filed under "Hot New Music" in Interview Magazine, graced the cover of XLR8R, and named in URB's Next 100. Just like on Hypnotized, Push has got serious dance floor ammo with its tricky, funneled beats and overall playful vibe, but it can slink into dark-and-sexy mode too, making the record just as diverse as its cast. Home and Garden, Santiago & Bushido, Drew K, Chuck Love, Fab, Lucy Woodward share production credit, to name a few. Colette's sexy, jazzy alto is featured perfectly on "If" and first single, "About Us." It easily could rock the airwaves on a Friday night mainstream pop station and slay the crowd at any dance club, and has already been remixed by tastemaker Derrick Carter. Showing off pop-savvy lyrics that are still perfect for the club, Colette sings of love lost: "I'll tell you something that you need to know/ I'm sick of tryin' and I'm not so sure/ I've lost the feeling from so long ago/You say you love me but you don't care about us" Keeping things varied four tracks in, "Funny" features Om: Hip Hop new signing and fellow URB "Next 100" featured artist Black Spade, and the resulting vibe is chill with a bit of swagger -- complete with shiny synths over a tripped-up tempo. "What's so fun about writing house music is that you're not confined to one format," Colette says. "And on Push, I definitely took advantage of that." For More Information Please Contact: Gunnar Hissam / Om Records, gunnar@om-records.com or Monica Seide / Speakeasy PR monica@speakeasypr.com – 818/363-1315).