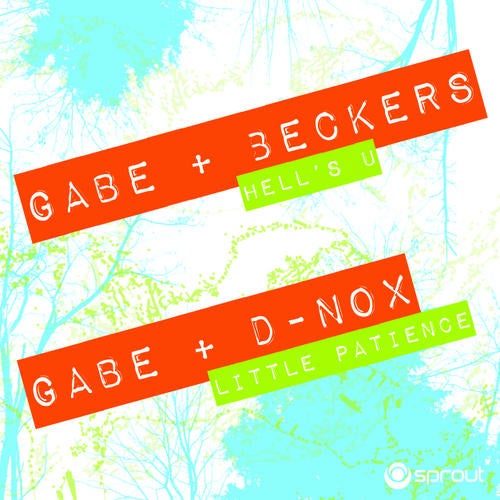 Release Date

2010-03-19

Label

Sprout

Catalog

SPT042
played by: Marco Carola, Joris Voorn, Stephan Bodzin, Paco Osuna, Brothers Vibe, Marc Romboy, Martin Eyerer, Pig & Dan, Mihalis Safras, Slam, Hugo, Gel Abril, D. Ramirez, Alan Fitzpatrick, Anthony Pappa, Phonogenic, Roberto Rodriguez & many more...

For the labels 42nd release, Sprout mashes up three of its stalwart residents, mixing the talents of Gabe, Frank Beckers and label head D-Nox for a funked-up pair of steamy tech-house beasts. Leading the charge is Sprouts signature artist Gabe, who has no doubt earned his place as one of the most talked about and in-demand producers in the underground electronic scene over the last two years. His flair for crafting thickly enveloping tech leviathans receives the helping hand in the form of individual collaborative efforts with Sprout super-duo D-Nox & Beckers, each lending their own unique style into the mix. This pair has reached unparalleled success in the studio and on the road in the six years since joining forces, with their constantly evolving sound always sure to hit the right tone to shift any dancefloor into immediate overdrive.

Gabe & Beckers show a new side to their repertoire with Hell´s U, crafting a soulful number, packed with lively rhythms and a funky approach set to move even the stiffest of legs at any hour of the night. A concoction of cut-up vocal samples, light pads and a wash of effects set a playfully hypnotic tone, keeping the groove flowing smoothly and imparting the vital spark expected from this merging of musical minds. D-Nox joins in the party with Little Patience, putting his head together with Gabe to push out a deep tech number submerged beneath a dense layer of fluid bass and idiosyncratic reverberated tones. Intensely infused with the swagger prototypical of Berlins most illicit weekend indulgences, the song stealthily lures out the hidden fiend within, providing a perfect soundtrack for those who are eternally unprepared to stop.