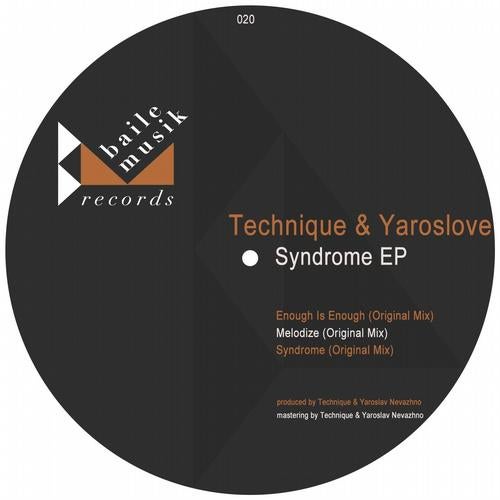 Release Date

2011-09-23

Label

Baile Musik

Catalog

BM020
dj feedbacks :

RARESH : 'cool ep . thanks a lot'

TROY PIERCE : 'cool tracks, i like all of them, just weird enough.'

MICHEL DE HEY : 'hese guys make kickass tracks! all 3!'

MIHAI POPOVICIU : 'fine tracks!'

MENDO : 'Love the Melodize !!!'

SIS : 'cool ep, thanks !'

KOLOMBO : 'Syndrome for me, will test it out'

HERNAN CATTANEO : 'very good'

PATRICK ZIGON : 'great ep - full support!'

KHAAN : 'really cool EP... melodize is the fav. download & support !! K.'

JACUZZI BOYS : 'Melodize is very niiice;) exactly my taste! thx'

CHRIS CARRIER : 'great tracks thanks '

ALEX FLATNER : 'enough is enough !! nice track !! will give it a try..'

NATHAN COLES : 'Fantastic... right up my auto stratta :O)'

INKFISH : 'Melodize is nice. Thanks for sending.'

SEAN DANKE : 'Wow really nice ep..will try them on proper soundsystem next saturday..'

PIGI : 'nice ep. will play melodize. thanks.'

DAVID LABEIJ : 'ooooh!! love it!!!'

DANNY SERRANO : 'great EP,full support!!:)'

Beautiful combination of vocals, melodies and grooves compacted in 3 fantasticly produced tracks.
Duo Technique & Yaroslove - is an excellent combination of high quality production and their own, authentic style of music. When they first met in 2005 they've decided to work together, both having a rich experience behind, it was clearly seen for them how exactly they wanted to evolve within the modern techno scene.
The collaboration led to a lot of hard studio work, by now they have a numerous releases on such labels as PVS(Germany), Popart(CRO), Subself(UA), Baile Musik(CRO), Cooltool(RU) and Pro-Tez(RU).Also being a representatives of widely known internet radio - RTS.FM. Their live performances are always interesting and original.Technique & Yaroslove are gaining more popularity and get recognised throughout the Europe and US for their unique sound and innovative approach to tracks and Live PAs.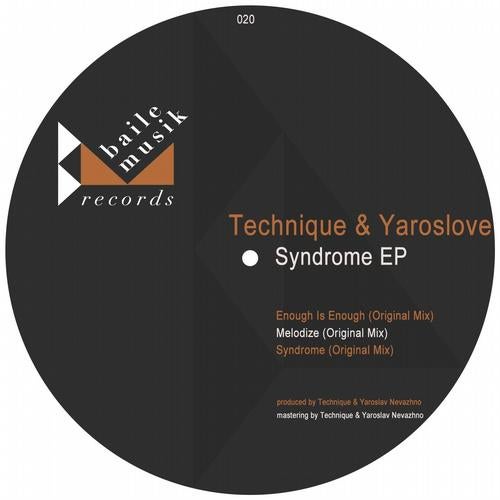 Release
Syndrome EP
Release Date

2011-09-23

Label

Baile Musik

Catalog

BM020