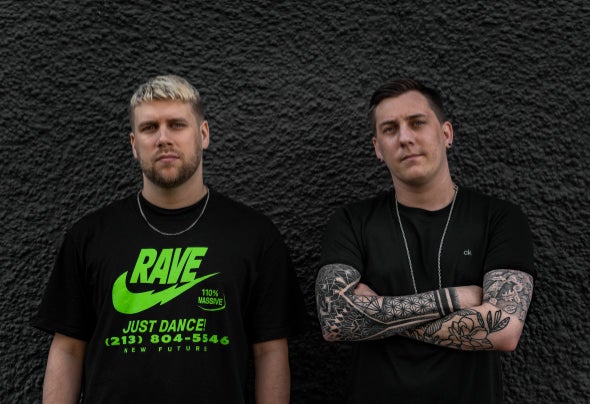 Drum & Bass / Electronic duo Phibes have solidified themselves firmly into the rave scene since their inception by fusing all types of Bass music together to create their sound. The pair have since levelled up in the past 12 months to become one of the top selling Drum & Bass artists on Beatport and claimed the second ever Drum and Bass all genres number one with "Home Grown" in August 2020. 
After the major success of Home Grown they set out to prove they weren't a one hit wonder and in October 2020 took the Beatport #1 spot again with Born on Road EP release "Third Dimension" with all 4 tracks sitting in the DnB charts top 10 at the same time . They took it a third time in February 2021 with their official remix of Toots & The Maytals "54 46" on the Jungle Cakes & Trojan Records series. 
Phibes reach their zenith however when performing live, having stepped onto their first Festival stages in 2017 they are now a mainstay at festivals big and small including Glastonbury, Boomtown & many others, thereafter they moved internationally with their sound & started performing across the globe hitting out full tours in New Zealand, Australia & Canada. The duo are not afraid to whip the crowd into a madness and insist they design all their songs to be experienced in the dance.