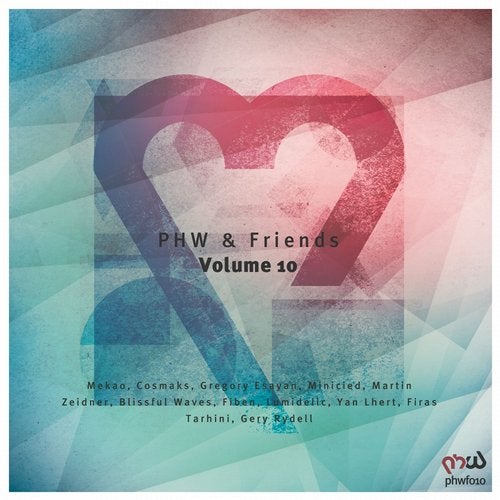 Release Date

2016-11-14

Catalog

PHWF010
It is finally that time again, when we come back to the scene with another edition of our successful series PHW and Friends. This time we unleash our 10th collection that we nowadays believe all followers of PHW is truly familiar with. For the time being, with Christmas coming up in a few weeks time, we do feel we have a real goodie bag selected and thoughtfully picked together to all of you.

Some really melodic and refreshing progressive music from different corners of the globe is being set together for this selection, including a great blend of artists, known and more unknown, but the message is as clear as ever, the finest music isn't about the names, it's all about the vibe and the feelings it creates!

For this collection we see another 11 progressive treasures being handed to all of you.

First out and the opener for this 10th episode of PHW and Friends is a welcome debut on the label coming from Russia, as Mekao makes his entrance through the PHW roster. As a true melody maker, he definitely sets the standard here with his fine number called "Bergen".

To follow that up, we see another debut on the label, as rising talent Cosmaks, based in Rennes, France makes a first appearance on the label. With a truly dreamy and melodic production, he kicks off in style together with us, and we can't wait to show more music from this heavy talent, it's warm, crisp and dreamy, all in the same package.

Next up is another sensational production together with us here on PHW, as we see the progressive veteran from Russia, Gregory Esayan come back to us, this time with his "Dub Mix" from his previous release with us, "Darkness" that was a huge success on the label. We listened to all of you, asking for the "Dub" as well, so here it is.

Moving ahead to the next one on this fine collection, is another warm welcome back on the label, as we are crossing the Atlantic and make a stop over in Canada. This time we see another sweet sensation coming from a producer that always stayed firm together with us, and we feel privileged to say to all of you, that Minicied once again is back with us. This "man of melodies" pulls the trigger right from the start, taking us a progressive journey, not to be forgotten. It's full of life, drive and hypnotic melodic layers, making it a true prog stomper ready to rock the world.

Next up is another sensational debut on the label, as we see the Swedish rising talent from Sweden, Martin Zeidner take a well deserved spot on this compilation. With a warm and melodic number called "Tossa", he sends us a true gift of energetic and high profile progressive music that definitely is to take you on a ride. We expect to see way more from this up and coming producer, let the journey begin.

Another return to the label is next on the roster, as the Poland based duo that been with us for a few times, Blissful Waves returns home to PHW with the graceful production "Keep Walking". Being known for their ever surprisingly melodic progressive house productions, they once more takes us on a driving take, filled with flying melodic hooks that we believe will go on repeat over and over again.

Next up we are making our route to Greece as we are delighted to see the return from Fiben on PHW. As we have seen from his productions lately, he is a man building energetic and melodic progressive productions. This one, named as "Skyway" is as beautiful as ever from the skilled producer who definitely takes his sounds to another dimension here.

We are keeping the lush and melodic approach on the compilation once again, as we move over and settle down in Spain for a while, as another first entrance on our roster takes a truly well deserved spot. This time, we see a producer that definitely is on the rise, as Barcelona bound producer Alberto Garcia aka Lumidelic is storming through the door of PHW. Being known for writing some fabulous melodic progressive house, he once again proves that he is a producer that, if he wants, is on the scene to stay. This one, named as "Symphony Of Life" is a truly well written progressive act, include those energetic and evolving melodic hooks that so easily is to become a drug for you, making that repeat button go warm. It's a truly captivating production that gives us a lot every time we listen to it.

We are crossing the Atlantic once again and make a stopover in USA and welcoming back the always great and friendly Yan Lhert to the label. He's been with us several times in the past, and we are delighted to bring him back once again, this time with his new sounds, called "Mostly Dead". This is a slightly deeper production, more bassy than previous cuts on the compilation. We are thrilled and excited to bring back yan to the family, and we believe you will understand while listening.

Next is another return on the label, and we truly happy to see the Australian native of Firas Tarhini join us once again. This producer, living his life in Melbourne down under, delivers another driving and melodic production on the label. It is great to have another gem from Firas on the roster.

Closing in is another artist that we are really happy to see join us once again, as we this time head of to Austria and getting some more fine music from the great Gery Rydell. This is another melodic progressive journey created from this undoubtedly talented producer and one that we of course are happy to have among us to close things for this 10th compilation in our PHW and Friends series.

We hope you will find material in here that you would like to support and getting great memories with.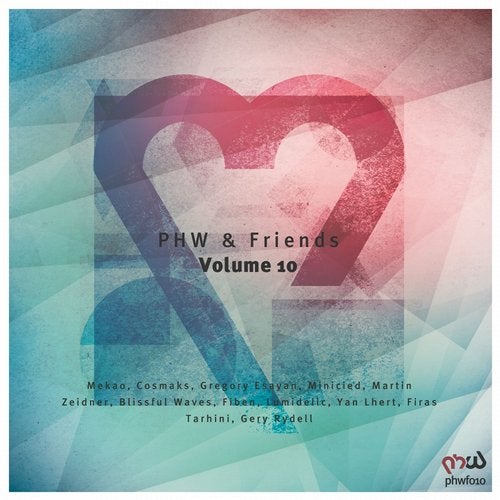 Release
PHW & Friends, Vol. 10
Various Artists

Release Date

2016-11-14

Catalog

PHWF010