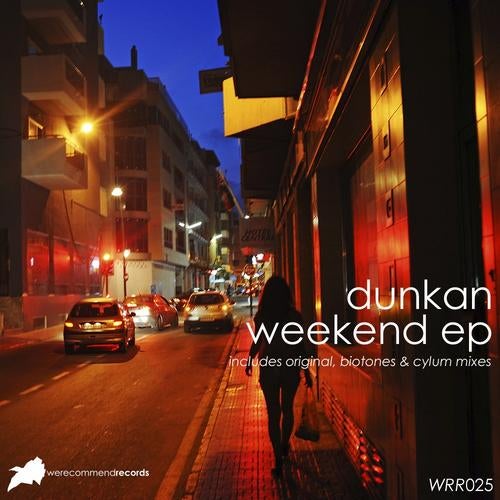 WeRecommendRecords proudly presents the debut EP from Dunkan, "Weekend".

Get ready for some smooth and bouncy vibes as Dunkan (Hyline, Shah-music, Indigo, Nueva Digital) gives you the sounds of his beautifully arranged pieces "Saturday" & "Sunday".
"Saturday" is the more laid back one out of the two that features some emotional piano, a cool arp, hopping bass and some trancy stabs.
"Sunday" has more bounce beat and more is happening in this tune. The trancy stabs makes a come back even here and it is impossible to sit still listening to this.
First up to remix we have Biotones (Black Hole, Round Triangle) and they took on "Saturday". Keeping the emotional side of the track they've added a guitar in the break that will make you jump out of excitement. The drop is gorgeous!
Second up is dutch resident Cylum! Cylum (Unearthed, Silen Shore, LW Recordings) does a great, great job here. Being more of a trance producer Cylum manages to keep the bounciness of the original but adding some elements of trance into it and therefore staying true to himself. This is a very well produced piece!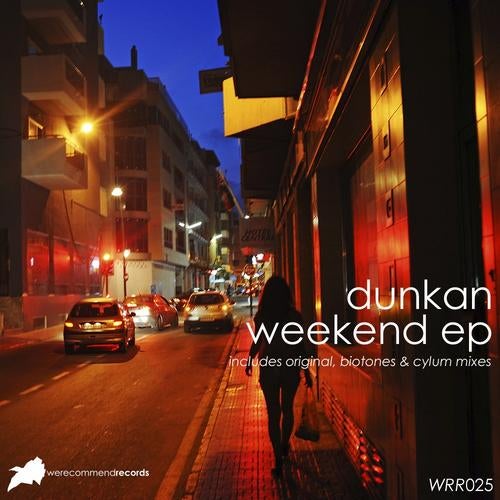 Release
Weekend EP