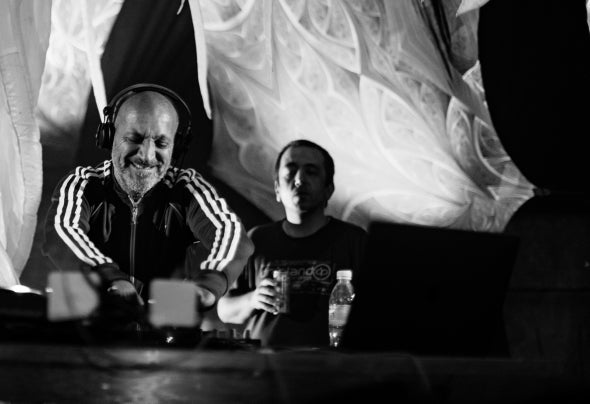 After 23 years of making people dance across the planet, the Full On Groove Guru has decided to take things a different route completely.
Fred as all you mostly call him, is known as NEUROMOTOR to the world – the Master Blaster. He has be quoted as one of the best performing live acts in the trance dance scene. 

Neuromotor has been a regular in many countries including Japan, Australia, New Zealand, India, Nepal, North Africa, United Arab Emirates (Dubai) Russia, Scandinavia, Germany, Belgium, Spain, England, Ireland, Canada, United States, Mexico, Guatemala, El Salvador, Costa Rica, Brazil, Peru ,Argentina & other Eastern European countries to name a few. He has also headlined many events and has represented the funky dance floor groove and legendary festivals such as Boom & Ozora among the big ones.
 
He has had many alter egos and effective combos with various artists. Some of the many successful are ESXS, Growling Moon Spirits, Plastyk Elephant, Neurochrome, Los Diablos and the most talked about, The Crazy Lions Cult. With previous releases across top labels including Peak Records, Bom Shanka Music to Crystal Matrix Records, Alchemy Records to Shiva Space Technology Records to Geomagnetic Records - clearly showcases his diversity of redefining the Full On sound. His main collaborations were with acts like Hyperfrequencies, Electrocult, Shanti, Chromatone, Phatmatix, Mechanix, among the dozens of them. 

The funk machine is on a high octane experimentation mode where the motors are revving towards making dance music with a difference.
The new sounds of Neuromotor can be defined as a "Cutting Edge, Funky Grooves & Space Bass in your Face kindda Dance Music".

 Keeping his experiences in the forefront, Neuromotor has been experimenting in the studio for the past 6 years on something special for dancefloor dwellers.

 Watch this space for more as there are some serious sexy sonic surprises coming your way from the motor.

: DID YOU KNOW | NEUROMOTOR FACTS ::
 #Neuromotor has been involved with Music for over 25+ years.
 #Neuromotor has released over 45 + record labels internationally
 #Neuromotor has rendered his mastering services for more than 30+ artists, record labels, production houses, etc. 
#Neuromotor has more than 100 plus releases – both as collaborations and singles.
 #Neuromotor has performed across more than 5 continents and 45+ Countries.
 #Neuromotor as collaborated with artists and has had more than 10 alliances / alter egos/
 #Neuromotor has played at major transformational dance music festivals internationally including the legendary Boom Festival & Ozora Festival.
 #Neuromotor has a record in India of being part of the biggest artist based tour with close to 16 Gigs in a span of a month and half.
 #Neuromotor is famous for playing long sets which has spanned for even 18+ hours – especially in Mexico, San Francisco & Bombay (Karjat)
# Neuromotor has a myth. Once he takes his shirt off – there is no stopping the motor ;) 

He is the Last Man Dancing!