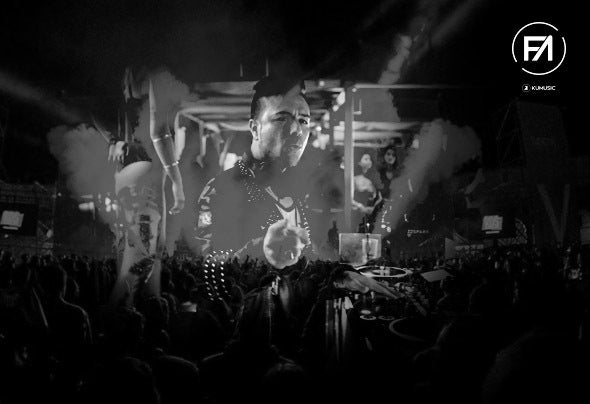 Francesco Adorisio was born in Matera in 1985 and he's always been fascinated by the night world, in particular by djing.
From 2003, just eighteen years old, he began to perform in several Italian clubs, but the real breakthrough came after his move to Bologna, a city that allowed him to better express his artistic skills that led him to share the console with important artists such as Bob Sinclar, Federico Scavo, Martin Solveig, Tommy Vee, David Morales and many others. 
From 2012 he began his activity as a producer with the release of his rst track "Ready to Fly" on the Italian label Smilax Publishing. In the following years his tracks have been much appreciated both by his audience and by important Italian radio stations including M2O, Radio 105, Radio Studio Più and RTL 102.5. All this led him to achieve important objectives such as the collaboration with the MOLTO label of the Warner group, that produced "Trumpet Up", "Come On", result of important collaboration with Stefano Pain, "Persia" e "Snakes", supported by Tiesto on his radioshow ClubLife. 
In 2017 he began his ascent: in April he released "Lollipop" in collaboration with Andrea Belli on Ego Music Italy and in October "Make it Right", in collaboration with Frankie Gada, on Molto Recordings. 
But 2018 is the most important year of his career: on 26th February, on Total Freedom Recordings, he releases "Are U Ready", that's the result of the collaboration with Marcel, who's made dance the danceoors of the most important Italian clubs and it led him to start a collaboration with Keep Recordings, which has produced both his summer success "My Baby" that's been part of M2O Radio's summer compilation and "The Way You Hide", released on November 2018, that has been supported by important Italian radios and added to M2O Radio's winter compilation. 
Nowadays, Francesco Adorisio plays in some of the most important clubs of Emilia Romagna such as BBK in Marina di Ravenna, Samsara in Riccione, Tremenda in Modena.