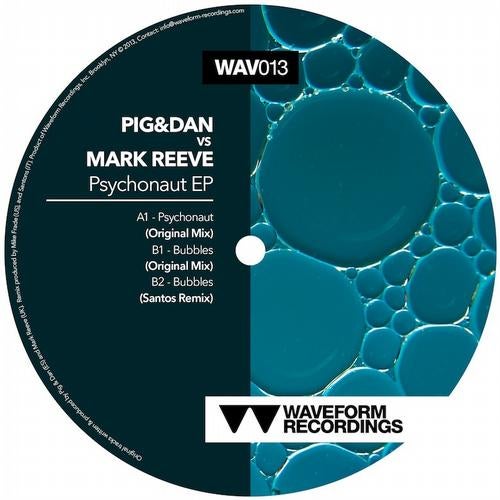 Pig&Dan vs. Mark Reeve - Need we say more? The duo with boy mark reeve produce a monster gem for waveform. Bundled with a bomb Santos Remix this package is a sure winner


A1_Psychonaut - A Heavy Techno affair full of energy and attitude. Slightly lighter in color this track compared to the rest of the EP so take this track from the club, to the beach, or to your pool parties during WMC in Miami this year.


B1_Bubbles - Another pumping vibe here which will drive people into a crazy frenzy, from a moody backing hook to big bass and drums this track is a special one from Spanish Techno wizards. The melodic mood change at the 5 minute mark is a sure surprise element to twist out any of your patrons for the evening.



B2_Bubbles (Santos Remix) - A special remix from Santos here, keeping with powerful sound of this EP, he delivers an even darker raging record which will make the hairs on ur body stand up. The addiction he brings with that deep vocal cut is such a great addition to the mood of this track and at 3 minutes when he strips back the track it will get the room every time.

Sasha Carassi Very nice release from Waveform. The Santos remix is my favourite here!
MiniCoolBoyz Three amazing artists = BOMB RELEASE!!
Mihalis Safras Banger of a Santos remix! Hoola hop!!! Support!
Tassilo (Pan-Pot) Another great release from these guys. Bubbles!!
Secret Cinema Bubbles is my fav from this release, in both versions! Support.
Oliver Huntemann Killer single! Great seeing (and listening to) this collab. Thumbs up! Psychonaut!
Ben Sims Feeling the dirtier vibes of the Santos remix on this one, thanks!
Steve Parker Nice to see all of these guys on Waveform, great release! Santos remix my pick.
Mauro Picotto Another good release from Waveform, thanks for the music. Psychonaut the pick.
Nicole Moudaber Psychonaut and Santos remix are great here, Will play! Thanks!
Martin Eyerer The Santos remix is it!!! Great record!
Wally Lopez Santos remix is huge!! Full support on the whole release though!
Marc Romboy A very solid tech houser, really like the atmo pads on the Santos remix, thanks!
Karotte Psychonaut and Bubbles are sounding great. Heavy play in my sets.
Samuel L Session The Santos remix wins here! But they are all good though. Lets bring the dirt.
Guy J Psychonaut is great and of course Santos never disappoints, loving his remix. Thanks!
Marco Bailey AMAZING RELEASE! MAXIMUM support from me on all tracks.Jon Rundell Feeling Bubbles for the drive in it. From the originals and the Santos mix, its heavy!
Laurent Garnier This Santos remix is awesome big support from me for that one!Sian An amazing and full on EP! Psychonaut my pick of the pack.
Carlo Lio Support for my homies. Bomb EP on a bomb label! I love the Santos remix!
Alan Fitzpatrick Ive been hammering this Santos remix for a while.
Joseph Capriati Now this is a VERY nice release. Will be playing the Santos remix!
Monika Kruse All of the tracks on this one are PURE BOMBS!!! Great work guys!!
Ambivalent Bubble is my style. Also like the Santos remix. I'll give them a swing. I can see these going very well.
Diversions (CHRY FM, Toronto, Canada) Diggin' the dynamically driving groove of Bubbles (Original Mix)!
Steve Parry (Juice FM, UK) Originals are wicked - love 'em! Santos mix is great too! Top package!
Ceoltronic Radio (RTE Pulse, Dublin, Ireland) Solid sounding EP. Will try feature on Ceoltronic Radio tonight.
Jonty Skrufff (Germany Calling, BLN.fm, Germany) - Excellent: perfect for my sets will road test at Sisyphos next weekend with pleasure!
Martin (Raveline Magazine, Germany) Santos remix is the best for me! Considering for review.
Fuzz Magazine, Belgium 3 massive tracks thanks for this!!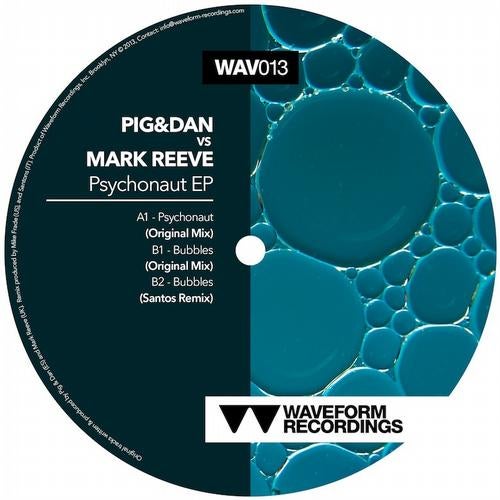 Release
Psychonaut EP