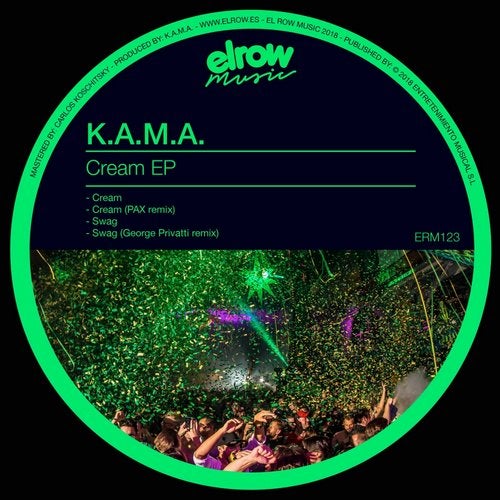 Release Date

2018-02-02

Label

elrow Music

Catalog

ERM123
We're just hitting February in elrow Music and, as one of our favorite months of the year - yeah, we love carnival - we have prepared a couple of very interesting releases for you, our dearest public, to get infused by that special vibe that comes along this time of the year.

The first one comes by the Italian DJ and producer K.A.M.A., who has tailored an EP with two original tracks and has summoned PAX and elrow's George Privatti to make two outstanding remixes. 'Cream EP' opens up with the track naming it, 'Cream (Original Mix)', a steady track with a dry and tight percussion, with an interesting vocal loop and techy progression, that breaks with some amazing FX for the dancefloor madness.

Then we have PAX's remix of the track - 'Cream (PAX Remix)' - which starts with quite the same vibe but turning the vocal line into a distant cry thanks to an amazing echo treatment, turning the attention into different breaking points with the FX as center of the sound trickery.

After, we find 'Swag (Original Mix)', in which K.A.M.A starts with the same strong percussion and adds up some wooden treatment, giving the track that perfect carnivalesque vibe so associated with elrow Music tracks, with a darkish structure and stronger vocals, that many will feel familiar with, adding points with a progression that builds up, making this a perfect transient track for calmer moments on the floor.

Finally, the EP closes with 'Swag (George Privatti Remix)', in which elrow's resident twists the original vibe of the track, focusing on a more danceable progression, taking away the wooden percussion while the tracks becomes darker thanks to its FX and vocal line, turning the track into a dancefloor killer.

All in all, a great ERM123rd installment, that keeps adding young blood and high rolling remixes to elrow Music's roster of talents! See you soon in the floor!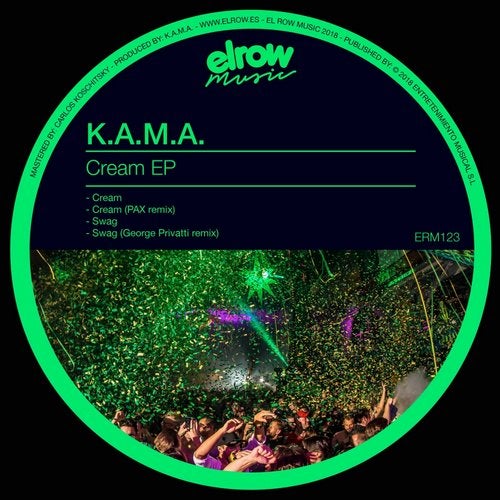 Release
Cream EP
Release Date

2018-02-02

Label

elrow Music

Catalog

ERM123