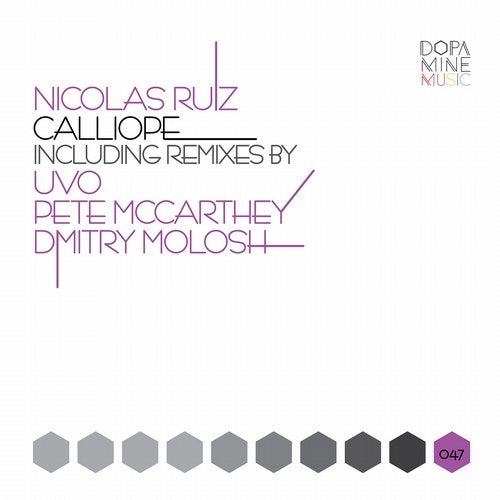 The 47th release on Nikko.Z's Dopamine Music welcomes Nicolas Ruiz to the label for a new single. The Argentinean producer got his career off to an incredible start when his 'Choir' production was signed to the Renaissance Masters series by Nick Warren for release in 2013.  Now Nicolas makes his long awaited debut on Dopamine Music with 'Calliope', his first original production in over two years, alongside remixes from Uvo, Pete McCarthey and Dmitry Molosh. 

It's been a long wait for new material from Nicolas and 'Calliope' does not disappoint. The Argentine's steady DJ schedule and understanding of dance floor dynamics is evident straight away. It's sultry, hypno groove generates a wonderful momentum early as bulging bass tones and dark stabs fill the air. Quirky rhythms and phasing vocal pads carry the piece nicely before  a more distinct tonal theme develops. The main break presents moments of beauty with gleaming keys and bassy decays before a dramatic shift accelerates tension and a wicked third act ensues. A wonderful production from Nicolas which has already earned the praise of Hernan Cattaneo, having been featured on the storied DJ's Resident Delta FM radioshow. 

The first interpretation of 'Calliope' is provided by Uvo who is making his second appearance on Dopamine Music. The Mexican producer and Intemporal label boss is fresh off the release of his 'Dreamcatcher' collaboration with Argentinean producer Lautaro Varela. Uvo's been back to his solo remixing ways of late and he's delivered another wonderful production for his 'Calliope' interpretation. The Mexican producer has reshaped all of Nicolas' great parts into a driving, tripped out construction which absolutely rocks. Bands of effects coupled with intriguing designs, gaseous sweeps and waning vocal pads make for a spaced out journey, which is sure to find favour on all the clued up dance floors out there.

The second interpretation of 'Calliope' is provided by Pete McCarthey who is making his sixth appearance on Dopamine Music. Also serving as one of the label AandRs Pete has found a home on the Greek imprint where his techno inspired creations have always stood out. With just one production so far in 2015 Pete's remix here comes with much anticipation and he's delivered a wonderful complement to the original. The Greek producer's dubbed out techno approach is filled with late night vibes which are sure to appeal to a broad range of DJs. A bevy of hypnotic motifs trail through the well crafted framework while a wall of funky tones power the groove forward. Void of any massive breakdown Pete builds tension with a drummy interlude while the iridescent pads continues to heighten the emotion. A stellar third act highlighted by a lone cymbal ride proves to be just enough to crack the egg completely open. A heady production from Pete and one of his best to date.

The third and final interpretation of 'Calliope' is provided by Dmitry Molosh who is making his first appearance on Dopamine Music. The Belarus based producer has been thriving since the beginning of the year with both Hernan Cattaneo and Guy J becoming supporters of his music. He's become known for his modern twist on that old school progressive sound and one of his recent productions 'High', got featured by Hernan in his recent Moonpark set. Being both incredibly prolific and consistent Dmitry has delivered an exceptional interpretation of 'Calliope' here. Anchored by a pristinely produced groove and charged rhythms this one is aimed squarely at the contemporary dance floors out there. Rolling slabs of bass combined with bubbly electronics and poignant keys make for an exhilarating ride, with a section of chord changes provided a great conclusion. Amazing remix from Dmitry once again and a top notch offering from Nikko.Z's Dopamine Music. Don't miss it.

Directed by Nikko.Z.
AandR by Christopher FaFa.
Artwork by Andreas Pn (Designstudio.gr).
Text by Mitch Alexander (Releasepromo.com).
Distributed by Proton.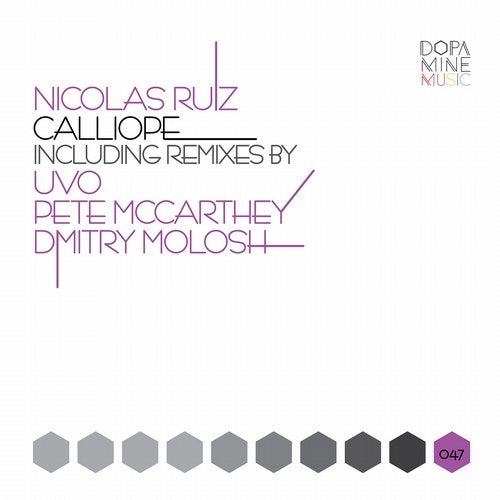 Release
Calliope