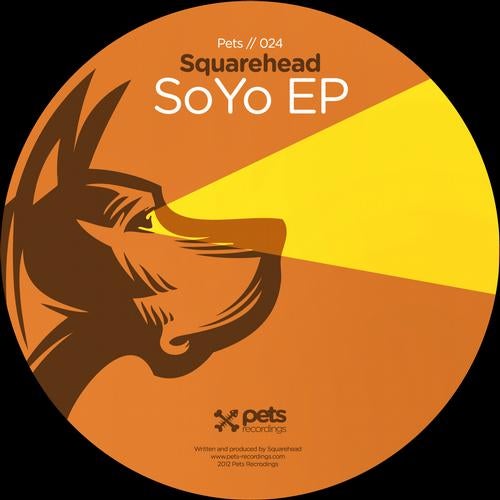 http://pets-recordings.com/

Pets Recordings are back with a two track EP from little known Sheffield upstart, Squarehead. Built with the warehouse environment in mind, Those Things You Do and Elevation draw you in with rolling deep bass, inner-city rawness and classic, foot-shuffling drum patterns. Bringing together traditional dance floor inspired themes with discernibly new school nuances, Squareheads offering fits the Pets fun, club-centric aesthetic perfectly.

Those Things You Do is driven by a simple yet absorbing melody, while fuzzy interference and echoed layering sets out to warm even the bleakest warehouse brickwork. The most refreshing thing about Elevation is without question its uplifting, proper house vocal. Produced alongside Mistamens Mella Dee, its buoyant bass line and UK Garage reminiscent, tribal drum flutters will have you locked to the floor from the first bar.

DJ FEEDBACK:

Riva Starr - Loving the rolling groove on Those Things will defo play it out! Hot track!

KRL - Love what I've heard from Squarehead so far and Elevation is boom ting!!!!

Diesel - (X-Press 2 / MoS Radio) - Elevation sounds very workable for our floors. Garage styles!!

Firas - (Waze & Odyssey) - Really loving Elevation!!! Props to steel city!! Well be playing this!

Karotte - Both tracks are great!! Reminds me at the old uk garage times. Love them!!

Agoria - Pets Recordings again at the top! Another strong release. Support!

Amos - (Waifs & Strays) - Hot hot HOT...love this!! Elevation is getting played!!!

TrueSelf - Yet another heavy release from the Pets family. 'Elevation' is right up my street. Deep and rolling

Maxxi Soundsystem - Elevation now that really got my shoulders moving.

Sinden - Dope Dope DOPE tracks!! Elevation is KILLER!!

M A N I K - Solid floor tunes once again from my homies at Pets. Will play out def. Elevation has a classic touch to it...

Tom - (BBC Radio 1 producer: Skream & Benga) - Those Things You Do is a wicked track. Skream's played on the show.

Makossa - (Radio fm4 Vienna) - Solid stuff. I will be trying Elevation.

Kiko Martínez - (DocePulgadas Radio Show Spain) - Both tracks are fantastic! Full support!

B.Traits - (BBC Radio 1) - Elevation :) Ive been playing it as 'Do U' for ages.

Karlos Sense - (Ibiza Sonica) - Those Things You Do... support by me.

Stefano Fontana - (Scrunch Radio Show Italy) - I love this ep!! Pure class!!

John Jones - (Ministry Of Sound Complier) - Wicked little EP. Heavy support on both tracks from me.

Greg Fenton - (Magazine Sixty.com) - Good production - very inventive.

Pat (SlothBoogie) - That first track sounds pretty epic to me!!

Kev O - (DataTransmission) - Top-notch as always from the Pets camp.

Joe - (DJ Magazine UK) - Big Squarehead fan, big Pets fan, not disappointed!

Kristijan Molnar - (Christillization Radio Serbia) - Those Things You Do is for me, great party tune! Thanks for sending, supporting.

Ante Perry - (DJ Magazine Germany) - Fantastic! Already in love with Those Things You Do.

Shadow Child - I like both but 'Elevation' is definitely the one that calls out to me on the release. Support!

Andy Baxter - (Pacha & Café Mambo Ibiza) - Rudebwoy business and ting!! Elevation is a bomb!!

SOLO - THIS IS CRAZY! Love both songs, can't wait to drop em!!

Ben Westbeech - Been a supporter of Squarehead for a while now. He really comes into his own here. Great EP. Full support from Breach. Elevation is a BUBBLER SPESH!

Skream - All about 'Elevation' for me BIG TUNE!

Hot Since 82 - Those Things You Do is soooo bad, love it!!

Death on the Balcony - BOMBZ with a Z from Pets again!! Will play these!

Nick Monaco - Those Things You Do got me two-stepping! Nice work from Squarehead.

Paolo Rocco - I love the bump in Those Things You Do. Will be trying this out on the weekend!

Christian Martin - HOUSE!!! Love the chords in Those Things You Do, sick ass break as well!!

Eli (Soul Clap) - Elevation really lifts me up! Will try it out.

Martin Landsky - Another cool ep from the Pets family I like both of them....

Alexis Raphael - I like both tracks actually!! Will test tomorrow at WHP. Thanks for the promo.

SHOW-B - Pretty sure these tracks will serve very well. thanks.

Marcin Czubala - Another great release definitely feeling Those Things You Do!!

Kill Frenzy - I really like feeling of the tracks, they just keep carrying you along.

Huxley - Both tracks are great!! Stunning stuff as always from pets.

Homework - Elevation is great, special Pets brand!! Love it yet again!

Tom Findlay - (Groove Armada) - Tune!! Love love love love this - Those Things You Do the standout for me.

Rampa - Dope shit from Squarehead!!! Im all over Those Things You Do.

Jona - Those Things You Do sounds really good!! I will be playing that!! Thanx guys!

Riva Starr Loving the rolling groove on Those Things.. will defo play that out! Great record!

KRL Love what I've heard from Squarehead so far. Elevation is boom ting!!

Roska - (Rinse FM UK) - Nice ep guys.. smooth garage flavas!!

Laurent N. - (Nice Radio France) - Another nice House Release. With a great Elevation track. Will play & SUPPORT !!!

Tom Breu - (WDR 1LIVE Germany) - Next great ep on pets.. thumbs up!

Diversions - (CHRY 105.5FM Toronto, Canada) - Luvin' both cuts - seductive & sexy numbers!

Martin Heyder - (Raveline Magazine Germany) - Nice ep, as a!ways from Pets!!

Louisahhh - (Magneticmag.com) - Really good, useful tracks. Excited to play these out.

Marcus Barnes - (RA/Ibiza Voice/Independent) - YES!!!! Elevation... great name as well.

Ignacio - (mixside.com) - Pets never disappoint do they?! Thx guys!!!

De:Bug Magazine Germany - Considering for review.

Tsugi Magazine France - Nice one guys My fave is Those Things You Do.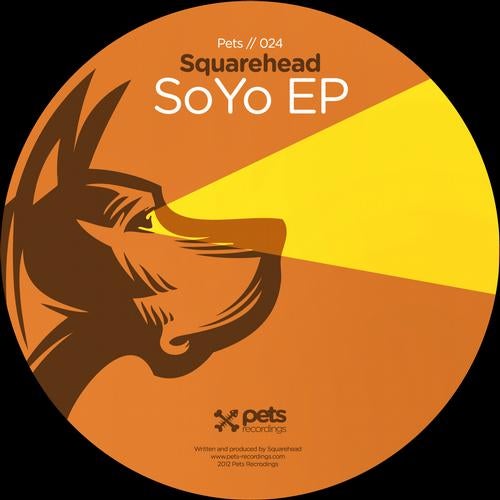 Release
SoYo EP