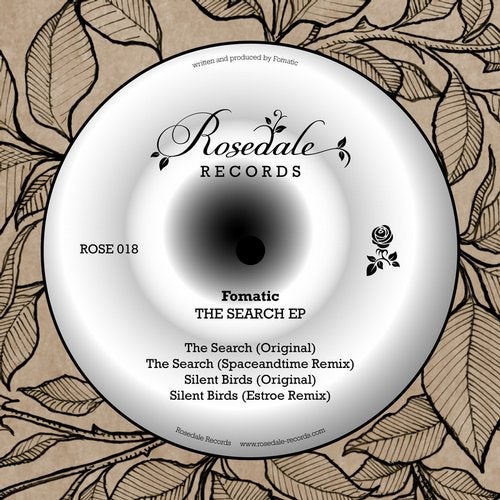 For Rosedale number 018, Fomatic returns with two more tracks of his trademark melodic and thought provoking music. Estroe is once again on remix duties as is Spaceandtime with their own brand of cosmic sounds.

Fomatic mentions that The Search is a representation of 'the search for my inner-self in music.', and that, 'the track combines my love for IDM and deeper techno music. Sometimes it's a struggle to love both but I like to take advantage of the situation'.
His idea is certainly reflected in The Search. The mood is pensive as the track starts off. Percussive clicks and glitches add an almost subliminal tension while, in the background, distant brass like notes linger like the fundamentals of the artist's original idea. The pacey bassline bounces and leaps around in both timbre and attitude, and has to be pulled back and tamed from time to time like a focussed effort to prevent his thoughts from running away with themselves. The track, without being over-burdened by complexity, is superbly effective and communicates the discipline of controlling one's mind.

Spaceandtime's remix of The Search communicates once more, the idea of controlling thoughts and the struggle sometimes of keeping ideas in check. The re-use of the original's brass like synths are utilised well and bring a hypnotic and pressing feel to the track. Sub basses throb and add floor-shaking depth while high-end white noise splashes and elastic chord stabs play out like momentary disturbances that the focused mind is trying to avert during this late-night mission.

Fomatic writes: 'Silent Birds is an emotional track, which is about disappearance of what comes naturally, like birds that become silent suddenly'' He goes on to mention 'At the time that I wrote this track I became more conscious about certain things in life. Don't take things for granted.'
The original mix of Silent Birds is a tapestry of beautifully melancholic synth melodies that weave themselves around rich but haunting pads, like one is standing at a window, listening to the chatter of the dawn chorus while longing for another to be there also. The devastatingly moving piano break takes one away momentarily, like the distraction of a cherished memory, only to be reminded of the emptiness of being alone when the pads and melodies come back in.

Estroe brings another dimension to Silent Birds with her remix. Fomatic's original idea is now compellingly inverted by the remixer in that the tapestry is picked apart into long atmospheric suspense laden pads and strings that give in to the idea of solitude. This time the melody heralds the moment of realisation while deep legato bass and guttural percussion add a more machine like presence while keeping the emotion at a heart-felt level.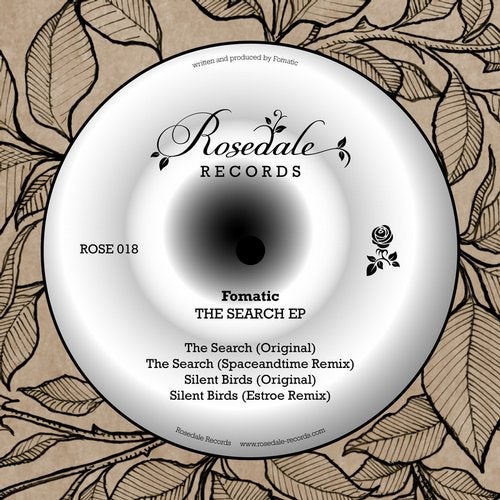 Release
The Search EP