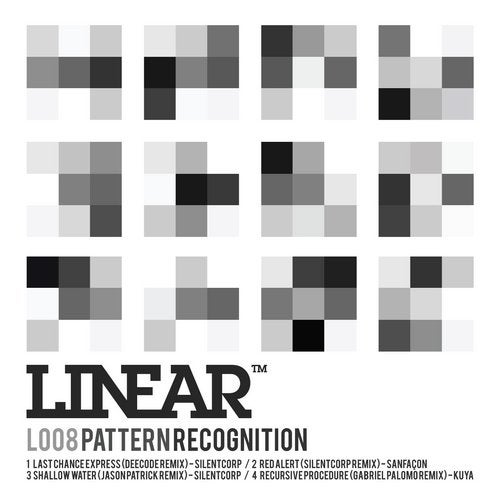 Release Date

2014-09-15

Label

Linear

Catalog

888831621584
Linear 008
Pattern Recognition
Various Artists

1. Last Chance Express (Deecode Remix) - Silentcorp
2. Red Alert (Silentcorp Remix) - Sanfacon
3. Shallow Waters (Jason Patrick Remix) - Silentcorp
4. Recursive Procedure (Gabriel Palomo Remix) - Kuya

Pattern Recognition - Linear composing new from old.
The metal glows red as we depart the station one more time, Linear newcomer Deecode reworks Last Chance Express into anthemic techno that begs for a dark room full of sweat, bodies and speakers.

With the threat still imminent the sky above darkens, Silentcorp sounds the alarm and marches into the fog with his Red Alert remix. Danger close techno for the unwashed masses.

Cold water hits the bare skin, the seas reach out from below as Jason Patrick submerges Shallow Waters into the deep. Rolling basslines wash ashore and over the crowd, move to the high grounds to avoid the funk.

Rewind, break it apart, piece it back together and run it through the mind of Gabriel Palomo - Recursive Procedure twists the originals intent with a 'how do ya do' smile and a knife to your back. Play it loud!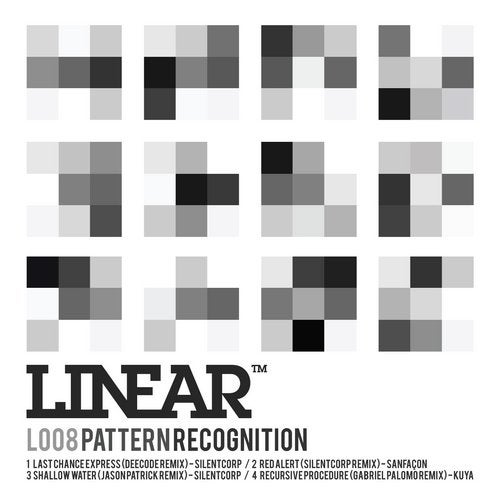 Release
Pattern Recognition
Release Date

2014-09-15

Label

Linear

Catalog

888831621584