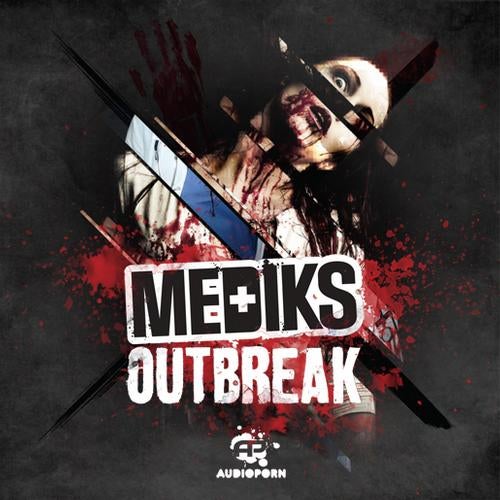 Release Date

2012-04-09

Label

Audioporn

Catalog

APORN021
Audioporn now introduce Mediks, a sick trio of producers ready to spread their adrenaline packed take onelectronic dance music. Based in Bristol, Mediks combine the speed of DnB with the heavyweight bass of dubstep,with truly alarming results. Featuring, the funky Outbreak, fast-paced Nightmare, soulful Blown Away androwdy Doomsday, the Mediks are ready to revive DnB, and spread the chaos.

OutbreakMediks kick off their debut release on Audioporn with the contagious Outbreak. Featuring a cinematicintroduction filled with alarms and the dulcet tones of the undead, Outbreak shows off the cheeky,innovative flair of the fresh new production trio. Boasting an infectious melody coupled with aggressivesynths, detailed sound effects and a funky swingbeat, Outbreak is the perfect introduction to the Medikssound.

NightmareNightmare begins with an even more epic introduction, featuring haunting choral vocals, thunder and thestuff of fear itself. After a building drum beat, the track launches into a low, down and gritty DnB number.Combining filthy bass with soaring synths and vintage samples, Mediks fuse a haunting atmosphere withequally scary basslines. One sure to generate an electrifying atmosphere on the dancefloor.

Blown Away (feat. Astronaut)Mediks show their versatility with the silky smooth vocal number, Blown Away. Featuring a summeryintroduction with acoustic strumming, Mediks roll out the feel-good vibes with a sweet sing-along vocal andsoulful melodies. A refreshing liquid track with airy synths, crisp melodies and slick drums as well as apulsing bass, Blown Away reveals the healing side of Mediks.

DoomsdayMediks round off their impressive debut with the disruptive, Doomsday. After a post-apocalypticintroduction, Doomsday builds into an adrenaline filled drum and bass track. Featuring a variety of unruly,morphing synths, disorderly sound effects and a boisterous bassline, Doomsday sees Mediks push things tothe very limit with a track made for destroying the dancefloor.