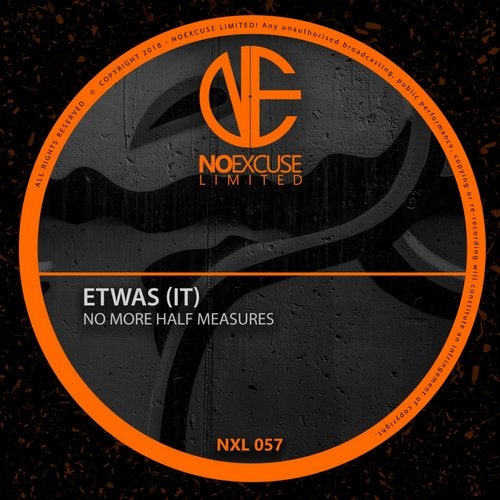 Welcoming Etwas (IT) back to NoExcuse Limited with his second release on the label, his 'No More Half Measures' EP is a more than sufficient follow up from his 'Lilypad' release earlier in the year. He returns with a 2 track package that confidently exhibits his defined sound, creativity and understanding of our own signature sonic stamp.

Opening the gate is the title track, 'No More Half Measures' is a firm roller with ample amounts of groove. Bearing the fruits of our signature Limited sound and lots of Etwas' distinct sonic identity, the track is loaded to the brim with complementary factors that tie up to make a solid final product. Within the mix, you'll find a steady flow of sturdy drum patterns, standout offbeat percussion, splashes of FX that catch you off guard and tactically placed vocal chops.

The second and final track on the release is titled 'Let The Bass Kick'. Very much like its counterpart, it hosts a good bed of rhythmic concoction, teamed up nicely with quirky sampling, more dashes of FX and clever vocal injections. Etwas shows his creative side with this track, chucking in some 'out there' sounds that fit perfectly with the backdrop, a largely fun and equally heavy piece of music.

Etwas (IT) and his 'No More Half Measures' EP, proudly presented to you by NoExcuse Limited.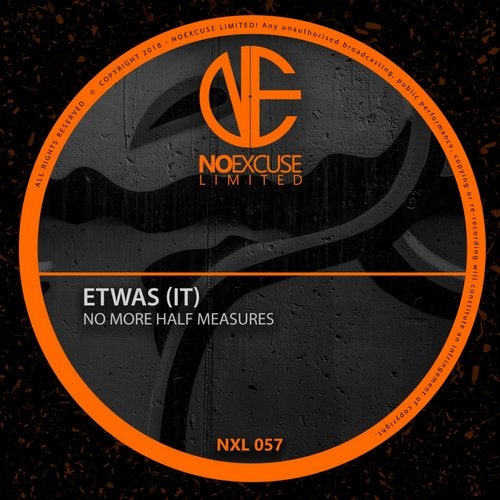 Release
No More Half Measures