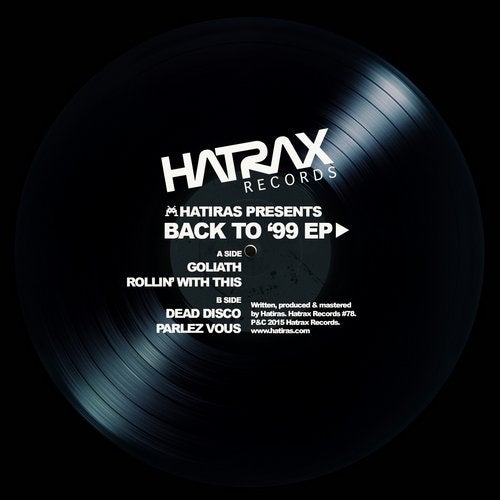 With so much formulaic and money-hungry noise out there, somebody has to stand up and go against the grain. House music was born from disco. From funk. For the dancefloor. It relied on samples, classic drum machines. Analog gear. It was about the feeling you got from listening to the music. Not the fame.

With his "Back To '99" EP Hatiras takes us one step back and two steps forward. A bold return to the funky, filtered French flavor of house music. A return to, quite honestly, the truth.

The first tune, "Goliath" is exactly that. A towering build of screaming funk reminiscent of past Hatiras hits "Spaced Invader" and "Digital Doom".

"Rollin' With This" is a bassline driven, gangster flavored slice of dancefloor heaven. Groovy, bouncey fun.

"Dead Disco" takes the funk to another level. Reminiscent of Rick James, Salsoul Records, and those old instructional disco records. Big, funky, badass.

Finally, "Parlez Vous" is a heavy nod to the forefathers of French house music. Daft Punk, Cassius, Sebastien Leger, Alan Braxe. The golden era of loopy, dreamy and funky beats.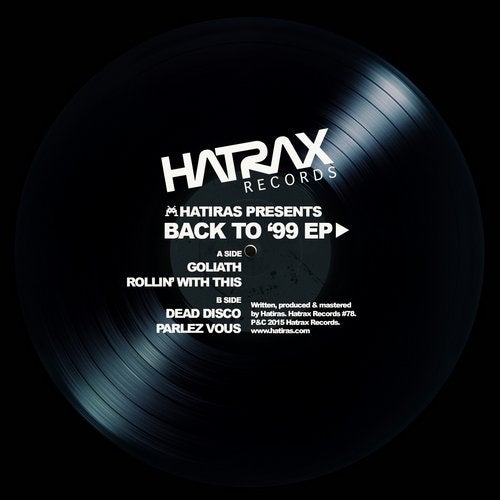 Release
Back To '99 EP