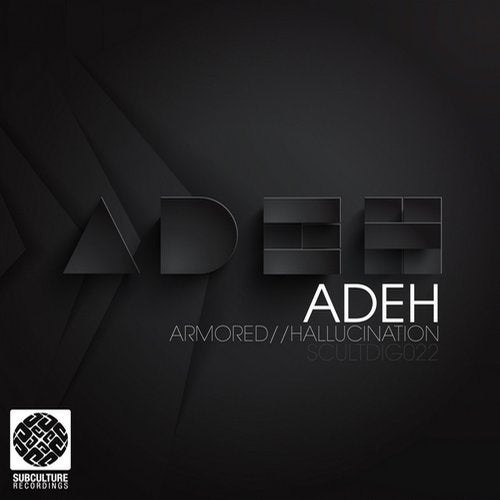 Bass music from Italy's Adeh, on Italy's leading bass music label, Maztek's Subculture Recordings. Adeh's work is truly multi-genre, with sounds emanating from drum & bass, dubstep, electronic and beyond, leading to an experimental, edgy blend of influences. Adeh's output has reached a wide range of labels, including Gamma Audio, Delta9 and Rogue Beatz, and now his Amored/Hallucination release crashes down onto Subculture. Maztek's revolutionary label has been representing for the very finest in underground sounds, providing an outlet for the most visionary, talented artists and producers to show the world their music. This is right where Adeh fits in.

Armored has a beautifully engineered, deep intro, which builds in layers, until it unleashes a fierce kick in the drop, with mini-breaks over the main beat, which allows the samples and snatches to interact, and the basslines to come and go in the mix. Adeh varies the tempo, switching things in and out around a central vocal sample. He's not afraid to do his own thing, taking chances others wouldn't take. The track will move bodies and mind, and provides a solid foundation for Adeh to take things further on Subculture in the future. Forward thinking music.
Hallucination is all your worst nightmares come true at once. Rolling, resounding breaks flicker between haunting samples, creating an enclosed, claustrophobic feel to the track, with beats pressing down on you, making you want to break out and bust a move. Adeh has gone in deep, reflecting on his experience and his genius to come up with what is his best work to date. Creating a world and destroying it in the same breath, he is truly pushing the boundaries of what we expect from producers. Take a journey into his mind, and you'll see what Hallucinations populate it. SCULDIG022 will continue the path laid down by previous releases, allowing more and more people to see just what an amazing label Subculture is. Make your way to Amored and Hallucination.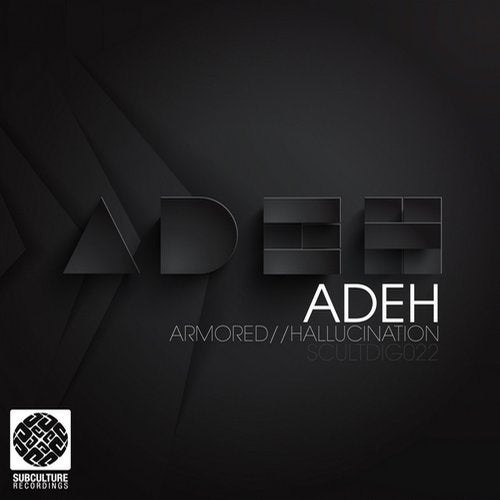 Release
Armored EP