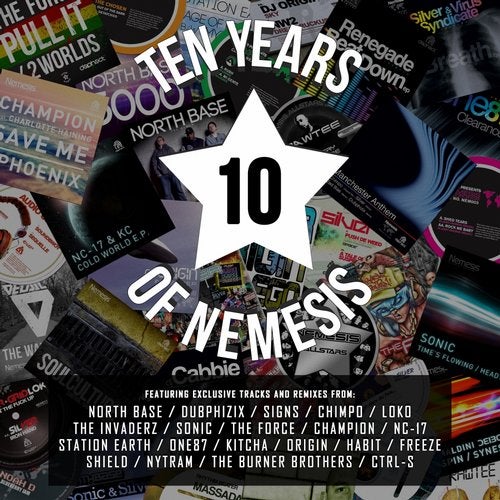 Release Date

2015-12-04

Catalog

NRD20LP
Nemesis Recordings has consistently been a label which the finest DJs have selected for, ever since they started back in 2005. Now, they are celebrating their decade anniversary with the release of 10 Years Of Nemesis Recordings, a twenty-track collection new tracks and of some of the finest of their back catalogue from the likes of Signs, Loko, The Force, label boss Silver, and more.

Since the label was founded a decade ago by Silver the label has had well over 30 releases ranging across the whole spectrum of drum & bass, therefore Nemesis is rightly seen as a leader in its field.

Opening the album is Signs' Memento, which slides and stutters into life before slamming in some fresh beats and building electronics. Loko & North Bass are Reaching next, which comes on slowly, before dropping into a smooth liquid groove, complete with searching, emotional vocals.

Sattriya, from The Force, bounces around a main section, with mystical vibes leading into some more heavyweight sounds later, before The Invaderz show that they Need You. You'll get All Of The Feels with The Burner Brothers, as they throw in some ice cold electricity, freezing synths and chilly basslines. The album is full of different styles, ranging from the modern to the old skool, the upfront to the considered. Tribal percussion and rushing atmospherics is the name of the game for North Base on Superstition 2014, before Dub Phizix is on hand to remix One87's Clearance. The vibes continue into Deep Space, courtesy of Freeze, as well as on contributions from Ctrl-s, Origin and Habit.

The album closes with the startling Myth of Er by Station Earth, which is as epic and cinematic as you'll find. Sweeping synths open things up, before the beats and bass comes in, meaning you'll be reaching for the stars in no time. This is big. Final track Hollow In Me from Nytram is a fitting end, uniting the sounds found on the album. 10 Years of Nemesis Recordings, and here's to decades more.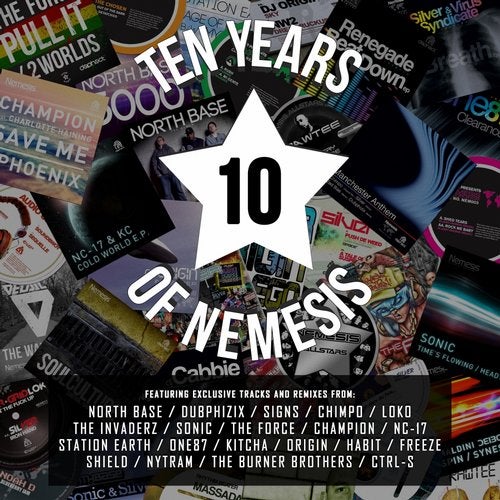 Release
10 Years of Nemesis
Various Artists

Release Date

2015-12-04

Catalog

NRD20LP