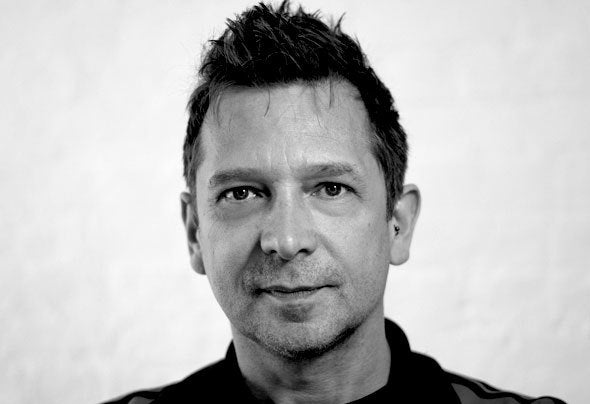 After more than two decades of rocking dance floors and a case load of releases and remixes on a plethora of labels, Darc Marc has carved an indelible name for himself as a DJ and producer of some of the nest techno and acid techno to come out of the UK. Releasing on on labels Purenoise, Stay Up Forever, Cluster, Maximum Minimum, Working Vinyl, Carnage, Technik, Gazole, Cerber, Highway 46, Lifeform Recordings, Subvert, Rough Diamond, R.A.W. BR 909, Wemoodswing, Beetroot Records and MOOD Records among others.
His skill with techno has taken him all over the world to perform. From the UK to France, Italy, Poland, Germany, Canada, Venezuela, Australia and even Brazil, once playing a gig there to mark the country's triumphant appearance in the football World Cup Final in 2002. He makes music in his studio with a combination of classic analogue synths / drum machines / hardware and modern digital gear. Here he has worked closely on projects over the years with artists like Chris Liberator and Lenny Dee. As well as producing techno, Marc has continually worked outside the genre, notably when he played synths, guitar for Def By Disco, a dub label called Wemoodswing, The Nexus Twins, Smash The Box and others. 2019 Marc had a techno hit with Dirty Rocking Bass, Initially released on vinyl on Cluster X, which got supported from DJs from around the world including Amelie Lens, Dense & Pika, I hate Models, Hector Oaks, D.A.V.E. The Drummer, SPFDJ and Nicole Moudaber who featured it in her Essential Mix on Radio 1 and is re-releasing Dirty Rocking Bass later this year on her Mood Records label. Also started a new act called Delos with Denise Fadigati with the first release 'Life can change in just one minute' on Echolette records getting played on Pete Tong on Radio 1 and Nimone on 6 music.
Marc has also plays live shows for Francesca Lombardo for her Life Of Leaf album.