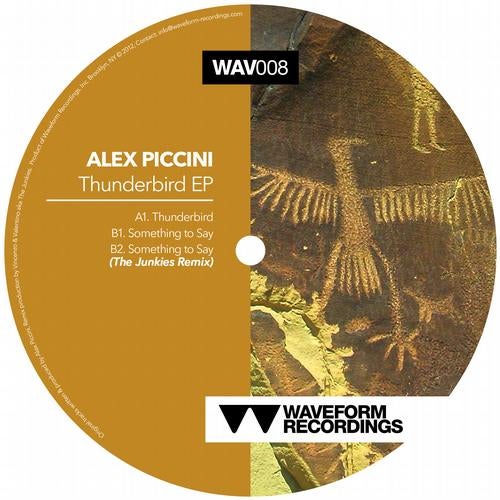 Alex Piccini was born in a small town near Venice, a city strongly influenced by house and techno music thanks to well known clubs such as Go-bang, Movida and Muretto. Clubs that brought this music into Italy for the first time. As Alex grew up listening to this music, he became passionate for the scene; what led him to become a DJ.
A1_Thunderbird - Funky Tech House at its Finest. Alex definitely knows how to capture a groove with a infectious hook in the background of the mix. To top it off, top quality arrangement with constantly evolving elements act as ear candy the more you listen the more it grows on you.

B1_Something to Say - A Heavier Tech House affair, more sporadic with no real hook, just BEATS and a penetrating baseline for those you like the running bottom effect.
B2_Something to Say (The Junkies Remix)-Big Room Techno all day here!...Perfect the clubs, the darkrooms, the festivals, an all around top track. Simplicity at its finest.


DJ FEEDBACK

Marco Carola - "The Junkies Remix is a really nice track for me. Will fit well!"

Tassilo (Pan-Pot) - "The Junkies remix stands out more for me here. Well give it a run out this weekend. Like it

2000 and One - "Completely is love with the Junkies remix here! Great groove!!"

Michel de Hey - "Love the energy in Something To Say!! 100%% playing this!"

Layo Both mixes of Something To Say are really gonna work well for me. Looking forward to trying these!

Orde (Slam) 3 totally cool and effective tracks. Top tunage from Waveform again! Will play these!

Kiko Martínez - (DocePulgadas Radio Show Spain) - "Thunderbird & Something To Say (The Junkeis Remix) for me! Support."

Angel - (DJ Magazine Spain) - "Thunderbird is very nice! Thanks for sending!"

Nick Curly - "This Junkies remix is sounding great!!! Really like this. Playing!"

Adam Beyer - "Really great stuff from Alex! Feeling Thunderbird a lot!"

Andrew Grant (dc10) - "Liking this Junkies remix!!!! Heavy groove!! Full support from me on this!"

Carlo Lio - "Awsome pack of music... been rocking the Junkies mix for a while..... feeling everything here. Thanks."

Ingo Boss - (Cocoon) - "Nice remix tune from The Junkies. Also downloaded and burned for Sven Väth."

Simi - "Oh yes this is really good!! Loving all mixes!! Thanks for sending guys!"

Riyaz Khan - (CHRY 105.5FM Toronto, Canada) - "Diggin' the dense, building Junkies remix!"

Martin Heyder - (Raveline Magazine Germany) - "NIce!!! Will check for review!!"

Lukas - (Raveline Magazine Germany) - "Moving forward...all these three bombs!"

Stephan Bodzin - "JUNKIES MIX!!!! Now that is a BOMB!!!!"

Kaiserdisco - "Something To Say original and the Junkies Remix are MASSIVE!! Will hammer it a lot for sure! thx!"

Marc Miroir - "Im a big fan of Alex. Love all his tracks. Including in this great package!"

Karotte - "I like the groove from the tracks They sound like theyre gonna be nice to play. thanks."

Martinez - "Something To Say... Great hypnotic house music... ! Support!"

Alan Fitzpatrick - "Liking The Junkies mix for sure! Strong stuff here!"

Pig - (Pig&Dan) - "Solid ep from Alex and Waveform again The Junkies remix is my fav. Will play!"

Dan - (Pig&Dan) - "Great release but the Junkie boys are the one Ill be smashin out there on the floors. Thanks for this."

Marco Bailey - "Its all about The Junkies mix for me! Strong rework and perfect to play!!"

Danny Howells - "Perky grooves that are always guaranteed to work .. will try the original out for sure!"

Martin Eyerer - "Something To Say is soooo GREAT!!!"Sian - "Now this is a mega good ep!! Thunderbird is my fave on first list but will try them all."R

eboot - "Cool ep and perfect for me to play. I will try it out Thunderbird this weekend, its really nice!"

Gel Abril - "I always like Alex Piccinis music. Always very cool!"

Stacey Pullen - "Solid release indeed from Alex will try thunderbird and The Junkies remix."

Gregor Tresher - "Quality all over in this ep, both originals cool and another great Junkies rework!"S

teve Parry - (Juice FM UK) - "The Junkies Remix is really cool!!!"

Laurent N. - (Nice Radio France) - "Nice release with a MASSIVE Something To Say track original & remix. Will play & FULL SUPPORT !!!"

Toni Moreno - (Ibiza Global Radio) - "Nice tracks!!! Thunderbird is my fave. Full support on Ibiza Global Radio. Thanks!"

Raphael D (Partysan Magazine Germany) - "The Junkies mix is cool!"

Soundwall.it Will look at it for a review."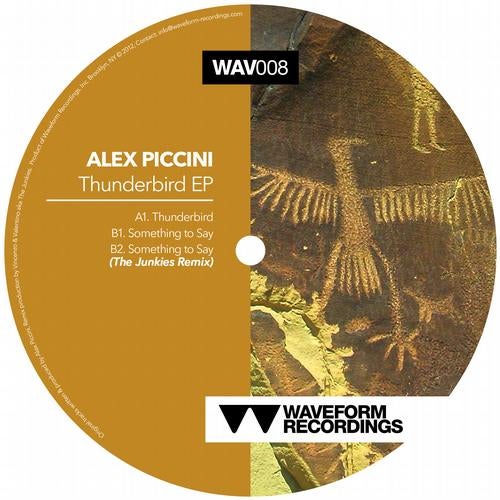 Release
Thunderbird EP