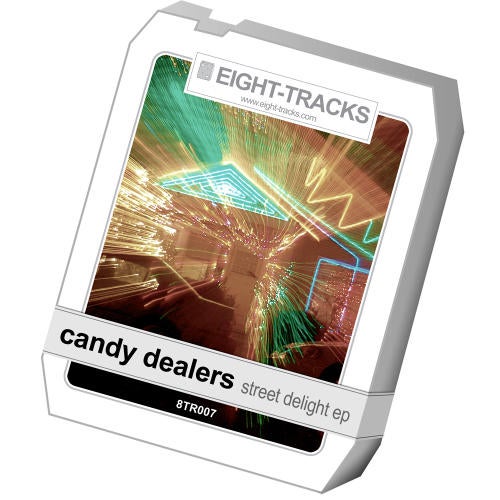 The buoyant "Street Delight" could take place on Córdoba Street, running through the heart of Rosario, Argentina, home to EIGHT-TRACKS' latest signing, Candy Dealers. Founded by Jay West and Christian Malloni, two producers individually well-known for their rough and dancefloor ready house music tracks, Candy Dealers formed their collaborative effort from friendship in their shared city. "Street Delight" utilizes many house music styles, from a distorted, heavy bassline to lush chords and chimes, and embellished with seductive vocal drops. Featuring a bit more depth than the usual house cut, a curious and melancholy vibe floats over the effective and palpitating rhythm. It's a stunning effort.
Just as Córdoba Street has many sights to see, "Street Delight" features three top notch remixers displaying their own unique must-hear versions of the track. Johnny Fiasco, with dozens and dozens of classic releases under his belt, graces EIGHT-TRACKS with his tight and pulsating treatment. Its insistent drum machine bits and 303-style bassline would be enough for most remixers but Fiasco further flavors his offering with melodic keyboards and a masterful build. This is a decidedly gorgeous house music statement.
England's Harold Heath, having produced recent successes for Urban Torque, Plastic City, and Elevation, delivers a remix that deceptively begins deep but swiftly grows to a dancefloor demon. Heath's percussive flourishes are aggressively contemporary, but his chords and bass interplay hark back to clubbing's earlier times. The old schoolers as well as the new jocks are sure to embrace what Heath has done here.
Lastly, Vernon & DaCosta, the Belgian duo who have released tunes through Amenti, Moodclub, and Aroma, strip down "Street Delight" to rhythm and vocal hits for an infectiously funky DJ tool. It's akin to James Brown's rhythm section having at Ableton Live ... it's nothing but pure, delicious computer groove.
Jay and Christian of Candy Dealers continue to be on the move, working together on a slew of remixes and new tunes. They've been racking up A-list DJ fans such as Laurent Garnier and Djuma Soundsystem. Now with "Street Delight" Candy Dealers cruise further down the road to house music notoriety. EIGHT-TRACKS is proud to issue this track and its remixes, now available at your favorite digital outlet.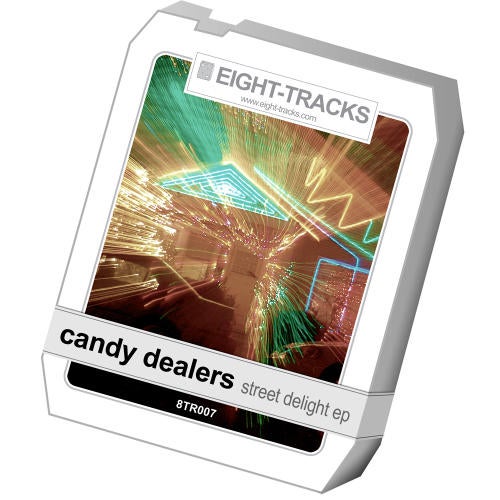 Release
Street Delight