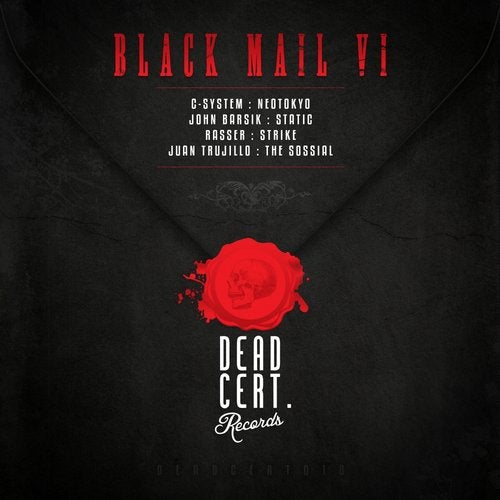 DEAD CERT. Records is a Techno label based out of the UK. Previous releases have featured music from people including Audio Injection (Truncate), Joachim Speith, Hans Bouffmyhre, Miss Sunshine and Rich Jones (Operator) to name but a few.

This is the sixth in the labels mixed artist series entitled "Black Mail" that showcases individual tracks from a selection of handpicked artists. Sometimes from recognisable artists like Vegim and Frank Savio, but also including lesser known artists breaking into the industry.

This EP contains some quality cuts in a back to back affair supplied by Spanish artists C-System and Rasser to John Barsik and Juan Trujillo in Argentina.

With the labels previous release picking up support from Ben Sims, James Ruskin, Pfirter, Ø [Phase], Chris Liebing, Slam, Rebekah, Sian and Flug for example.

DEAD CERT. Records is directly linked to the respected Death Techno mix series and the labels purist attitude has led to a growing reputation of being a seal of quality.

01. C-System - NeoTokyo
MFM Records and Morforecs label boss from Granada has a loyal following and regularly plays alongside legends such as Carl Cox and Dave Clarke. He takes a tense and hypnotic approach on this one, where the looping melody pad is lit up with electronic surges, modular fills and atmospheric textures. Painting pictures of desolate cityscapes, this thought provoking slice of intelligent Techno is a perfect mood setter for late nights or early mornings.

02. John Barsik - Static
Buenos Aires local John Barsik heads straight to the dancefloor with this monster. The huge kick and funked up groove begins to build from the word go, where the title is instantly relevant to its cause. Constant crackles, tough textures and piercing hats are joined by rough sub sweeps as it ploughs through anything in it's way. Tough, dark and hypnotic this multipurpose track can be used as a building tool or a peak time weapon depending on your mood and creativity.

03. Rasser - Strike
Talented producer Rasser from Toledo already has an EP on A.Paul's Naked Lunch and shows his no nonsense approach launching into a real Techno tool. The muffled kick and whispering vocal sample backed up by delicate hi-hats provide a chic and understated element to this perfectly sculpted track of Jacking Techno. A warm rolling groove and stripped back simplicity make this stand out track a must for any DJ set.

04. Juan Trujillo - The Sossial
Juan is a promising producer from Buenos Aires by way of Venezuela, who has released on Alex Bau's 43 Recordings to 7teen in Portugal. Mixing the muffle of a huge kick layered with sub bass and whispering hi-hats he creates a forward momentum complimented by the tracks lead synth. Although in a relaxed tempo the track is still full of energy and gets the job done on the dancefloor.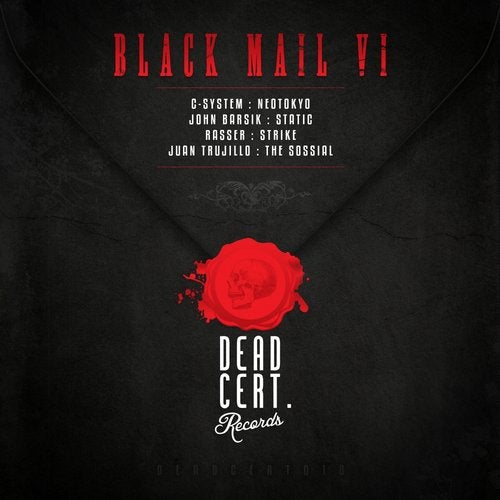 Release
Black Mail VI