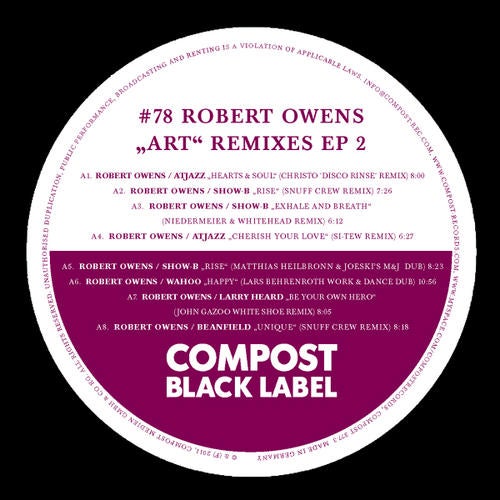 Release Date

2011-05-06

Label

Compost

Catalog

CPT3773
Compost Black Label offers further remixes of the supreme discipline. It contains remixes by Christo, Snuff Crew, Niedermeier & Whitehead, Si-Tew, Matthias Heilbronn & Joeski and John Gazoo.
Pure deep house! Christo joins the ranks after his debut Single The Trust Is Gone on Martin Iveson's Label Atjazz Record Company. Touch on classic, underground instrumental house inspired by artists such as Chez Damier, Ron Trent, matures a true piece of deep energetic, dancefloor house music. He s finished a few remixes for Version (Miso Records), Kay Suzuki, Mist Works and many more. Christo has bridged the void between what we all knew as deep house and the ever growing popularity of todays modern mid tempi house beautifully.
After there founding in 2008 the two cryptic Chicago House, Acid, Disco lovers, started in 2010 there separate old school house music identity, called Snuff Trax. The Snuff Crew slapped out in between this time remixes for Remute, Hard Ton, Robert Owens, Jack Codec, Stefano e Bene, The Glitz, Kids On TV and 12 and digital releases for Marco Passarani s label Nature Records and renowned household names like International Deejay Gigolo Records, Hour House Is Your Rush and Playhouse. This background would be perfect to remix the voice of house.
Werner Niedermeier and Gareth Whitehead are well known over the ranges of underground deep house scene, too. After their release on Arnaud Le Texier s Safari Numerique, they would be referred to one of the most exciting musical partnerships in recent times.
Gareth Whitehead is a vastly experienced producer, remixer, DJ and artist, that has established his own signature brand of deep and dubby tech-house and minimal. Gareth has released on labels such as Safari Numerique, Parallel 125, Sleaze and his very own Bulletdodge Records.
Werner Niedermeier started in the early 90s together with his with his production partner Sefty, to found Soul Camp Recordings in 1999.
But to name a few, he went on to work with labels such as Tracks Of Interest, Phonica Records, Liquid Sound Lounge, Sense Music, EFA and Patt Recordings. Werner also worked on remixes for artists like Reel People, Terry Callier, Lenny Fontana, Phonique, Worldless People. He s travelling around the world, played
to appreciative clubbers at prestigious venues such as Yellow (Tokyo), Fabric (London), Panorama Bar (Berlin) and Rex Club (Paris).
Simon Tew aka Si-Tew, know s the fundamental weight of the right flow. Martin Iveson (Atjazz) said A very talented young man from middle England with an unquenchable thirst for Electronic music! After attended University where he pushed his abilities as a producer running radio show broadcasts, recording vocalists &
performing his ever popular DJ sets in venues across the midlands. He began his first collaboration under the moniker Mist Works where he found himself able to express his musicality professionally and also with an end game being a record release. During this collaborative project he found himself pulling together his own songs and productions and built these pieces of work up into what turned out to be his debut album:
When The Clouds Ran Away.
Lars Behrenroth understands to save the influence from every different countrys, people and processed to the point over the past 11 years, where he has started up his accumulated and impressive discography. LB was born in Germany, immigrated to Los Angeles in 2004. In 1996 Lars played his radio host, 5 year and runns XM Radio program 'Deeper Shades of House' a weekly showcase of his versatile but selective musical range.
Publications onto leading Labels such as Liebe*Detail, Sonar Kollektiv, Deep4Life, Percfect Toy and most recently Freerange Recordings, give Lars the established reputation of the German Deephouse Legend.
But he s also a great remixer, for artists like Sven Weisemann, Slope, Deep Swing, Dubtribe, Kathy Brown, The Rurals, MJ Cole, Alma Horton, Arnold Jarvis, Tamara Wellons and more.
John Gazoo: As a kinda new force on the scene, Düsseldorf-based John Gazoo was takin off after winninga remix contest for Alif Tree and recently gained so much props over winter 2010 /11 with his own release on Compost Disco What Happened.
Matthias Heilbronn & Joeski started there project with four singles in 2010 Sabrosito, My Fixx Satoshi Tomiie's label Saw, Sunrise on Maya Recordse and a collaboration with Robert Owens Bottles & Bones on Pata De Perro.
2011 is promising to be another exciting year. Matthias finishing the compilation of recent releases of Matthias & Joeski entitled The Sounds Of BQE will be released on Todd Terrys Inhouse Records. Matty Heilbronn proceeded to work with a veritable whos who of top record labels like Defected, Pokerflat, Nervous, King Street, Wave Music, NRK. Matthais worked on songs by Michael Jackson, Madonna, Beyonce, Kelly Rowland, Whitney Houston, Mariah Carey, Boys II Men and SWV. He also worked with an array of influential house music producers including Danny Tenaglia, Todd Terry, Tommy Musto, C&C Music Factory and Franois K.
Joeski started djing in 1989 where he used to do house parties in Queens New York. Joeski played raves all over the US and in about 1997 started doing every other Friday at Grove Society at the Playground in Montreal. It was then that he started getting into production. He invested all his loot in the studio and then started Maya Records with Chris about a year ago, the rest is history!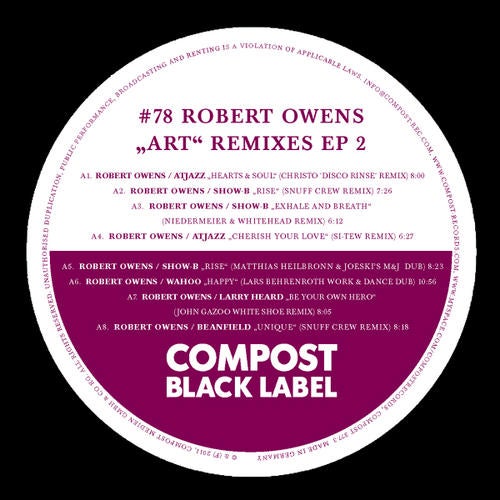 Release
Black Label 78 - ART Remix EP 2
Robert Owens, Atjazz, SHOW-B, Wahoo, Larry Heard, Beanfield, Christo, Snuff Crew, Gareth Whitehead, Werner Niedermeier, Si-Tew, Joeski, Matthias Heilbronn, Lars Behrenroth, John Gazoo

Release Date

2011-05-06

Label

Compost

Catalog

CPT3773