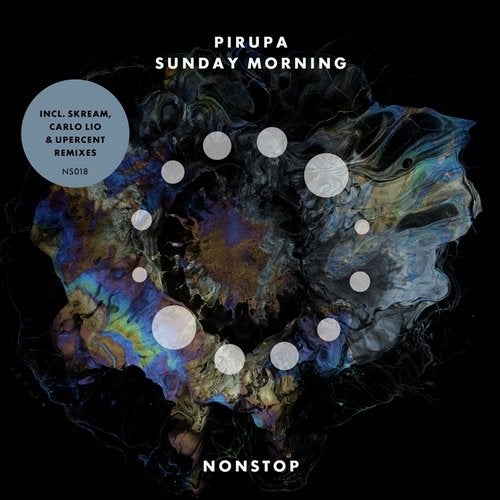 Release Date

2016-10-14

Label

NONSTOP

Catalog

NS018
Pirupa returns to Nonstop to deliver a five track EP with remixes from industry leaders Skream and Carlo Lio. Rising star Upercent also providing superb support on remix duties. Following his meteoric rise to the top over the last few years, Pirupa has continued to deliver an outstanding quality of music to a number of well respected labels such as Drumcode, Crosstown Rebels, Desolat, Defected and Get Physical.

After creating his own Brand & Label 'Nonstop' and building on that reputation that has served him so well, Pirupa has crafted a unique sound that has become signature to his productions. Skream, Carlo Lio & Upercent represent the Nonstop image with their re-rub of the beautifully crafted Sunday Morning.

Track Breakdown:

Pirupa - Sunday Morning (Extended Mix)
Sunday Morning opens the EP with its slow and calculated build and rolling beats with a floaty vocal splashed through the beats. The distorted feel and synth tones provide the perfect background and feel to a Pirupa track. A low down bass background and skippy beat provides the perfect layer for the high pitched haunting vocal song that comes later in the mix. A steady groover from the outset, with wellplaced drops, the minimal metronomic beats create the perfect 'After Party' vibes.

Pirupa - Sunday Morning (Skream Remix)
Skream steps up to provide a slamming, techno remix of Sunday Morning. It's clear from the outset that this track is designed to destroy dance floors. Its high pitched synth stabs and punchy bass line set the tone for the ominous vocal sample. Building on the original track, Skream builds up his raucous remix to a huge drop with a droning over tone. In his usual style, the eclectic DJ/producer certainly gives it the remix it deserves for the dance floor.

Pirupa - Sunday Morning (Carlo Lio Remix)
As Skream sets the pace with the previous remix, here Carlo Lio steps up the pace further to give it some of his toughr sounding treatment. Not disappointing or deterring from his usual style, Carlo Lio has turned the original into a heavy, bass packed groover. With that big room techno sound that he has become so accustomed too, this one is sure to be in the bags of the biggest Techno DJ's across the globe.

Pirupa - Sunday Morning (Upercent Remix)
Rising star Upercent steps up next for the third and final remix. The Spanish producer provides an upbeat minimal rework. With tribal percussion throughout the track that compliment the stabbing bass line that rattles consistently along during the track. Following in the vein of his previous work, the creativity and freedom of this remix shine through, Upercent's remix is the perfect filler to the Sunday Morning EP.