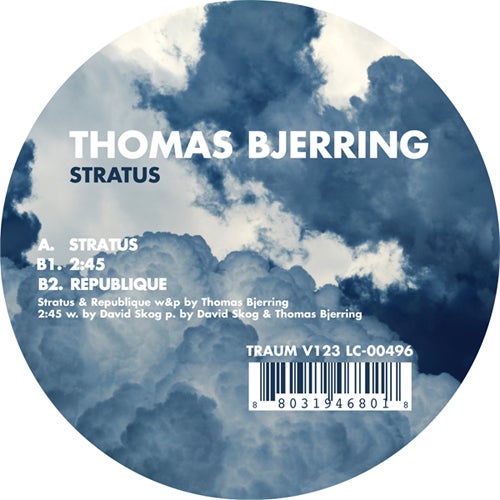 Release Date

2010-04-23

Label

Traum

Catalog

TRAUMV123
"We are proud to have discovered a new artist for Traum who will boost the cinematic and electronic side of the label. The debut sees a sound evolving with Thomas Bjerring that is emotionally deep to the heart, masterfully produced and unique.

The a-side ""Stratus"" moves like fog over woods and landscapes. It is rich and mighty in texture but light as well. It is somehow detached and at the same time very touching... a master piece of techno.
One could say this is the Scandinavian ghost of early Detroit techno soul... but what does this lead us to. Listen to the magic of this epic... which is over faster than you'd think and if you are lucky you can catch a glimpse of the pride and the sadness which live in this track side by side.

""2.45"" is a atmospheric pop Song with vocals by David Skog...

1. do you know the way 2. so you do
i can sense you do well me too
is it the way my mind moves this time as good as new
to sum up we're both polished & crude
i'm all up without motion or sound
making good time you must have hunt me down

3. the sheer weight upon us 4. passing to and fro
i can't move, it's so strange from yes to no
up on the roof the weather is calm an old picture on a drawer

5. mom & dad 6. i grew up with the sun
in the sand hide under the moon
with me rolling in remember watching the clouds move

7. lying flat 8. the sheer weight upon us, i can't move, it's so strange
on my back up on the roof the weather is calm
is can sense you do you shoot me straight back to where it begun
around about 2:45 AM
packing up and taking off again

The track ""Republique"" also dwells on post Detroit feelings, Moby's early works or such classic as Souffle ""Acid Eiffel"". It is a techno tune with atmosphere, maybe a bit lighter and less rich than ""Stratus"". It is based on an acid bassline that carries the smoothness and deepness of these mentioned tracks and is similar in composition to ""Stratus"". No tool, no superimposed craziness, 100% music.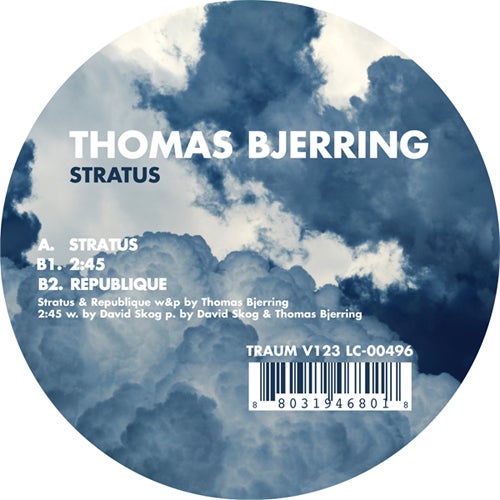 Release
Stratus
Release Date

2010-04-23

Label

Traum

Catalog

TRAUMV123