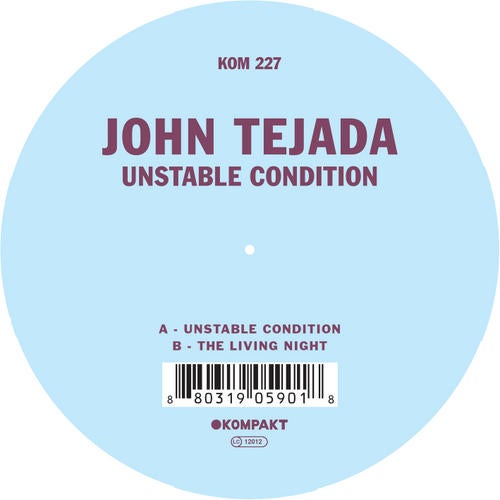 Release Date

2011-05-02

Label

Kompakt

Catalog

KOMPAKT227
artist(s): John Tejada
title: Unstable Condition
label: Kompakt
format: Vinyl Release, Digital
catalogue no.: KOMPAKT227
barcode: 880319059018
release date BEA : 02 May 2011



TRACKLISTING:


01) Unstable Condition
02) The Living Night
03) Tropical (Exclusive)



RELEASEINFO:

Expect the unexpected they say and it should come
as a surprise to many as we warmly welcome to the
Kompakt family one of Americas most celebrated
producers in dance music, John Tejada!

Your hard pressed not to have heard his music.
Whether on his own Palette Recordings, Poker Flat or
Plug Research plus a Fabric Mix CD under his belt,
its thanks to a steady stream of massive releases
(think Mono On Mono and Sweat On The Walls) he
remains a mainstay in the charts of Beatport and
uncountable DJs.

So say hello to his Kompakt debut single Unstable
Condition from his forthcoming full length Parabolas
out June 20th. The results here are tremendous the
title track is a parable of epic sorts. Resonating the
melodic vastness of Aphex Twins classic sounds of
Polygon Window, the beat is driven by House and the
results are unmistakably Tejadas own. He shows off
his expert knack for musicality with the B-Side The
Living Night which gracefully flows beginning to end.

We leave you with a digital bonus that has a fittiing
name. Tropical is pure sweetener that is fuelled by
the warmest sub-bass youve heard all year.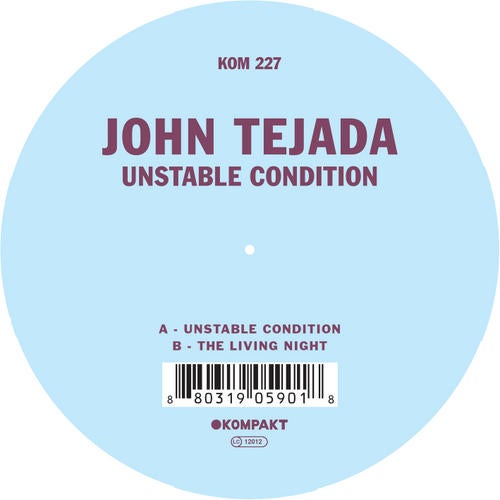 Release
Unstable Condition
Release Date

2011-05-02

Label

Kompakt

Catalog

KOMPAKT227