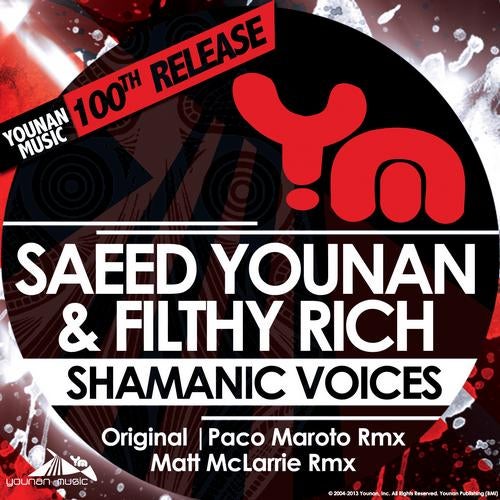 DJ MAG REVIEW -

Younan Music reaches the century mark of grooves! To celebrate this special milestone and mark their 100th release, the label unleashes a very special collaboration. The groove master, Saeed Younan, teams up with superstar Toolroom producer Filthy Rich to bring you the unique craziness that is Shamanic Voices. Both producers bring their extensive skills and knowledge together resulting in a track filled with loose percussions, primal drum programming, haunting vocals, and a throbbing and pulsating sub-bass groove that locks you in and gives you that spiritual house experience. Combine that with the old school sounding deep synth fills, scorching pad hits, and sizzling hi-hats and you have a Younan Music classic. Not a release that can be pigeonholed into a specific sub genre, this is just house at its finest and will work on the deep floors as well as the big rooms. Saeed Younan and Filthy Rich have both brought their A-game to this track and this is a collaboration we hope to hear more from in the future.

To complete the package, remixes from Paco Maroto and label manger Matt McLarrie round out the EP.

303 Lovers and Younan Musics very own Paco Maroto toughens it up and adds his own techno inspired flair that he has been mastering over the years. Clever vocal work and a shaman shaking sub bass turns the original into an upfront and funky techno laced version.

With remixes for Wally Lopez and Darren Emerson already on his resume, Saeed Younans second in command, Matt McLarrie, takes the original on a deeper house groove. Inspired use of real shaman voices, drums, deep synth stabs, and the organic percussion grooves that Matt is becoming known for gives it an authentic and entrancing vibe perfect for a those sunny terraces.

Younan Music hit 100 releases in fine style and it could be one of their best yet!!! A diverse release fit to grace any shamans iPod, the Shamanic Voices EP will have you in a trance like state on the dancefloor this summer!

Essential.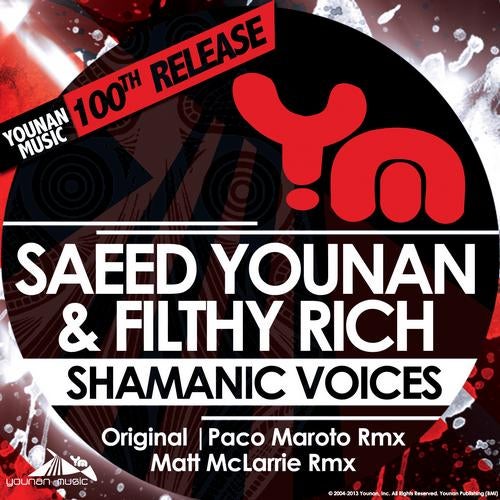 Release
Shamanic Voices