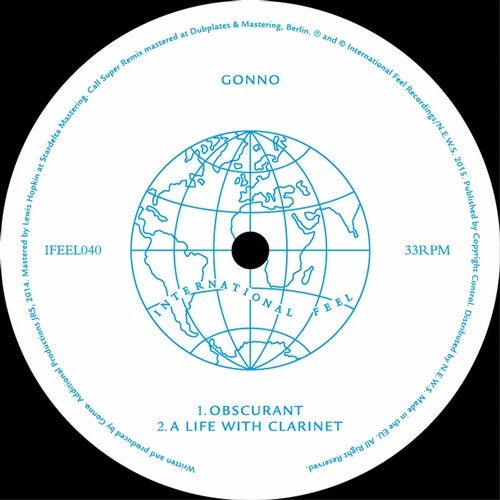 Release Date

2015-04-13

Catalog

IFEEL040D
In the winter of 2011 Gatto Fritto sent me a link to a Laurent Garnier radio show, insisting that I check out a track called 'Acdise#2' by a Japanese artist called Gonno. He couldn't quite believe that it was still unsigned.
I listened.....and neither could I.

So we contacted G onno and he agreed to a joint release between I nternational Feel and Ben's Fritto Morto label. Over the Summer of 2011, A cidse became a BIG tune, played by everyone from J ames Holden to T odd Terje, T im Sweeney to E wan Pearson and everyone inbetween. And then I waited for a follow up and waited......and waited.

Fast forward to Autumn 2014 and out of the blue a new G onno EP dropped into my inbox and yes, it's worth the wait. As hypnotic & compelling as Acdise , 'O bscurant ' is slo mo electronic Steve Reich packed with drama and moments of joy and 'A Life in Clarinet ' oozes so much emotion it almost overloads your system.

To complete the release I was thinking about a remix and really fancied J .R. Seaton esq., friend of Gatto Fritto and purveyor of fine melodic techno. Riding high after last years acclaimed 'S uzi Ecto ', he's not one to take on remixes, but on speaking to him, serendipity stuck, as I found out that he was the one that put Gatto onto the original Acdise track!

And so, full circle and here we are....an amazing new release with a fantastic remix. Let's see if we get anything else out of Gonno before 2020! If not and it's this good when it arrives.....I don't care.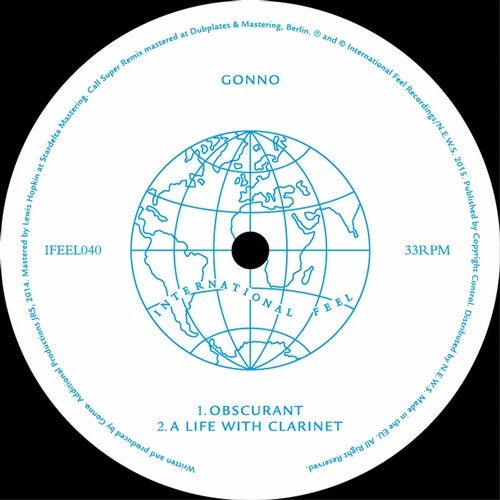 Release
Obscurant
Release Date

2015-04-13

Catalog

IFEEL040D