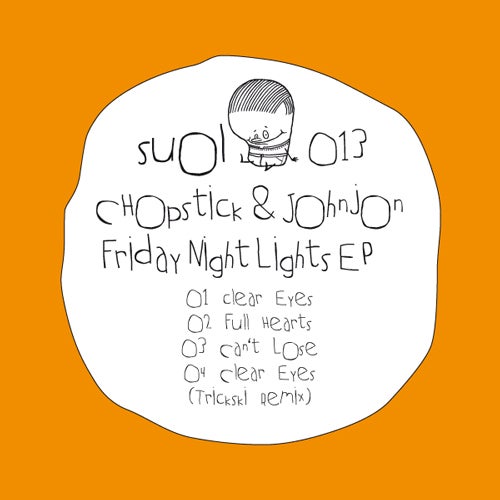 Release Date

2010-01-27

Label

Suol

Catalog

SUOL013
Berlin in December 2009.
A new decade is just about to begin and Baalsaal Music is getting ready to start a new chapter.

Baalsaal Music becomes Suol.

After nearly three successful years and a dozen decent releases under the sign of the Taurus, the labels new chapter will not just start with a new name, Suol, but also with a new mascot. Say hello to Pille. And since there is absolutely nothing that Pille enjoys more than bouncing his bulky head around to deeper and more grounded house music sophisticated musical continuity is crucial to Suol.

With EPs lined up not only by the label head honchos Chopstick & Johnjon, but also by Fritz Kalkbrenner, Till von Sein and Trickski, Suol is ready to celebrate the turn of the year and the labels metamorphosis!

2010: It's all about Suol!

------

First up on Chopstick & Johnjons Friday Night Lights EP is the original version of "Clear Eyes. The groove will strike you right away on this one. Introducing mellow piano vibes and a live funky slapped bass combo! The track slowly builds up to an intense break which finally comes crushing down on you with just the essential elements: kick, bass, melody... eat this mofo!

The next track in my eyes and ears i believe is the true hit on this release. Full Hearts comes knocking at your door with hypnotic spinning vocals! Let alone the kick comes in after almost 5 minutes, this lil bitch will whip your ass around the floor like no other! Zander VT played this
track at their residency and i sure was convinced this will cause a great stir in the boring house scene! It doesnt get any fresher than this.. promise or money back guaranteed biaaaaatch!!!

Cant Lose is the last track of the original tracks and it is indeed a dirty little sample monster. chopstick & johnjon show their early soul and hip hop influences and transform them into a funky deephouser. when finally the vocal sample kicks in with its driving 909 hats, working your
dancing body with guitar licks.. you just know, this isn't just a house track!

The new label mates Trickski, who by the way will release their stunning album on Suol, transform Clear Eyes into a deep house bomb! They used all remix parts in a different way and just added a HUGE bassline and wide pads to it! Im sure youre gonna love their work.. great arrangement skills along with toppings of sex and soul... classic in the making i would say!

www.suol.hk

Supported by: Zander VT, Sasse, Dirt Crew, Dave DK, Sebo K, Martin Eyerer, etc..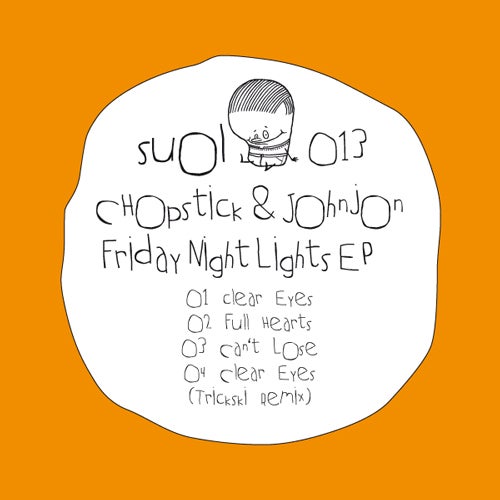 Release
Friday Night Lights EP
Release Date

2010-01-27

Label

Suol

Catalog

SUOL013