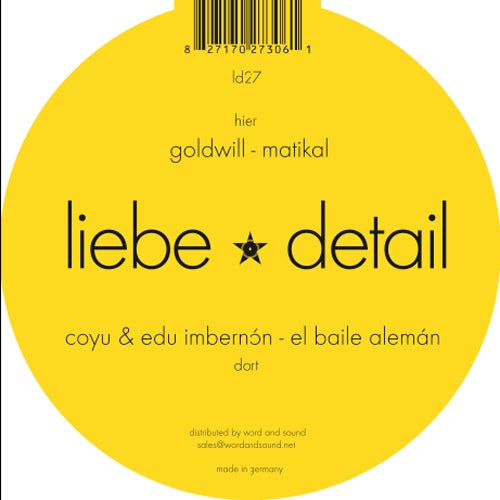 coyu & edu imbernón - el baile alemán
The Spanish production duo of Coyu (aka Ivan Ramos) and Edu Imbernón are a new signing on liebe*detail, continuing the the search for new exciting producers from around the globe, presenting their modern dancefloor ideas and musical individuality on vinyl! These two are no exception, each a well known name in the thriving Spanish club scene, with more exciting releases set to drop as we build up towards the summer. 'El Baile Alemán' unleashes a new brand of hyper-functional, percussive house that's literally overflowing with energy, cool live-edits and unstoppable dancefloor appeal. You only need to witness this 'any-time-is-peak-time' burner in action to understand the potential of these two promising newcomers. Einfach!

goldwill - matikal
Having already released a wonderful EP on the respected Musik Gewinnt Freunde, (winning a fair few friends in the process!) and a highly acclaimed ep on Was Not Was ("One Bill" incl. Sascha Dive Remix) Goldwill are a cooly-understated duo from Hamburg. Their sound revolves around deep grooving, psychedelic house, with a generous helping of classic vibes. Leaning towards the deeper, more reflective side of the dancefloor, 'Matikal' shows off the Goldwill's talents for creating superbly spaced, late-night atmospheres. Combining a room shaking bass end and stripped-back vital elements, phasing suggestions of the theme melody are introduced in pleasing, teasing waves of straightforward motion.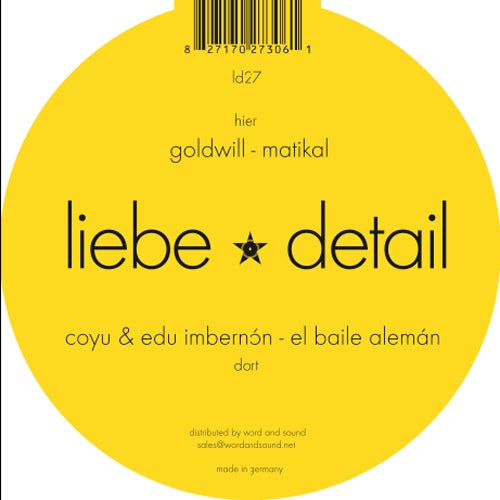 Release
El Baile Aleman / Matikal