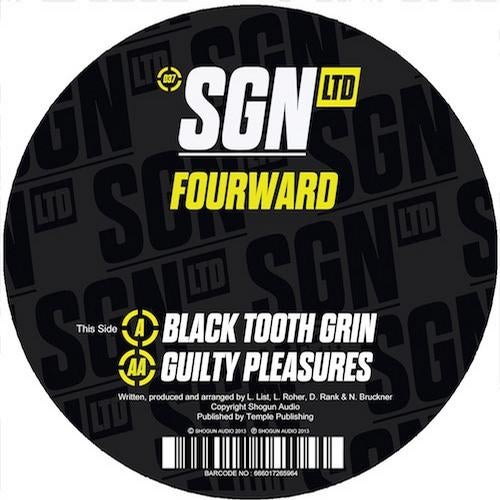 Release Date

2013-10-06

Label

SGN:LTD

Catalog

SGN037
The SGN:LTD story continues to gather at a pace with the debut contribution from Austrias finest 4-man production team, Fourward. Known for their fearsome tirades of bone shaking bass, their SGN excursion is no different with two tracks of tech-infused future thinking drum & bass.

"With this release we wanted to continue where we stopped with our last few releases without repeating ourselves too much. As this is our first single for SGN:LTD we wanted to make it as "Fourward" sounding as possible."

"We were also looking to make a single that has two different faces to it. While Black Tooth Grin is a straight up dance floor orientated tune, we tried to make the flipside Guilty Pleasures a bit more twisted, a bit weirder. The production process of these 2 tunes couldn't have been more different as well, while Black Tooth Grin took about 3-4 months to finish, Guilty Pleasures was done in 3-4 sessions."

"We are already looking forward to do the next one for SGN!"