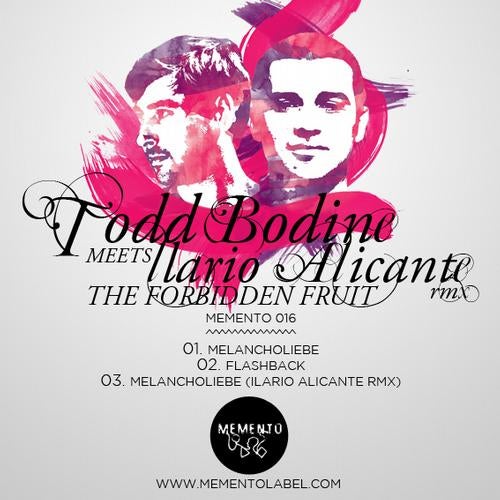 Release Date

2012-10-10

Label

Memento

Catalog

MEMENTO016
Berlin's Todd Bodine is a fine representation of the underground music culture that has grown out of the city since the fall of the Wall: gaining a residency at historical Tresor Club, he went on to become one of the most sought after German djs to perform around the globe, establishing himself as a respected producer with releases on labels such as Tresor's own, Morris Audio and lately Highgrade Records. His most recent electronic laptop symphony called "Highgrade Disharmonic Orchestra" with fellow Highgrade producers and friends, where he acted as conceptual conductor and key musician, led him to produce more and more sophisticated works. Here on Memento we find him experimenting with the most visionary side of electronic music, combining the textures of subtle downtempo with the beats and grooves of the rockiest tech house, veering toward the dreamiest twisted lullabies and the gloomiest house melodies. "Flashback"'s opening dusky atmospheres and galloping percussions pave the way to a bubbly synth progression and to a random distorted break that for a brief moment only halts the ongoing pulsating rhythm. "Melancholiebe"'s slower and deeper mood comes straight out of the early hours of PanoramaBar, where the sunlight barely slips through from the outside world while soft analogue chords play in the background. Ilario Alicante's take on this track makes it more muscular and techno, still retaining the spaced out vibe and the floating-on-air feeling, sending the listener way up there where reality and obscurity collide.

Justin Martin - Really digging both originals on this package. Todd really delivered here.
    
UNER - Love Melancholiebe!!!!! Big support from me on this!!! Will play both versions for sure!
    
Fritz Zander - Melancholiebe is really good! Defo fits in my sets! Lovely! Thx for this.
    
Reboot - Ilario Alicante turns in another lovely remix. This is really nice!
    
Yousef - Really nice record. Will use the Ilario Alicante mix a lot.
    
Andrew Grant - Nice package again from Memento.... really liking the remix from Ilario.
    
Adam Port - The Original is very nice and trippy. Sounds like it never ends... Dope! Thx.
    
Matthew Dekay - After listening to soooo many shitty promos I'm so happy to finally hear something that is amazing. Thanks guys! Please keep it up. Love Melancholiebe!!
    
Craig Morrison (Silicone Soul) - This has got the loving vibe! Thx for these... Melancholiebe is pretty!
    
Soul Clap - The remix from Ilario is nice and deep. Good atmosphere. We might try it out.
   
Steve Parry - (Juice FM UK) - Both mixes of Melancholiebe are GREAT!! Love it.

Gerome - (Tsugi Magazine France) - Flashback is just mental!
    
Victor - (DJ Magazine Spain) - Melancholiebe in both its versions is the winner here.

De:Bug Magazine Germany - Considering for review.
    
Davide Squillace Oh YES!! A huge thumbs up for Ilarios remix. Superb! 5/5!

Laurent Garnier Mmmmmm this is great. Lovely originals and remix. Superb ep.

Daniel (Trickski) Solid release here. Flashback is cool and Melancholiebe too! thx for this one!

Raresh I am really into Ilarios remix here. Great rework, will be testing soon!

Martin Landsky Its all about Flashback for me on this EP. Really good track, will be playing!

Ryan Crosson Both mixes of Melancholiebe are lovely. Ill be supporting!

Lee Curtiss Great work from Todd, as expected! Original of Melancholiebe my pick.

Ivan Smagghe Oh WOW! I really love Flashback!! Really good record.

Basti (Tiefschwarz) Really TOP release Todd!! All of the mixes on this are great!! Max support!

Josh Wink Good deep and sexy tech ep!! Nice one Todd!

Luca Bacchetti Ilario Alicante remix is so emotional, great job bro!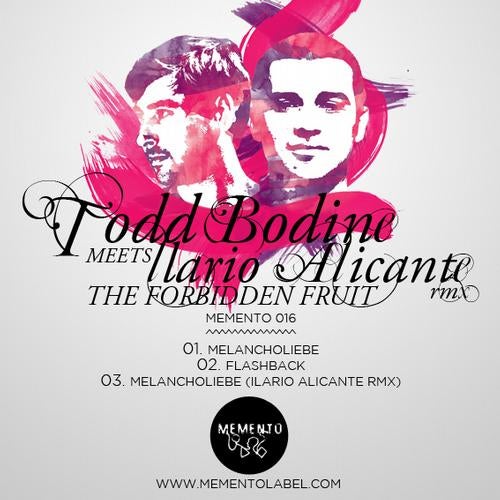 Release
THE FORBIDDEN FRUIT
Release Date

2012-10-10

Label

Memento

Catalog

MEMENTO016