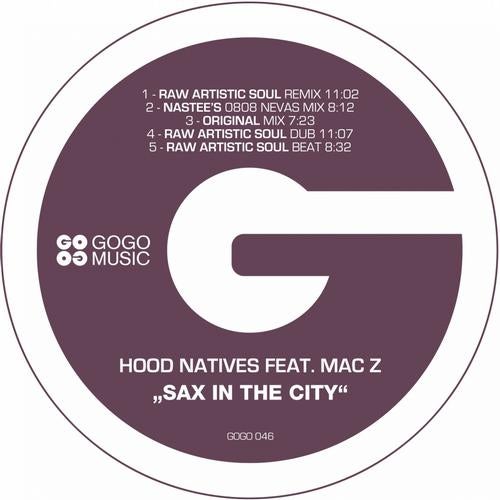 Release Date

2011-08-22

Label

GOGO Music

Catalog

GOGO046
Not too many instrumental tracks have the potential to substitute a song, but after "Capricorn" by the "60 Hertz Project" GOGO Music found another one of that kind, which seems to be sparkled with a similar secret magic dust. With the deeply spiritual "Sax In The City" we introduce the "Hood Natives" of Sir LSG featuring the saxophone talents of Mac Z.

Nearly 20 years before world-renowned house DJ Ralf GUM picked up on the talent of Sir LSG, Lesego Sefako was just another singer in the church choir. That six-year old Mafikeng native didn't know it then, but his naive fascination with melodies would eventually catapult him into the world of house music. Sir LSG's style is as a sublime mixture of soulful house with a portion of instruments from his home country. It was the 2008 South African Music Conference that would change his life forever. Sir LSG's DJ skills not only resulted in him winning the DJ Battle competition, he also caught the eye of the legendary DJ Christos, that very day. Thanks to Sir LSG's rock solid relationship with his mentor Christos, Ralf GUM came across "Sax in the City" which finally found its way to light when he got in on the action.

It was obvious that Raw Artistic Soul would be the perfect man to remix this track, as the percussive and deep vibe just appeals consummately to his style. Phil dug the Original that much, that he decided to stay nigh to it, however once more proved that he is a real master of percussion and melodies created with them. His mix came out as a tasteful 11 minutes journey with perfectly chosen sounds that attach additional punch. His Dub mix reduces the saxophone and amplifies the groove, which makes it more than a perfect DJ tool with ample deepness.

With Nastee Nev we welcome another artist from the motherland to GOGO Music for the first time. Nastee Nev is not just one, but assuredly one of the fastest rising talents to emerge from the fertile grounds of the African capitol of House Pretoria. Nastee morphs the song into his beloved soulful laid back style and garnished his version with a beautiful jazzy piano perfectly complementing the saxophone of Mac Z.

With this release GOGO Music once more brings a hot new talent to the light and delivers a great package of all-embracing sonic pleasure.


GOGO Music ... Music it is and is it!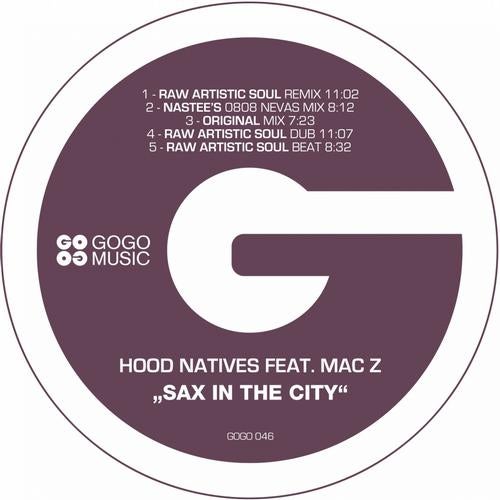 Release
Sax in the City (feat. Mac Z)
Release Date

2011-08-22

Label

GOGO Music

Catalog

GOGO046