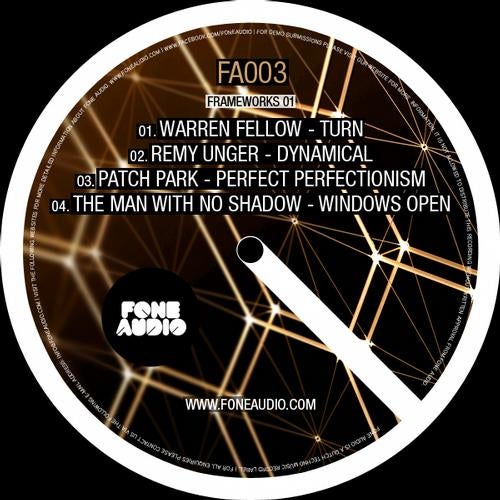 Release Date

2011-12-12

Label

Fone Audio

Catalog

FA003
The third release on Fone Audio is the first in a series of releases called Frameworks. Frameworks is essentially about featuring single tracks by multiple artists in one strong package. For this first EP in this series we have two strong label debutants Warren Fellow and The Man With No Shadow, backed by label head honchos Patch Park and Remy Unger, an all Dutch package!

DJ Feedback:
Mihalis Safras Warren Fellows Turn is excellent! Loving the groove in it!"

Misstress Barbara - "Liking Perfect Perfectionism very much!! Going to play this !"

Taras van deVoorde - "Holland in tha hood! This is a really cool release, like them all!"

Dan - (Pig & Dan) - "Remy Ungers Dynamical is REALLY nice!! Ill be playing this!"

Pig - (Pig & Dan) - "Great percussive grooves on Dynamical with its funky feel was the one for me."

Desyn Masiello - (SOS) - "Im a fan of Warren Fellow, and his track here has the most groove and vibe for me on the ep. Thanks."

Nuno dos Santos - "Solid tracks on this ep! Nice collection from Fone Audio, will play Perfect Perfectionism!"

Nicole Moudaber - "Warren Fellow and Remy Ungers tracks are great here!! Will support them both."

Hernan Cattaneo - "Warren Fellows Turn is VERY good Straight into my sets!"

Sasha Carassi - "Great release guys! Really like the tracks.. Warrens Turn is my fave. Full support!"

Guy J - "Patch Park for me yet again Always great stuff from those boys!"

Ambivalent - "I've been playing all the promos I get from this label. Keep them coming!! I like Dynamical the most."

Danny Tenaglia - "Warren Fellows Turn sounds good for me guys! Thanks!!!"

Tassilo - (Pan-Pot) - "Gotta listen to it loud again, but i think theres something inside this pack I def wanna play Probably Windows Open."

Mauro Picotto - "Warrens Turn sounds GREAT!! This whole ep is good, cool job!"

Tom Findlay - (Groove Armada) - "Dynamical is the one for me, really tight production!!"

Okain - "Great tracks here! Patch Park and the Man With No Shadow are my favorites."

Carlo Lio - "Feeling Warrens Turn.. will try this one out for sure.. the others are not really for me."

Eelke Kleijn - "Warren's cut is my favourite here, but overall a really cool EP! Will test it."

Samuel L Session - "Patch Parks track is really cool here, will be played plenty by the funkmachine! Sounds like dj heaven to me."

Stephan Bodzin - "Unger and Patch Park are killing it for me on this package!"

Bart Skils (District One) - "Very cool groovin' stuff from the Dutch crew. Full support on all!!"

Karotte - "Turn, Dynamical and Windows Open are all great. Will play this 3."

Gregor Tresher - "Big package here from Fone Audio. I actually like ALL four of the tracks!"

Christian Smith - "Oh yes, I am really liking Windows Open. Will play that a lot, for sure!"

Alan Fitzpatrick - "Im liking the Perfect Perfectionism track very much! Win for Patch Park!! ."

Sian - "Remy Ungers Dynamical is coolness! Support from me for sure."

Jim Rivers - "I like the Man With No Shadow cut very much. Will be playing that! "

Hector Romero - "Warren Fellows Turn def does the job for me - really nice groove."

Club Madnezz Radio Holland - "Outstanding EP!!"

Jose Maria Ramon - (Ibiza Global Radio) - "Dynamical and Windows open 2 bombas! sure support from Ibiza Global Radio!"

Steve Parry - (Juice FM) - "Nice EP - always a fan of remy, turn is cool, and man with no shadow is sleazy."

Raphael Dincsoy (Partysan / Stuttgart) - "Good stuff here. Likin Turn."

Scan Mode - (DJ Magazine Spain) - "Superb compilation!"

De:Bug Magazine Germany - "Considering for review."

Tsugi Magazine France - "Nice EP."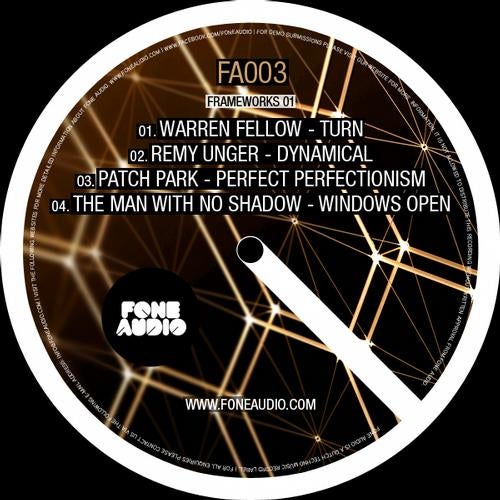 Release
Frameworks 01
Release Date

2011-12-12

Label

Fone Audio

Catalog

FA003