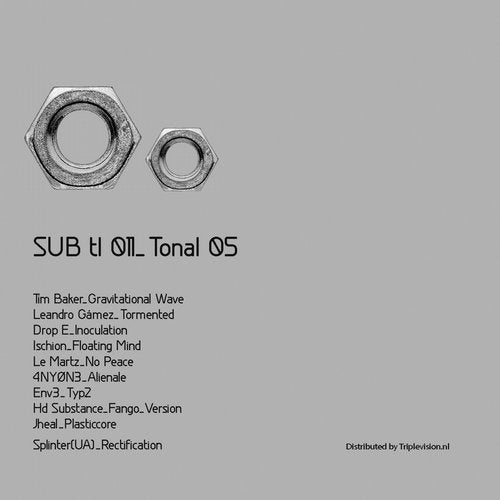 Release Date

2016-04-25

Label

SUB TL

Catalog

SUBTL011
We keep on celebrating our first year of existence, this time with our first LP compilation featuring ten producers from all over the world: Ukraine, USA, Germany, Spain, Argentina ...

A selected mixture of well known studio wizards, completely new talents, label owners and some hidden projects for you to enjoy with your feet and brain.

Detroit legend Tim Baker gives a classy touch to this collection, bringing the best from the future and the class of the past in his comeback to the dark side, techno from his birthplace.

Leandro Gamez give us his darker side on Tormented, arpegiated sequences, dark atmospheres, distorted synth lines and a dynamic effect workout make this a milestone in his production techniques.

Drop E delivers a subbass heavy synthesized mess, obsesive compulsive sequences, sharpened hi frequencies and a constantly evolving structure make the recipe.

Ischion, one of the Attemporal Label main acts offers a dreamy vision of techno in his string heavy work, where continuous synth lines meet several percusion layers all over spiced with pads and strings.

Argentinian talent Le Martz comes back to our label delivering New peace, solid drums as a base for hi frequency droning and percussive madness, added to bleepy sequences and string details.

Another secret project comes next 4NY?N3 with Alienale a funky step sequenced hardware gem.

Env3 is the secret adventure of a veteran true Berliner producer, coooking his track with only analogue equipment hidden somewhere in the Friedrichshain area. Broken rhythms, punchy arpeggiated synths and rawness as a formula.

Label co owner Hd Substance goes cosmic on Fango, analogue bleeps and drones collide over a subwoofer heavy bassline and flanged MS 20 lines.

Jheal goes funkier in his track, shuffled grooves, twisted bleeps, Detroit style stabs and reverberated ambiences all in one to make a true mover.

Splinter (UA) debuts in SUB tl after succesful releases in labels like Warm Up : drum machine rawness, slow paced tempos, electrified atmospheres and an overall nineties feeling.



?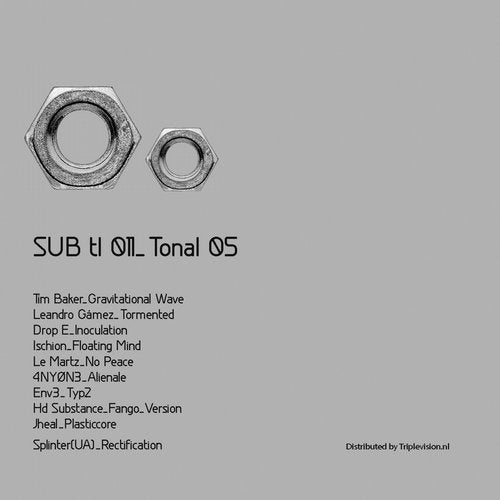 Release
Tonal 05