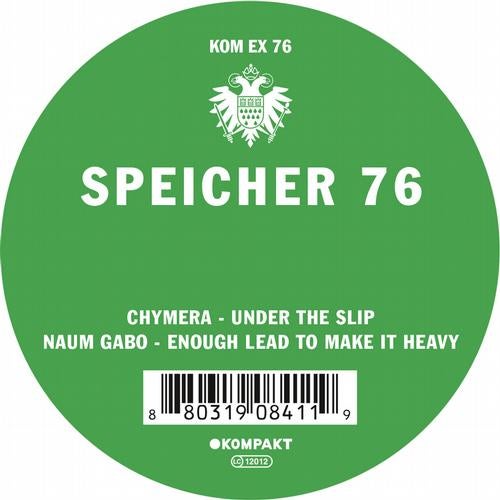 Info:

Starting out in 2001 to tie up some loose ends from our regulars, SPEICHER has since become a guarantee for vanguard dance sounds from all over the planet, allowing KOMPAKT to invite and support electronic artists that comfortably inhabit both the delicate and the more deliberate ends of the electronic music spectrum. For SPEICHER 76, two Irish acts crank up the volume for a healthy dose of sweaty, delirious techno - both acclaimed tracksmith CHYMERA and renowned Speicher favorite NAUM GABO hail from the green island... as is reflected in the color choice of this latest instalment in the series.

Brendan Gregoriy aka CHYMERA causes havoc in the scene since the mid-noughties, having honed a very personal, highly expressive approach to techno's prime time tropes. UNDER THE SLIP is no different, stacking up abrasive synths and arse-kicking percussion for a pulse-accelerating rollercoaster ride through the night. It's at the track's middle mark, however, when a particularly funky bassline shines a different light on the dance floor, elevating the track to a whole new level.

NAUM GABO's Jonnie "JG" Wilkes might be best known for his part in the OPTIMO roadshow, but to Speicher enthusiasts, he's a well-established acquaintance responsible for several bangers from the early period of the series. Now, he returns with ENOUGH LEAD TO MAKE IT HEAVY, a psychotic, iridescent techno workout drilling its way into the listener's frontal lobe - and doing so with gusto: it's an aptly named flipside whose focus vibes with the more muscular pits. Together, these tracks make for a perfectly tailored Speicher release catering to all your stomping needs.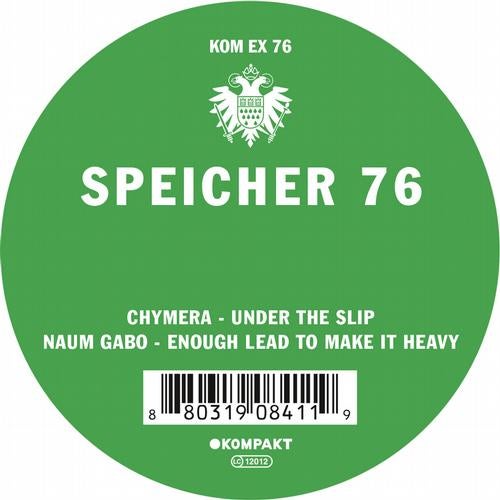 Release
Speicher 76